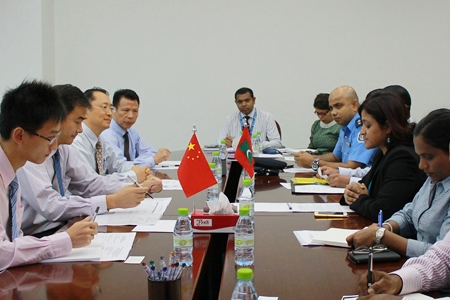 Foreign Ministry discusses tourist safety issues with Chinese embassy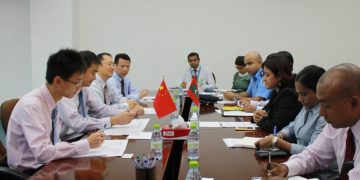 The first meeting of the Joint Mechanism to deal with the safety of Chinese tourists took place at the Ministry of Foreign Affairs on Monday, February 2.
Foreign Minister Dunya Maumoon and Chinese Ambassador to Maldives Wang Fukang co-chaired the meeting.
"During the meeting, Minister Dunya noted the importance of strengthening tourism cooperation between the Maldives and China," the Foreign Ministry noted in a press statement.
"She also noted that the Joint meeting mechanism is an important initiative to exchange ideas to ensure a safe environment for Chinese tourists during their stay in the Maldives."
Ambassador Wang Fukang meanwhile thanked Maldivian government for the "coordination and cooperation extended in ensuring a safe environment to the Chinese tourists in the Maldives."
The ambassador also expressed confidence in the success of the joint efforts to establish a safe environment for Chinese tourists.
Senior officials of the Foreign Ministry, the Tourism Ministry, the Department of Immigration, the Maldives Police Service, the Maldives Customs Service, the Maldives Airports Company Ltd (MACL), and the Embassy of China as well as representatives from the Maldives Association of Tourism Industry (MATI), Adhaaran Resort and Villa Travels attended the meeting.
The Joint Mechanism was established under a Memorandum of Understanding signed between the Maldives and China during the historic visit of Chinese President Xi Jinping in September 2014.
In 2014, Chinese tourists accounted for nearly one-third of arrivals to the Maldives with a 30% market share. China is currently the single biggest source market for tourists to the Maldives. A total of 363,626 Chinese tourists visited the Maldives in 2014, up 9.6% from the previous year, which saw 331,719 arrivals.