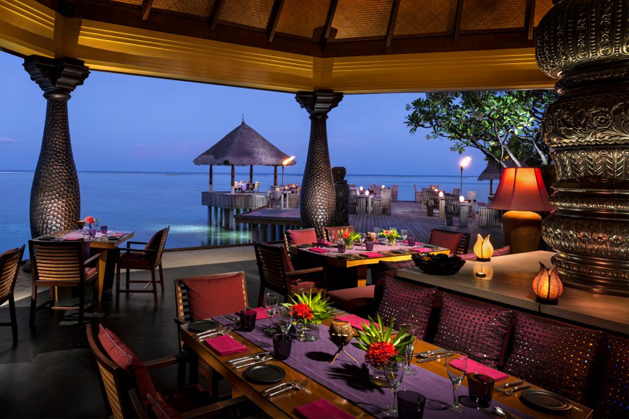 Four Seasons 'Baraabaru' Restaurant Scoops Coveted Culinary Awards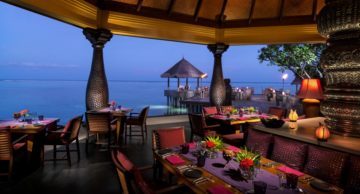 Four Seasons Kuda Huraa's signature restaurant, Baraabaru, has won the hotly contested 'Outstanding Hotel Restaurant' accolade in the Saveur Culinary Travel Awards 2014.
The Daily Meal, USA, also named the Indian restaurant one of the 'World's 101 Best Hotel Restaurants of 2014' for the third consecutive year.
Four Seasons noted in its latest e-newsletter that Baraabaru was "listed alongside a veritable smorgasbord of the world's finest culinary establishments – as voted by an illustrious panel of Daily Meal judges, and expert panel of Saveur writers, editors, photographers, and readers."
"Needless to say, we are incredibly proud of the Baraabaru team and all that the restaurant stands for: delicious Indian cuisine cooked to order with home-style authenticity," reads the newsletter.
"From the kebabs and charcoal tandoors of the North to the curries and spices of the South, the emphasis at Baraabaru is on fresh, traditional flavours. And as with all the best home-cooked food, guests have the option to tailor their exact preferences, from individual 'spice levels' to the addition or subtraction of ingredients outside those detailed on the menu."
Of over 100 dishes on the menu at Baraabaru, more than half are vegetarian.
Baraabaru's Chef Kapil Sharma is a Punjabi-born culinary artist with "a particular prowess for Sattvic, Jain, vegan and organic cuisine – all of which are readily available at Baraabaru."
Kuda Huraa also offers a half-day cooking class with Chef Kapil for guests wishing to improve their cooking skills.
The chef teaches guests how to blend spices, make breads, appetizers, and main courses.
The architectural design of the Baraabaru restaurant includes a "dramatic open-sided Kerala-inspired pavilion, torch-lit deck and private dining pavilion perched over Kuda Huraa's crystal lagoon."
"Teak wood and richly decorated cushions imbue an easy Indian air, while a live sitar band plays nostalgic Indian music each evening – the perfect complement to the restaurant's authentic, home-style food."