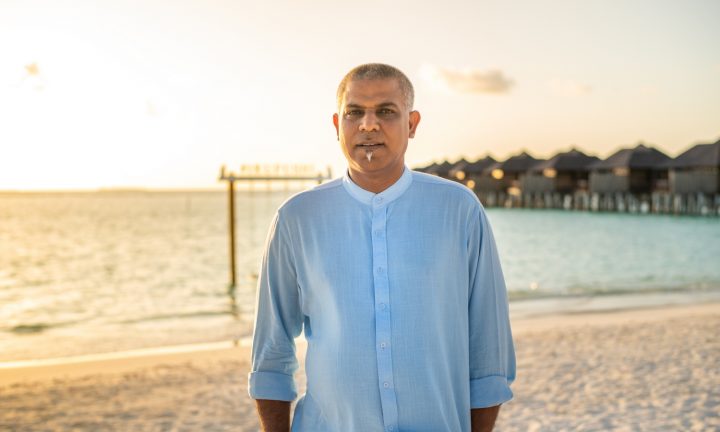 From intern to resort manager: Sun Siyam Iru Fushi's Atham shares recipe for success
As the seaplane glides over turquoise waters dotted with picture-perfect islands, passengers catch their first glimpse of Sun Siyam Iru Fushi – a true island playground for families, groups of friends, couples and honeymooners alike and a luxurious Maldivian resort known for over a decade of excellent service, stunning villas, and world-class amenities. Leading the operations of this resort is Abdulla Abdul Latheef (widely known as Atham), the dedicated and passionate Resort Manager who has spent over two decades honing his skills in the Maldives' hospitality industry.
Born in a northern island very close to Sun Siyam Iru Fushi, but raised in Maldivian capital Male, Atham knew from a young age that he wanted to build a career in hospitality. While attending school in Male in the late 1990s, he visited the HR department of Crown Company, a major local player in the hospitality industry, dressed in his school uniform to express his interest in joining them. Impressed by his initiative, Crown Company offered Atham an internship with a monthly stipend to gain experience in the field.
"Unlike many of my peers, I was wearing my hotel school uniform with a tie, so I looked very professional. I asked them to see the company's heads. Nazeer, one of the directors of the company, came out to see me and asked his staff to arrange the sponsorship for me. I think it was the first sponsorship they had done," he said.
This marked the beginning of an inspiring journey that would see Atham work his way up from intern to Resort Manager at one of Maldives' premier luxury resorts. After his internship, he joined the team at Conrad Maldives Rangali Island (then Hilton Maldives Rangali) as a full-time staff, and he spent several years learning the ins and outs of hospitality while working across various departments.
"It was an invaluable opportunity to build a solid foundation across all aspects of resort operations – from front office, food and beverage, and guest services," Atham recalled. "I sought to make the most of it by soaking up as much knowledge as I could and refining my skills in each area."
When Hilton took over management of the resort, developed and owned by leading local resort chain Sun Siyam Resorts, in July 2009, Atham transferred to the resort to take on new challenges. When the resort changed back to an owner-operated property in May 2013, Atham remained and rallied up the staff to take on the challenges of the abrupt transition.
It was a difficult period as the resort was undergoing major changes in terms of management, but Atham remained committed to delivering exceptional service despite the disruptions. Over the years, he took on increasing responsibilities at Iru Fushi in several capacities including Operations Manager, Director of Operations and culminating in his appointment as Resort Manager in September 2022.
Today, Atham oversees all facets of operations at the 221-villa luxury resort, from staff management to guest services, food and beverage, marketing, and more. He frequently interacts with guests and builds personal connections through his warmth and hands-on approach. For Atham, the best part of working in hospitality is meeting people from diverse cultures and creating memorable experiences for them.
"It is fulfilling to see guests light up with joy and know that we played a role in creating a special vacation for them they'll cherish for life," he shared.
Atham credits his successful career to values like diligence, punctuality, proving his worth, and going the extra mile. His advice to young Maldivians interested in hospitality? "Be willing to start from the ground up, work hard, and show your capabilities. With dedication and a positive attitude, you can build a rewarding career in this field."
With nearly 25 years of experience under his belt, Atham has seen not just Sun Siyam Iru Fushi transform, but also the hospitality industry as a whole evolves significantly. What remains constant for him is the sense of fulfilment from creating happiness for others. As the Resort Manager of one of Maldives' most premier resorts, he continues this mission every day – providing unforgettable island moments for visitors from around the globe.