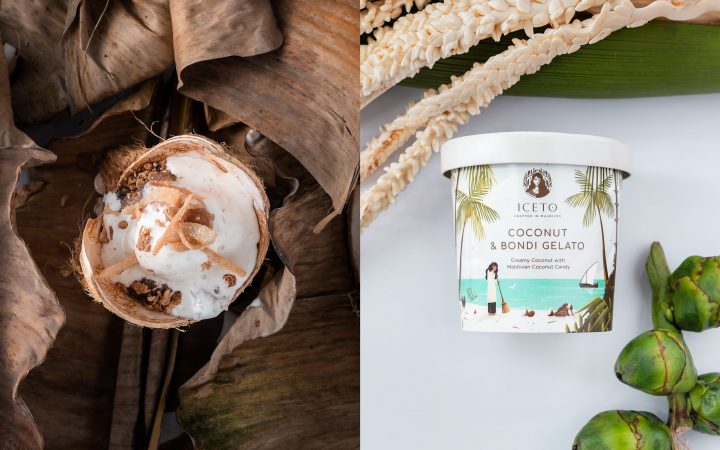 Iceto by Cidee's Kitchen – A Premium Frozen Dessert Brand from the Maldives
There is a new icecream in town for you to satisfy your sweet tooth! Cidee's Kitchen has introduced the first premium gelato crafted in the Maldives, Iceto.
Iceto gelato is currently available in their signature flavour of Coconut and Bondi. The rich and creamy Coconut and Bondi Gelato is made with two types of homemade bondi (traditional Maldivian coconut candy). There are no artificial flavourings in the product, and only natural ingredients that used are carefully handpicked in their right ages for the finest flavour, and not for the yield.
Variations of Bondi are made across the island nation, mainly in the south. One of the most favoured versions of this treat is the Addu Bondi, also known as 'Addu Bendi' from Addu atoll. The sweet treats are traditionally made with scraped coconut and dhiyaahakuru (palm sugar) jasmine water, and wrapped in dried banana leaves.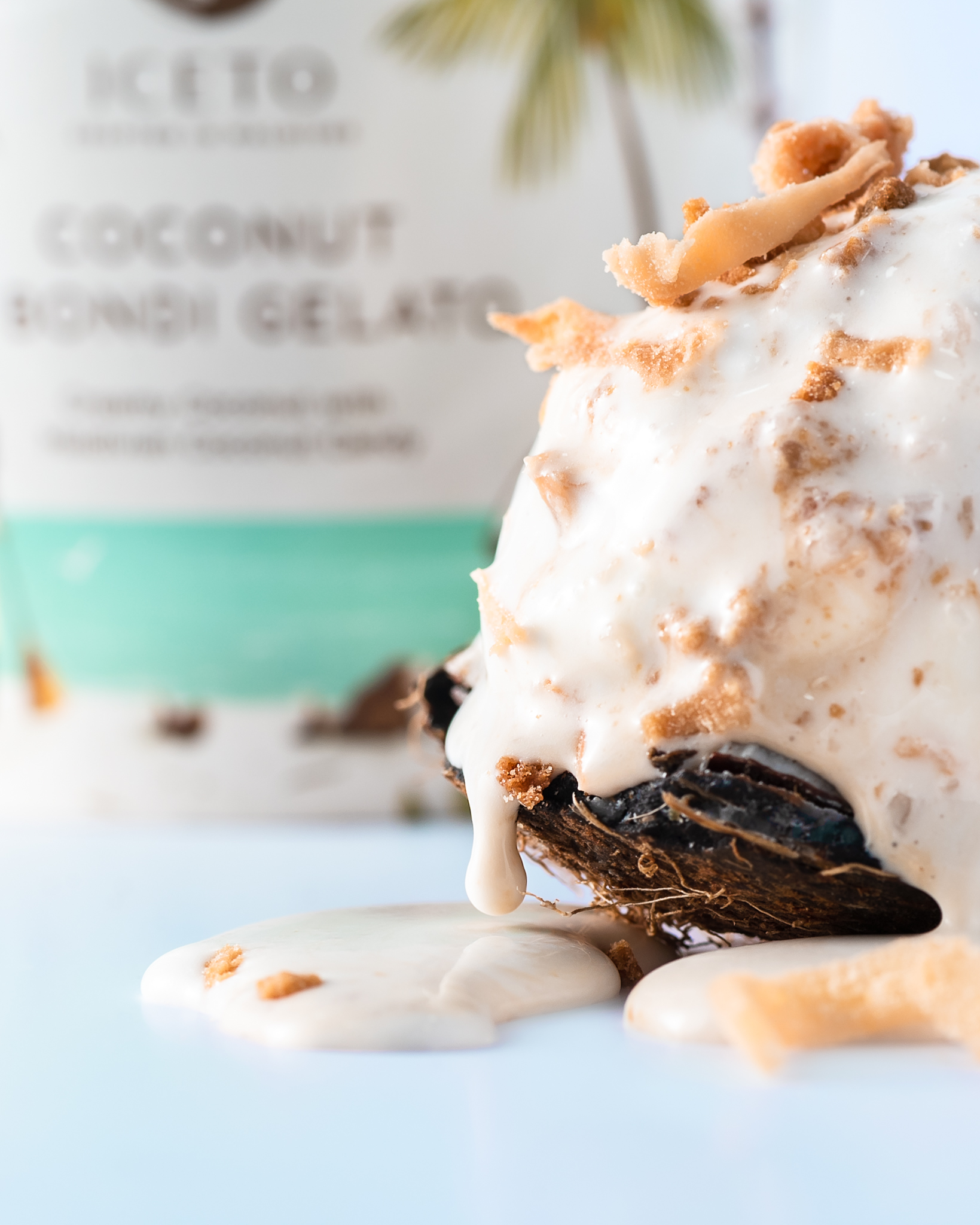 The Coconut and Bondi Gelato is smooth and creamy with an inviting aroma. The distinctive bondi flavour is enriched by the light coconut aftertaste. The flavours in the tub lend itself well to easily be paired with a dessert, or added to a milkshake to boost the flavour. There are sprinkled flecks of bondi throughout that give the Gelato a charming rich appearance.
Meticulously created branding and packaging for these gelato tubs are designed by local artist Immi Saleem. The illustration on the tub features the ocean and coconuts on a white sandy beach, conveying a Maldivian story and paying homage to the natural beauty of the Maldives. This entire illustration serves as the key branding visual as it is wrapped around the ice cream tub but customers can also expect new and elevated artworks with the launch of new flavours. With this style choice, the neutral colour toned palette complements the overall design.
In the upcoming months, the team is set to add more traditional and nostalgia packed flavours with Cidee's modern twist to the list of options. The premium gelato is currently available for purchase at Whim shops at Male', Hulhumale and Dhiffushi, Silk Souvenir Shop in Huraa, Scoops N' Snacks in Maafushi, and at Blood Orange restaurant in Male' by Cidee's Kitchen.
Aishath Ibrahim, often known as "Cidee," first created Cidee's Kitchen as a personal Instagram page where she posted images of her endless homemade dishes to express her passion for food. In 2017, Cidee's Kitchen launched its Facebook page with a recipe vlog project in collaboration with Eat.mv, showcasing recipes to the online audience, in time for Ramadan.  Later in the year, Cidee and her spouse, Ahmed Ehab incorporated Cidees Kitchen Pvt Ltd as a registered business in Maldives. Cidee believes learning is a continuous process and has taken multiple culinary trainings online and abroad.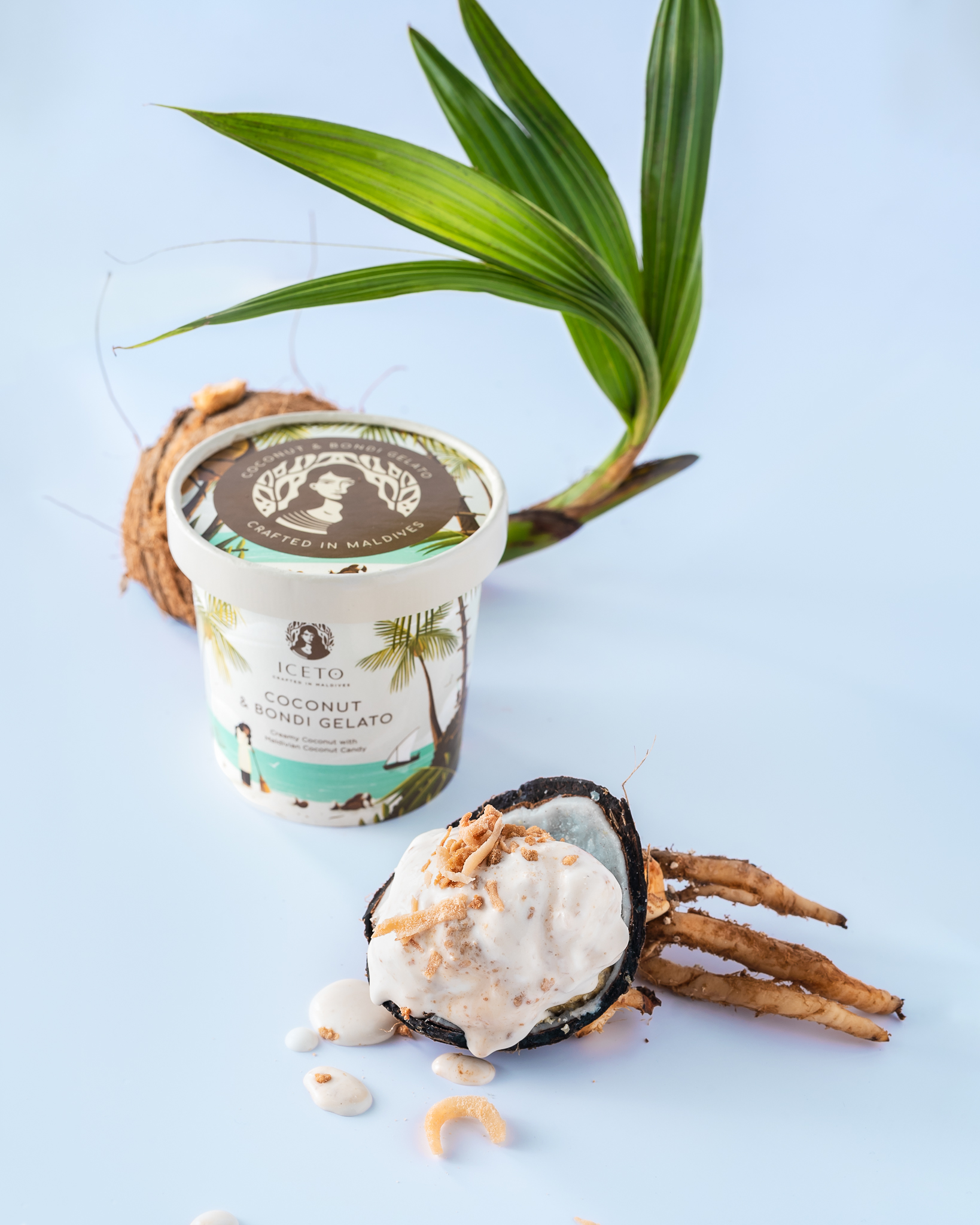 After being formally established, Cidee's Kitchen began designing and baking personalized cakes for customers in addition to supplying cakes she baked herself to restaurant outlets in Male, the capital of the Maldives. With increasing customer and social media support, Cidee's Kitchen opened Blood Orange, the team's first restaurant, in 2018. Blood Orange is a fusion restaurant that combines flavours from Asia, Europe, and the Maldives. Following the positive reception for Blood Orange, the team built a second location in 2020 Magukolhu Hotaa, a neighbourhood cafe serving genuine locally sourced food from the Maldives. After her successful culinary endeavours, Cidee revealed her most current offering, Iceto, which is rapidly gaining popularity in the icecream and gelato market.
As an introductory offer Cidee's Kitchen will be giving away 10 Coconut and Bondi Gelato sample tubs to selective potential clients on a first come first serve basis. To book your tub, email iceto@cideeskitchen.com or contact +960 7784604 (mobile or WhatsApp)