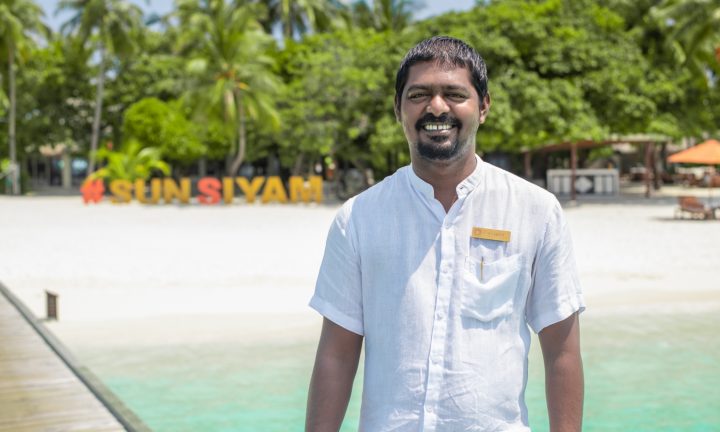 From receptionist to front office manager: Baasith's career lessons at Sun Siyam Iru Fushi
Sun Siyam Iru Fushi is a destination for travellers who seek luxury and tranquillity in the Maldives. The resort offers a range of services and amenities to make guests feel pampered and relaxed. But behind the scenes, there is a team of dedicated professionals who work hard to ensure a smooth and memorable experience for every visitor. One of them is Ibrahim Baasith, the Front Office Manager, who has been with the resort for over 14 years.
Baasith's journey to success is a remarkable one, as he started his career with no formal training or experience in hospitality. He only had a six-month certificate from hotel school, which he completed in 2008. He was one of the few students who graduated from his class.
His first job was as a receptionist at Sun Siyam Iru Fushi, which he joined in April 2009. He was interviewed by the resort's then Guest Relations Manager Dorothy Bahati (now Director of Operations), who gave him his first opportunity. "That was my very first job interview," he recalls. Before that, he had worked at Sun Siyam Olhuveli for a month as part of his internship.
At Sun Siyam Iru Fushi, Baasith learned everything on the job, from handling payments and reservations to dealing with customers and colleagues. He was not afraid to take on new challenges and responsibilities, and soon he was promoted to cashier and then front office supervisor.
In 2009, the resort changed management to Hilton, which brought new standards and expectations. Baasith adapted well to the change and became a guest service manager in 2013. He also developed his skills in using Opera, a software for guest check-in and check-out. He taught himself how to use the system and became so proficient that he was sent to train other staff at Waldorf Astoria Manafaru, another property managed by Hilton at the time (now JA Manafaru).
"I was highly motivated, you know, and being very young and new, I had the opportunity to provide training with the knowledge I possessed, and I was very pleased," he says.
However, in 2013, another management change occurred, which was more challenging than the previous one.
Baasith did not let these setbacks discourage him. He continued to work hard and learn new things. He also embraced the new management, which involved the property owners taking charge of management and operations of the resort. The owner operated model also gave him more autonomy and flexibility.
Soon after, Baasith was promoted to Guest Service Manager, and took charge of the front office department, which had about 110 team members at the time. His main responsibility was to ensure guest satisfaction and loyalty, and to handle any complaints or issues that arose. He dealt with many challenging cases, such as injury and power outage.
"I'm very confident that there is nothing we cannot handle here in terms of complaints," he says.
Baasith and his team also had to cope with the COVID-19 pandemic, which brought new risks and protocols. He had to handle guests who tested positive for the virus and work closely with the doctor. He divided the tasks among his team members, so that each one would handle a different case.
"When guests get positive, I have to be there, and a doctor has to be there with a full kit," he says.
In 2021, he was promoted to Front Office Manager, and became in charge of the entire department.
"I'm proud of the improvements I've been able to make because the turnover of the department is much less compared to the past. Maybe 5-6 in a year leave and most of them come back too. I think it's a great achievement when you handle a team of 60, 100 staff," he says.
He also says that he always has a solution for any unhappy guest, and that he tries to bring his team members close to him, while keeping the boundary. He also gives advice to new staff members who join the resort, and tells them not to focus on money, but on career development.
"Money will come later. First, you need to grow yourself as a person and in your career. As you grow personally and professionally, you will also progress step by step, and at one point, your dream of money will be yours to enjoy," Baasith says.