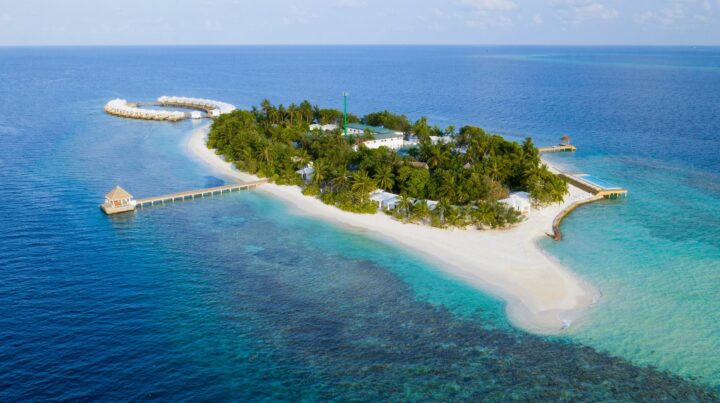 Fun and simple all-inclusivity at Sandies Bathala
Sandies Hotels and Resorts, known for its structurally clean lines, warmth and fun in enticing destinations, opened its new addition in the Maldives. Named Sandies Bathala, a well-known island for its unique reef, laying on the northeastern fringe of the Ari Atoll, opened its doors to the public in the year 2019. The resort underwent a complete change from its previous look, currently adorning white everywhere with its unwavering simplicity. Frequented by divers due to its robust house reef, the island is small in its frame being intimate and inviting.
The simple lodging for the island's dwellers is without a TV or ultra modernity, allowing them to fully engage in their surroundings without too much distraction. Totaling in 70 rooms, Sandies Bathala has 24 Water Villas, 22 interconnecting Beach Bungalows, 24 Beach Bungalows. The completely new set of Water Villas is hoisted in two separate piers allowing direct access to the clear waters. With a roomy private terrace equipped with sunbeds and an area to dine at, the Villas are ideal for couples or friends to enjoy deep relaxation in what feels like home. The Water Villas are eco-friendly and assembled in Italy in the resort's mission for a sustainable future.
The Beach Bungalows with its ample private verandas gives way onto the surrounding marine beauty with direct access to the beach. The white airy rooms allowing sunlight to the room makes it a happy, warm place to be. The bathrooms have two washbasins with an outdoor shower to revel in the island living experience. Each villa and bungalow at Sandies Bathala has custom-designed furniture that is user-friendly whilst pleasing to the eye. A mini-fridge and a hospitality tray with self-service tea and coffee making facilities complete the hominess of the rooms at Sandies Bathala.
The All-Inclusive concept of the resort simplifies living on an island as the dwellers need not worry about what is included and excluded in their stay. Three meals are served at the Island Gallery restaurant with its Mediterranean influenced cuisine with live cooking stations to appetize the palette. The Island bar is the place to be after a full day of activities for a drink or two. Often times the bar loungers are brought together with light games hosted by the animation group. A Beach Grill menu serves Al Fresco dining under a sprinkle of stars, weather permitting. Available only for dinner, this option is ideal to celebrate occasions or as a romantic gesture for your loved ones.
Referred to as the 'rainforests of the sea' the coral reefs make up the delicate ecosystem of the Maldives. At present, sustainable acts need to be sped up to further protect them for a greener and healthier future. The Planhotel-Bicocca partnership has advanced ways to gain further knowledge of the marine environment to create awareness for the protection it needs. At Sandies Bathala the initiative is well-spoken for as guests and employees can learn more on it to do their part for a lesser carbon footprint whilst conserving. Dwellers can join the 'Coral Cookie Club' by replanting fragments of rescued coral with the help of the in-house marine biologist.
The Mvua African Rain Spa takes it's origin from Africa – Mvua in Swahili meaning rain, is the spa experience at Sandies Bathala embracing indigenous moisture that uses energetic natural ingredients and aromatherapy oils reliable for a variety of needs. The balms used in the tranquil environment of the spa revitalises the senses from hydrating Kalahari Melon oil to Mongongo nut oil to relaxing Marula and Neroli oil. The enriching treatments are based on age-old African, Asian and European traditions to exhilarate the spirit, pamper the body and engage the mind. A trip to Sandies Bathala isn't rounded off with this unique spa experience designed for your optimum relaxation.
The all-renewed Sandies Bathala in its simplicity welcomes friends, families and honeymooners alike to have a relaxing getaway in an informal environment with a fun charisma. A candid fifteen-minutes away on a seaplane from the international airport, the resort is affordable yet classy in the whiteness of its decor to its easy accessibility within the island. So why not spruce up your vacation on an island that is a true home away from home.
GUEST FACILITIES
24-hour reception with luggage storeroom
Wi-Fi internet
Cocktail Bar & Lounge
Laundry and pressing service (against charge) 
Swimming Pool
Boutique
Gym
Game room
Resident nurse
Children service: baby cot, high chair on request – Credit cards accepted: Visa and Mastercard 
THE ALL-INCLUSIVE CONCEPT
Welcome cocktail
Breakfast, lunch and dinner served at the Island Gallery restaurant 
Soft drinks, juices, house wine, local beer, American coffee and tea served during meals and at the beach bar from 10:00 a.m. to 00:00 a.m.
Selected cocktails and spirits served after 18:00
Wi-Fi internet at the reception, in the bar area and in all the rooms 
Sun loungers and beach towels
Snorkelling gear
SPORTS ACTIVITIES
House reef snorkelling
Snorkelling by boat and night snorkelling (against charge) – Beach volley
Island hopping (against charge)
Fishing (against charge) 
Diving (in house SSI and PADI diving center offering also Nitrox and underwater scooters)
GENERAL INFORMATION
Currency: US Dollars, Euros and Sterling Pounds
Language: Dhivehi is the official language. The staff speaks various languages including  Italian, German and English.
Weather: Two main seasons. From December to May sunny and fairly dry while from June to November there are occasionally brief downpours followed by sunshine. Temperatures range all year round from the mid-20s to mid-30s and the average humidity is around 70%. Local Time: The Resort is running one-hour ahead of Malé time (GMT+4)
Transportation: Fifteen-minutes seaplane from Malé Airport.
Location: Latitude 4° 4'13.27"N, Longitude 72°56'44.13"E