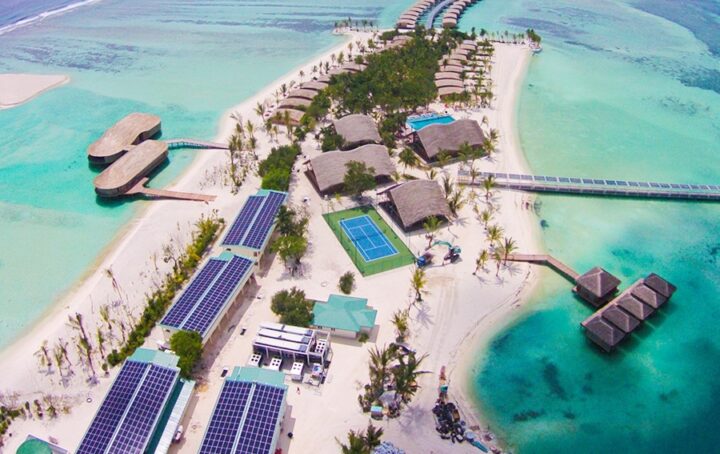 Gasfinolhu – Solar Heaven
Gasfinolhu Island Resort, the world's first luxury resort to generate power from wholly renewable means, is set to be open for business early in 2015. The resort, located about 25 minutes from Male (by speedboat), features 52 rooms, including 30 overwater bungalows, all of which run on solar power produced on the island itself.
Work on constructing the resort began two years ago, and the island's solar power system required an investment of 8 million US dollars. The cost of the system is expected to be covered within seven or eight years.
The energy requirements of the entire island is met by over 6,000 square metres of solar panels, some of which cover the arrival jetty and adorn the rooftops of utility buildings. At their peak, the hotel's solar panels produce about one megawatt of electricity daily, significantly more than its energy needs, which is estimated to be around 600 kilowatts per day, at peak load.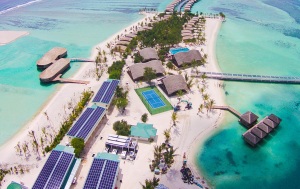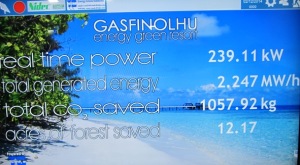 The resort's power system is sophisticated; it is completely automated and programmed via computers to switch from direct solar power, battery power, or diesel generators as needed. The power hub of the resort has a touch screen panel that shows how much energy is being used and the type of energy being used (whether direct solar, battery or diesel) in real time. It also shows how much of a rainforest is being saved by going solar and carbon dioxide (CO2) savings. According to this real time data shown on the screen, as of 2nd December, the resort had saved 1058 kg of CO2 and 12.9 acres of rainforest.
A central 'chiller system' is also established on the island that utilises cold water to produce cool air for air-conditioning. Hot water produced by the chillers is reused to heat up desalinated water for the rooms. The chillers consume most of the power at the resort.
The power system at Gasfinolhu was designed by T & D Water Technologies and Development of Italy. The company primarily designs and produces water and waste treatment plants and seeks to provide environmentally sustainable solutions. T & D has completed two projects in the Maldives; the establishment of a desalination plant on Herathera Resort and a wastewater treatment plant on Meeru Island Resort.
Gasfinolhu will be operated by Club Med, who already run a resort, Club Med Kani, in the Maldives. Club Med has already positioned Gasfinolhu as a 'private island' where a 'perfect equilibrium' has been struck between luxury and nature.