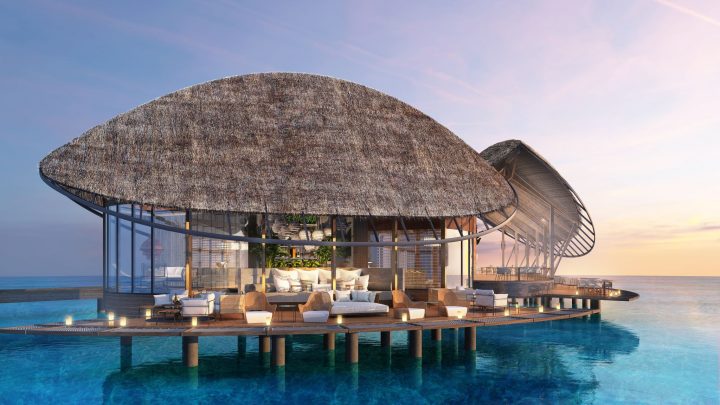 Get Ready for New Openings in the Maldives
The Maldives has been the international success story of the world, opening new resorts even during the pandemic. There have been several exciting new openings in the Maldives lately and more to come this year. Hotelier Maldives looks at some of these exciting new developments in the archipelago that have been announced or recently opened.
Hilton set to open new resort in the Maldives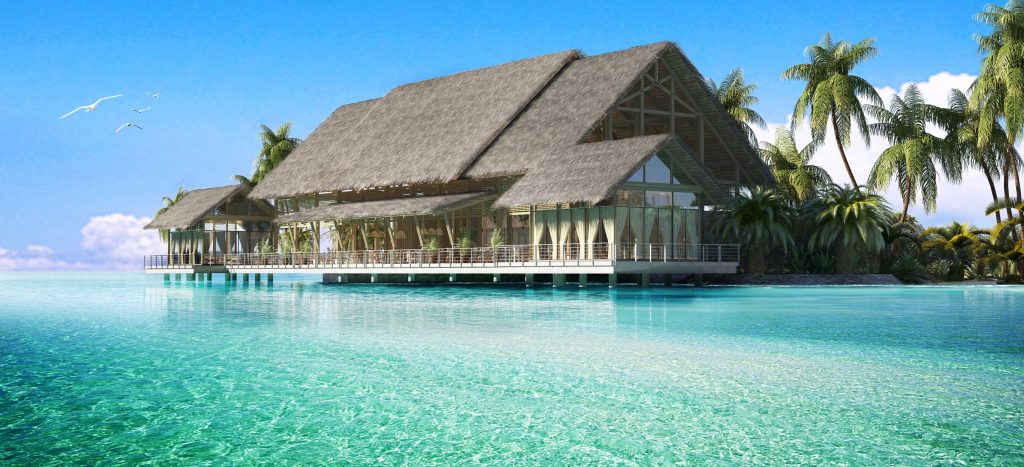 Hilton has announced the signing of a brand-new resort in the Maldives: Hilton Maldives Amingiri set to open later this year.  Paul Hutton Vice President, Operations, Southeast Asia at Hilton said:
"I am absolutely thrilled to share that we have announced the signing of a stunning new resort in the Maldives: Hilton Maldives Amingiri.
"When it opens later this year, the 109-all villa resort will join our portfolio of award-winning properties as the fourth resort and mark our flagship brand debut in the Maldives."
Amingiri Island in the Male Atoll will be directly accessible from the Maldives' Velana International Airport via a 15-minute speedboat ride. Each of the resort's 109 well-spaced beach and water villas will feature a private pool and there is an array of dining options to suit different moods and palates from the resort's six restaurants and bars.
Guests can enjoy an array of dining options from the resort's six restaurants and bars to suit their mood and palate throughout the day, including:
Habitat: the resort's all-day dining restaurant which celebrates international cuisines inspired by cultures ranging from the Mediterranean to South East Asia through its live kitchens, presenting a delectable breakfast spread in the morning before evolving into an a la carte dining venue for lunch and dinner where guests can enjoy themed nights offering indulgent flavours from around the world.
Re-Fuel: A teens-only zone where junior guests can gain access through a secret speakeasy-style entrance in the kids' club. The rooftop deck is a tranquil oasis where teens can relax and unwind. A dedicated bar will serve a curated menu specifically catering to the needs and wants of the teenage traveller.
EDEN: An adults-only resort's destination bar specializing in champagne and gin-based drinks in a highly bespoke and intimate setting where guests can celebrate special occasions with unparalleled views of the Maldivian sunset.
Alexandra Jaritz, senior vice president, brand management, Asia Pacific, Hilton, said, "As the most recognised name in hospitality, Hilton Hotels & Resorts has one of the largest footprints across the globe. Even more importantly, the brand is known the world over for the positive impact it brings to each new destination we enter through the employment opportunities we create and renowned levels of hospitality we bring to the location. We are thrilled to be seeing our flagship brand represented in the Maldives and look forward to providing the perfect setting for families and friends to reconnect and make new travel memories when the resort debuts in the coming months."
Joali Being Maldives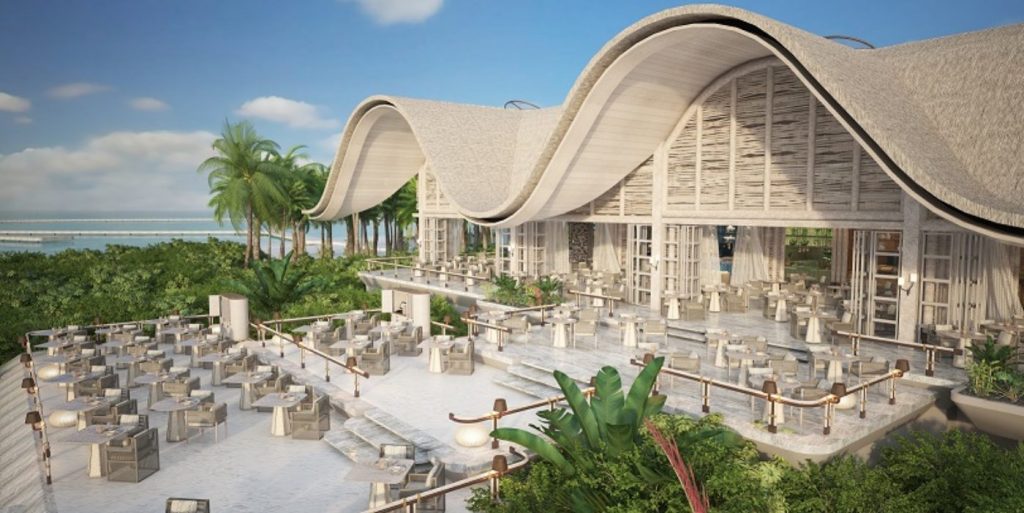 JOALI BEING is a nature-immersive wellbeing retreat set to make its debut later this year on the island of Bodufushi in the Raa Atoll, close to it sister island the art-immersive resort Joali Maldives. Based on the principles of biophilic design, the architectural project was led by the architect Cuneyt Bukulmez from Atolye 4N and an interior design studio, Autoban.
Each of the retreat's sixty-eight exquisite beach and water villas offers private pools and special wellbeing inclusions, such as customised mini-bar setups, meditative musical instruments and mind-bending games. The resort's four-bedroom overwater villa will feature 39 treatment rooms and transformational spaces including a Hydrotherapy Hall with a sensory deprivation room, Russian Banya, water therapies, salt inhalation room and hammam.
The Four Pillars of JOALI BEING were developed in partnership with Professor Gerry Bodeker of Oxford University, who is a Harvard-trained expert on traditional and integrative medicine and wellness. The retreat will offer an array of finest wellbeing facilities, including thirty-nine treatment rooms and unique transformational spaces, such as hydrotherapy, movement, and sound healing experiences. There, guests are offered personalised programmes to return home feeling renewed, uplifted and inspired, with a new sense of 'weightlessness'.
The unique features of JOALI BEING include an overwater meditation deck for mindful practices, a sound therapy hall and a discovery sound path created in collaboration with the sound healing consultant Aurelio C. Hammer. Aktar, the retreat's herbology centre, is inspired by the rich heritage of healing through the power of herbs and takes the guests onto an educational journey.
The resort's culinary offering will embrace an Earth-to-Table approach, highlighting locally grown and sustainably sourced ingredients in dishes and drinks curated in collaboration with nutritionists. The open plan dining space FLOW will offer a range of culinary styles at signature kitchens ranging from vegetarian Plantae and ocean-to-table Su to signature dining spot B'Well. The beach sanctuary Mojo serves lunch and sundowner drinks by the pool and SAI tea lounge will highlight the finds of a tea sommelier. On top of this, cooking classes will be hosted at the retreat's culinary learning centre.
Kuda Villingili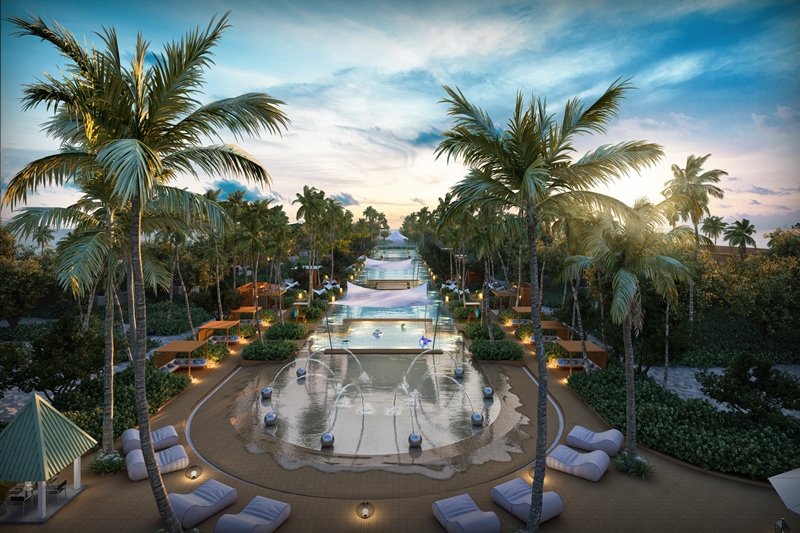 Kuda Villingili resort was launched earlier this month on a 40-acre island in North Malé. The resort has 95 luxury villas (36 overwater and 59 beachside) facing the Indian Ocean, a beachfront spa and a pool, encircled by sunbeds, cabanas and bars. Traditional Maldivian art pieces and textiles are dotted throughout along with eco-friendly furniture and fittings including carpet made from recycled plastic bottles. Showcasing incredible gourmet dining options, the main restaurant serves breakfast and offers three menus at dinner: Fire, Earth and Ocean. Fire inspired by the traditional American Steak House experience; Earth is an Asian-inspired concept that celebrates organic ingredients as part of classic dishes like noodles and dim sum; and Ocean is a fine-dining affair offering seafood specialties. The Hawkers is an upscale, three-stall street food market that sits poolside and serves tandoori shawarma and kebabs along with Thai and Japanese delicacies, such as robatayaki grill and sushi, and Italian-Mediterranean favourites like wood-fired pizza. The Beach Club serves South American fayre accompanied by daily live DJ sets and an extended list of frozen cocktails and rosé wines. The resort's main bar and poolside bar both offer classic cocktails, mocktails and beers, while the cigar lounge overlooking the lagoon, offers the finest international whiskies and cognacs and a wide selection of premium cigars in a leather-decorated ambience.  The spa at Kuda Villingili features stone baths within eight self-contained oceanfront spa villas and guests can enjoy the yoga pavilion, technogym and a recreation centre with table tennis, billiards, karaoke and table games. There are two tennis courts, beach volleyball. Guests can also surf at nearby Chicken's surf break, scuba, and engage in big game fishing.
Featured Image: Hilton Maldives Amingiri