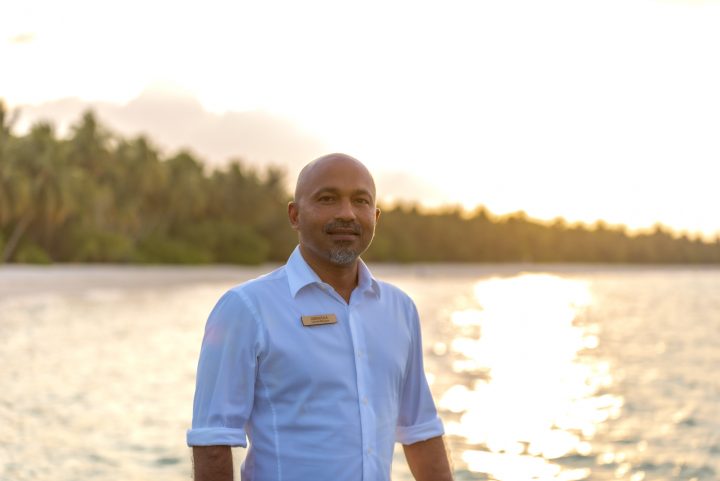 GM's View: Abdulla Fathhey, Sun Island Resort & Spa
Abdulla Fathhey is the General Manager at Sun Island Resort & Spa, a luxury family-friendly resort in South Ari Atoll. Fathhey has two decades of experience in the industry and has worked seventeen years at local company Villa Hotels & Resorts.
Hotelier Maldives talks to Fathhey about his career in the hospitality industry, managing a luxury resort in the Maldives and his advice to aspiring hoteliers.
Hotelier Maldives: Tell us a bit about yourself and your career
Abdulla Fathhey: I am an honored Maldivian. My beginning in the tourism industry was a very humble start. I started as a trainee receptionist at Lhohifushi Island. During my career, I was fortunate to work in different departments at various resorts in the Maldives, which helped me gain meaningful exposure and develop the necessary skills and knowledge to operate a resort. I took the initiative and experienced multiple areas of the resort operations. As a result, I felt ready to take on such a pivotal role following my promotion to General Manager at Sun Island Resort. The knowledge I have gained from my colleagues in the industry is invaluable, and they are the reason behind my success, passion, dedication, and hard work.
HM: What is it like to be the General Manager at Sun Island Resort and Spa?
AF: This is an excellent question. I would say it is very similar to other team members as you need to complete your daily tasks on time and meet the company's short, medium, and long-term objectives on time. Additionally, you have to make sure your colleagues and guests are happy with the level of service. It is almost like you are running two resorts in parallel, one for the internal customers (colleagues) and the other for external customers (our guests), so it is essential to understand both customers' pain points during their journey. Your colleagues must be happy and entertained to provide a seamless and effortless holiday to guests. Of course, you are responsible for many other aspects of the resort. It is always fun and exciting running one of the biggest resorts in the Maldives.
HM: You have been working with Villa Hotels & Resorts for over six years. Tell us more about working with the company.
AF: I have worked for Villa Hotels & Resorts for more than seventeen years in two separate terms. This is my second time at Villa Hotels & Resorts, and it has been an incredible journey so far. The family-run company provides an ideal platform, almost like a university where our Team Members and fresh school leavers can learn the necessary theoretical knowledge and gain the required skills and practical experiences to grow and become industry experts. Villa Hotels & Resorts always retain the genuine natural warmth of Maldivian Hospitality. Locals in various positions, including senior roles such as General Manager at the resorts, really understand the importance of delivering authentic and warm hospitality.
HM: Tell us about Sun Island Resort and how the resort is unique from other family resorts in the Maldives.
AF: We are not competing with any other resort in the Maldives. Instead, we are creating and offering something unique in the market where families, couples, groups, honeymooners, and singles alike can enjoy the resort and its facilities effortlessly. We are in a league where competition is irrelevant; we compete only to improve ourselves each day.
HM: What's the biggest challenge you face in your work? And what do you like most about it?
AF: I have experienced multiple challenges during the last two decades of service in the hospitality industry. I have experienced everything from a pre-opening experience, a Tsunami, a fire incident at the Paradise water villas, and operating one of the biggest resorts in the Maldives during the COVID19 pandemic.
I like most having the opportunity to lead a brilliant team who can face any challenges and come out stronger and change the cause to a beautiful situation quietly and intelligently. I am grateful to the team leaders and all the members of the Sun Island Team for their exceptional performance during the most challenging times, mitigating operations tactfully.
HM: Describe a day in your life as GM at Sun Island Resort?
AF: It is essential to start the day with exercise to stimulate your body and mind. The island is very different from other Maldives resorts because of its natural beauty. Sun Island boasts beautiful, lush greenery and extensive coconut palms. There is even an area for tropical migratory birds that call the island home. In the morning, I like to walk around the island to enjoy the natural beauty, where I gather inspiration for the day.
It is vital to oversee the operations before heading to the daily briefing and other responsibilities. So, during the walk, I check on operational procedures while observing how we could improve. In addition, I like to engage and interact with guests and staff alike, which is an essential part of the job. As a result, I can improve the services and elevate the guest experience.
HM:  Could you tell us more about managing a resort through the pandemic? What were the major problems you faced, and how did you solve them?
AF: Unfortunately, we were closed for eight months, and some colleagues took leave, but half (500 people) of the Team Members decided to stay in the resort. Keeping 500 Team Members on the island without working was a huge challenge. Keeping them motivated and their spirit high was our focus in handling the crisis. We did very well by involving colleagues in different ventures and team-building activities.
Reopening the resort was the other challenge with so many logistical difficulties, and meanwhile, most of the borders were closed. It was an enormous challenge to bring our foreign Team Members back to the resort from different parts of the world. However, the team on the ground did a fantastic job, and we held our heads high amid all the odds and difficulties we faced.
HM: Is there anything exciting coming up at the resort?
AF: Villa Resorts has embarked on an exciting journey of transformation. The unveiling of this exciting journey is planned for the end of this year. Our kid's club at Sun Island is one of the features that I wish to mention as it is going to be the biggest kids club in the country with exciting activities and experiences.
HM: What advice would you give to hoteliers aspiring to get to your position?
AF: Today's young people are well ingrained in theory, and they get a lot of information from the internet. But, equally, they need to learn that it is essential to have strong operation skills to operate a resort. So, it is vital to work in different departments and come through the ranks to gain the necessary knowledge and skills. It is also essential to practice engaging with staff and guests. I also feel it is vital to learn revenue management as just excellent service skills alone are not enough to be an industry leader.