Ahmed Saleem
Ahmed Saleem is the mind behind what is now one of the most recognizable features of Maldivian resort architecture; the open toilet concept. He is also one of the founders of Crown Company, which has been involved in the hospitality industry since 1983. One of the highlights of his engagement in the industry is Ithaa Undersea Restaurant at Conrad Maldives Rangali Island which earlier this year came in first on the Daily Meal's list of the world's 10 most beautiful restaurants. It was constructed in 2005. Hotelier Maldives met with Saleem to find out more about his experiences and assessments of the industry.
HM: Could you describe your association and engagement in the Maldives tourism industry?
AS: I am a trained architect, so my background is in architecture. Most of my work is based on designing resorts and coming up with ideas for development, and making sure that those ideas get built the way I want them built. Most of my expertise and involvement is on the building side rather than running the resort.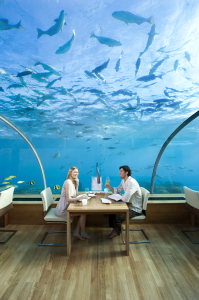 HM: Could you give some general details regarding some of the projects you were involved in?
AS: Crown Company was formed in 1983. Before that I was involved in a few projects. The most notable one from that would be the Kudahithi development in the early 80s and at that time it was regarded as the best resort in the Maldives. Since the Crown Company began, one idea that I started was the open toilet concept. Originally this idea was used in Kudahithi, and then we incorporated it into the Veligandu design. This has now become a universal unique feature in the Maldivian architecture and many, many, many resorts are doing that. Like all architects, I was also trying to come up with a unique Maldivian image. I have also contributed and many other Maldivian architects have also contributed to this unique concept of "Maldivian architecture." The most interesting and important project I have worked on was the underwater restaurant at Conrad Maldives. This was a very, very, interesting project in that we came up with the idea. What we have done at Conrad is quite different from the other underwater structures in the Maldives or in the world for that matter. Basically the entire top portion is glass. When you are sitting down you feel the water around you. Getting this built was really a challenge. We had to find an engineer who was experienced in this kind of work. We first tried to build it in the Maldives and we found it was impossible because of the technology involved. The whole structure was built in Singapore and transported to the Maldives and then it was sunk into the sea. So the whole thing was very challenging, I would say the most interesting project that I had done.
HM: How did you develop an interest in this sector and how did your engagement in the industry begin?
AS: I actually came to this quite by accident. I was having a talk with my friends, then one thing led to the other and next thing we found, we formed a company. It all came from a chat over a cup of tea I had with one of my partners. Then another partner who was also a friend walked in and the three of us decided that since we were young, we were educated, and we have the technical know how, why don't we do something ourselves rather than give our technical ideas to other people. So the whole company, the concept started from that. And because we all had individual expertise, luckily in different areas, we felt that we were a good group of people who could do something and of course benefit as a result of that. So that was the main reason we got started.
HM: What would be your assessment of the tourism industry at present and what are your views on the achievements of the Maldivian tourism industry?
AS: I think the Maldivian tourism industry has really achieved great things because, as a product, not only as a physical product but as a whole product, Maldives is regarded very highly by the rest of the world. I think this comes about mainly because the first generation of people who got involved in this industry did not necessarily think of it as a business but more of a challenge to strive for and to do something better than everyone else. So the economical aspect or trying to get a return on the investment was not on the minds of a lot of them. Our generation of people, we just wanted to do something that we can be proud of, and luckily because of the demand, we were able to come up to the position that we are now in the world. And I think we are at a very critical and interesting stage now because a lot of things are going to change. Our present concept of one resort one island is going to change because economically we are going to be in a position where we have to make some choices and I think the government will probably be acceptable to these kinds of changes. I see a lot of new products, newly innovated products coming out into the industry.
  Whether they are underwater hotels or floating hotels, or multi storey resort hotels, all these things are now in the stage of being introduced. So I see this as a very exciting time for tourism in the Maldives where we are going to see a totally new, but hopefully as good, tourism products coming through. I am very happy and I hope the younger generation will push this through to the same level that we did.
HM: Could you describe some of your observations on the industry's current status along with your ideas of what needs to be improved, changed or introduced?
AS: I think all the changes that will come about will be more market driven. Introduction of the Chinese, which is now a big segment of arrival into the Maldives will demand a lot of changes because what the Chinese expect, is not the same as what the Europeans expect. So I can see some really interesting ideas coming through out of the Chinese coming into the market. Similarly, you know the stock of good resort islands that can be built to the present concept is running out. So in order for us to go somewhere we have to come up with totally new and different products. And this could be floating structures, or underwater structures, so many products that are not there right now.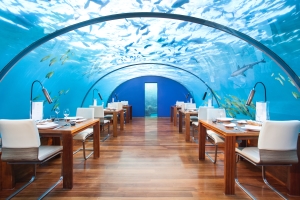 HM: What are your ideas for the future of the industry?
AS: I have many ideas and I think these ideas will be for the next generation to push through. We are at the stage where we have come very far. But we are at a very critical juncture where we are going to do the next jump. And this jump, if we all put our minds together, and go in the right direction, we will remain to be an excellent and well known country for tourism. Similarly if we make the wrong decision, it could end up being a bit disastrous. So we are at an exciting point. But I think also at a point where we have to be very careful and analyse what's coming up, make sure the decisions we make are all going to be for the betterment, rather than go in a way some countries did resulting in their tourism product being completely ruined together with the reputation of the entire country. I think we have achieved a lot within the last few years to be one of the top tourism producers in the world. What we do next will determine where we will determine where we end. So it's a happy but cautious and challenging time.