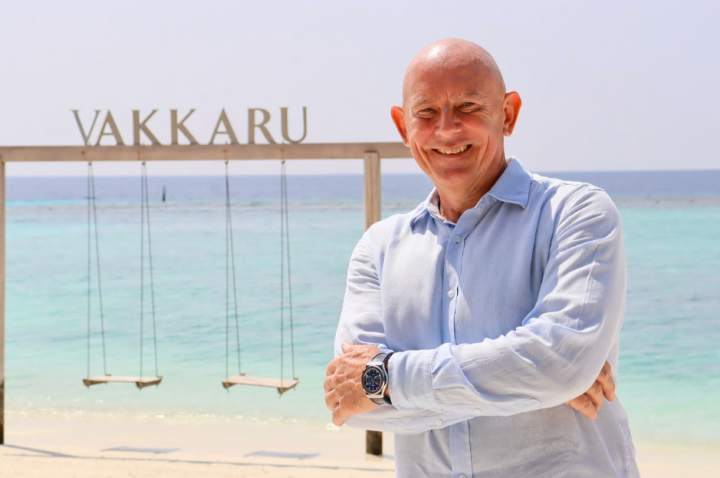 GM's View: Iain McCormack, Vakkaru Maldives
Iain McCormack is the General Manager of Vakkaru Maldives. With an international career, starting in the kitchens to managing palace operations to resort management, Iain has over 40 years of experience in the hospitality industry. Hotelier Maldives speaks to Iain about his career, achievements, day-to-day experience as a Resort General Manager and the changes he has witnessed in the Maldives over the past decade.
HM: Can you tell us a little bit about yourself and career? 
IM: My career started in the kitchens, working my way up through the ranks in amazing hotels and restaurants to Executive Chef. I was chosen to represent Great Britain in the culinary team. I achieved many awards. I also judged several of the top culinary competitions. This led me to my first position overseas to manage the palace operations of a prominent Royal Family. From here, I moved out of the kitchens and headed across the Atlantic to the Caribbean into Resort Management. It was not long before I became General Manager and was leading some amazing properties in the region, island hoping for 15 years.
Then The Maldives was calling. I was the General Manager of Soneva Gili (Six Senses group) for three years before hopping over to Mauritius, then onto Vietnam, Sri Lanka and Bali before spring boarding back to the Maldives. I have been Managing Vakkaru for the past three years, starting during the pandemic.
HM: What does a day in your life as GM at Vakkaru Maldives look like?
IM: There is a fundamental difference in managing a resort versus managing a city hotel. For example, a high percentage of guests staying in a city hotel will stay on business for 2-3 days with their companies paying. In contrast, our guests will pay themselves and stay much longer. Therefore, the expectations are far higher, with personalised service, management recognition, attention to details and value for money. In a city hotel you would rarely see the GM, however here it is expected the GM is visible.
Being a GM in the Maldives is like nowhere else on earth, waking up early every morning, as the sun is rising across the lagoon is magical. The work kicks in with an 08:30 am meeting with the department heads to discuss all the arrivals and departing guests, any reported issues, maintenance issues and planned projects. Then the discussion revolves around food, beverage, activities and recreation to ensure our guests have an excellent experience. Finally, we go over the daily revenue, sales and marketing results.
No day is similar. It's like a game of chess, with so many moving parts, no matter how you plan to start your day, it never goes the course you expect. A property walk always results in highlighting maintenance, landscape, F&B, and housekeeping issues, which need to be followed up.
My evenings usually entail an hour of tennis with our coach, which gives me time to de-stress and stay fit. After I walk through the restaurants to make sure the service is going well, and meet our clients along the way. On the odd occasion, I will end the day with a well-deserved gin & tonic.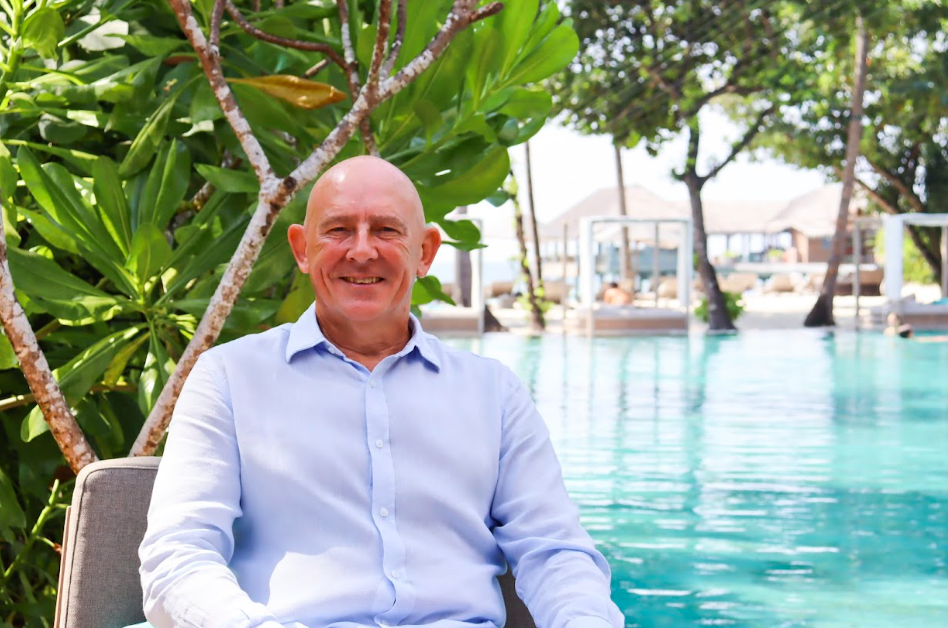 Featured Image: Iain McCormack
HM: What's the most challenging and rewarding part of your work as a GM? 
IM: The most rewarding aspect of my job is working with such a dedicated, proud and hardworking team. Of course, it is always rewarding seeing the happy, smiling faces of our guests throughout their stay with us and the tears when they have to leave. This shows the emotional effect our team has on our guests through extraordinary levels of service and attention.
With most challenges, come opportunities, it is how you address any challenge with a positive mindset to find solutions. One example of a challenge was on Dec 14, 2021, an electrical fault burnt down our over water restaurant and bar. With the high and festive season looming, this was a disastrous situation. I made an immediate decision to set up a sunset cocktail lounge and bar with complimentary cocktails from 6:00-7:30 daily on the Vakku beach. We never received a single complaint from our guests regarding the loss of the lagoon bar. Fortunately, we had a contractor on the Island, who was just about to build a Yoga pavilion. I shifted the contractor to the lagoon bar and tasked the team with rebuilding the bar within 10 days. They began on December 17th and worked 24 hours with 3 shifts. To the amazement of guests, we re-opened on December 27th.
HM: How would you describe your leadership style?
IM: I do not enjoy office life. I like to be out around the resort. I lead by example and am not afraid to get my hands dirty to help the team. It is important to be respectful and treat everyone the same as every person contributes and is crucial to the smooth running of the resort.
Each month I have a 'Coffee with GM' meeting with one member of the team (not management) from each department. It provides an opportunity to highlight good and challenging things in the workplace and living conditions. We discuss ideas to implement and formulate an action plan that is posted on the team notice board to ensure everyone feels part of the process and their ideas are taken seriously. In many cases, the team comes up with the best ideas, as they are the ones working within the department and see things I don't.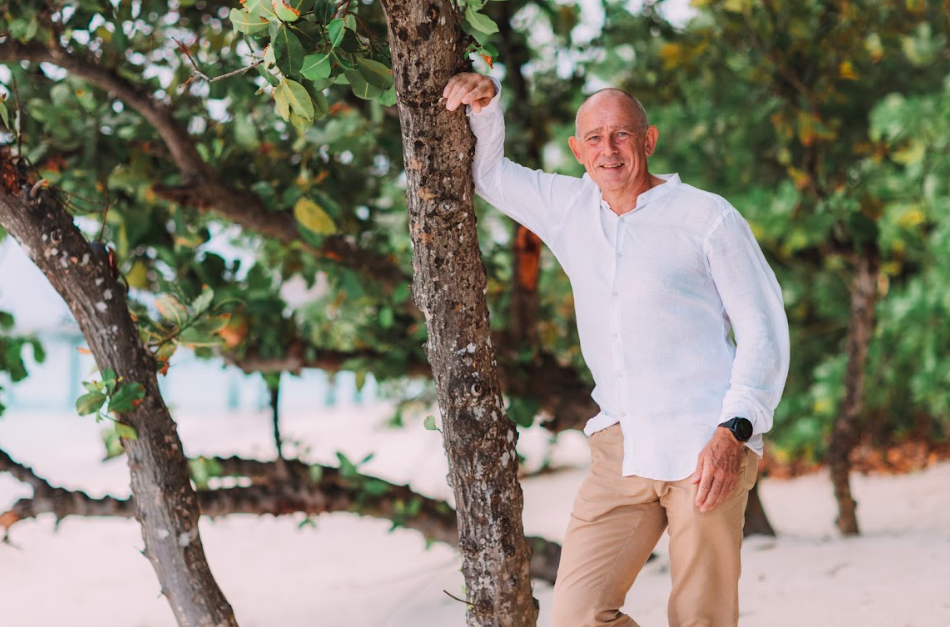 Featured Image: Iain McCormack
HM: What changes have you seen in the Maldives hospitality industry since your first experience as GM at Soneva Gili in 2010? 
IM: The main change is the number of new properties that have opened since 2010. I don't know the exact number, but it must be approximately 100. This has created a lot more air and boat traffic around the Malé area. There is a lot more focus on tactical strategies to gain a good market share. As Vakkaru is a new and stand-alone brand, we worked extremely hard to compete against the bigger brands, such as Four Seasons, One&Only, Waldorf, Ritz Carlton etc., to position ourselves in the top 10 luxury resorts in the Maldives.
HM: What can we look forward to from Vakkaru Maldives this year? 
IM: We have several projects planned for this year to enhance our Villa categories. We are developing 3 & 4 bedroom villa products, a new over water restaurant, pool, bar concept, and another dining outlet to add to the six we already provide.
HM: Do you have any advice for young hoteliers?
IM: After 40 years, I am as passionate about hospitality as I was when I started. Hospitality is a tough environment; you will work long hours and have to deal with demanding and unreasonable guests. However, with the right attitude and ambition, this industry is super rewarding. With the right mindset and career goals, you can achieve anything. You will have the opportunity to travel, meet many wonderful people from around the world and can live a very comfortable life.