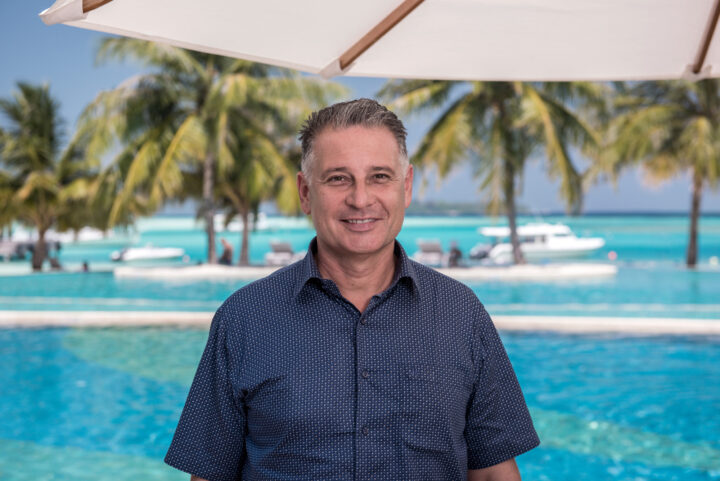 GM's View: Joseph Della Gatta, General Manager, Holiday Inn Resort Kandooma Maldives
Joseph Della Gatta is a strategic and visionary hospitality professional with over two decades in hospitality, having worked with leading hotel and resort brands. Joseph has been with the InterContinental Hotels Group (IHG) since 2006 and today we find him as the General Manager of IHGs Holiday Inn Resort Kandooma Maldives. He speaks with Hotelier Maldives about his background, leadership role, the destination and its journey forward.
Hotelier Maldives: You've worked in the travel and hospitality industry for over two decades. Can you tell us about your journey in the industry?
Joseph Della Gatta: I have had an amazing journey in the hospitality industry – and it all began at home! Having an Italian background, I was always surrounded by big family gatherings with lots of food, family, friends and fun, and I knew that someday this is what I wanted to do. After my hotel management education, I joined PARKROYAL Melbourne Airport Hotel, was also with Starwood Hotels & Resorts and then to the InterContinental Hotels Group (IHG) where I have been for the past 17 years.With IHG, I have had the privilege of being part of some fantastic properties and destinations around the world from Bali InterContinental Resort, Crowne Plaza Resort (Sanya, China), Clark Mimosa Leisure Estate (Philippines), and InterContinental Fiji Golf Resort & Spa (Fiji) and now the Maldives as the General Manager of Holiday Inn Resort Kandooma Maldives.HM: Having worked in a number of different countries, you must have had to deal with numerous challenges. Can you describe your experience?
JDG: One experience that stands out, in particular, would have to be when I led the team that handled all F&B operations for the Miss World Pageant in 2007 at Crowne Plaza Resort Sanya with 106 contestants, their entourage, media, pageant VIP's, government officials and the general public to cater to. The sheer magnitude of the logistics of having so many diverse nationalities with various culinary preferences, gala dinners, and special events was one where team effort and organisation played an instrumental part in delivering a world-class event that was showcased around the world.
I am a firm believer where you have challenges there are always opportunities. As hoteliers, we all have daily challenges with people and talent but the art of turning this around is a standout for me. No matter what country I have worked, nothing makes me happier than investing in a talent succession plan and seeing hotel associates develop & grow.
By spending time in coaching and guiding, I see them develop into the great leaders of tomorrow in the industry and becoming F&B and Rooms Division Managers, EAM's and even General Managers. We are a people business and with the right people in place, we facilitate the guest experience and service excellence.
HM: It's a challenging time in the hospitality industry and a remarkable time for the Maldives with the market ever-changing and growing. How do you motivate your staff at Holiday Inn Resort Kandooma Maldives?
JDG: It is indeed a very interesting time in the hospitality industry, especially in the Maldives where we are seeing an influx of high-end and internationally recognised brand names in all-star categories coming in – giving travellers more options. For my team and me, to differentiate ourselves with all the competition out there, we need to stay true to IHG's hospitality values whereby we provide each guest with "True Hospitality".
To deliver this, we make sure that each of the team members believes the spirit of true hospitality and more importantly, they understand "why" it is vital that we deliver a genuine experience to the guest. It's not simply by forcing them into mandatory training, it's about making them part of the journey.
My team is empowered in problem handling as we have a very inclusive decision-making process, there is an open door policy with the Management team, and most importantly we always try to fill new positions from within.HM: The Holiday Inn Resort Kandooma is one IHG hotel that has been making waves through its environmental sustainability initiatives. Can you elaborate on your sustainability philosophy?
JDG: Unlike most other destinations in the IHG network, Maldives is one of the most, if not the most sensitive to climate change and here at Kandooma Fushi we have experienced it first-hand ourselves. Like in most other parts of the Maldives, our coral reef suffered some damage due to the adverse sea temperatures two years ago.
To regenerate our reef for the marine life and for the enjoyment of our guests, our Resident Marine Biologists came up with the "Reefscaping Project" – where we embed coral frames with healthy coral along the reef line. This project has proved to be a huge success and it's very motivating to see many of our guests participate.
We also harvest rainwater to use in the guest laundry. By harvesting rainwater we save approximately 50 tonnes of water per month on average during the rainy season. Our desalination plant produces drinking water; a monthly average of 15,500 litres.
The heat from the powerhouse is utilised to heat water and used in the staff quarters and the desalination plant, thus reducing our energy consumption and reliance on diesel.
We hope to be able to expand this project to heat all staff rooms in this manner. We are committed to reducing the amount of plastic used – with our water bottling plant we estimate that we reduce usage of plastic bottles by a minimum of 100,000 a month.
HM: Having worked for several leading global brands, what inspires you to continue this journey in the hospitality industry?
JDG: What stands out to me is that I am part of the guests' journey where we create once in a lifetime experiences for them. Each brand may appear to be very different but the underlying inspiration for me is ensuring guests live their dream and creating those special memories that last a lifetime. It's all about bringing the "intangible" to life.
HM: What are your plans for the future? And what is your advice for aspiring hoteliers?
JDG: For me, I will continue investing my passion here at Holiday Inn Resort Kandooma Maldives and with InterContinental Hotels Group. The resort owners, Hotel Properties Limited (HPL), are also fantastic and supports my passion and vision here at Kandooma.
We all remember being green-horn aspiring hoteliers and something that I tell the up and coming hotel leaders of tomorrow are two pieces of advice. The first would be to ensure you maintain a progressive career and don't be tempted to jump at every opportunity that comes your way. Have a plan and an ambition and stick with that goal.
Secondly, understand the underlying differences among cultures. This goes without saying here in the Maldives and other key destinations. A better understanding of differences can help you integrate the different needs more effectively in products and service offerings, allowing you to create customised services that cater to your unique customers and guests.