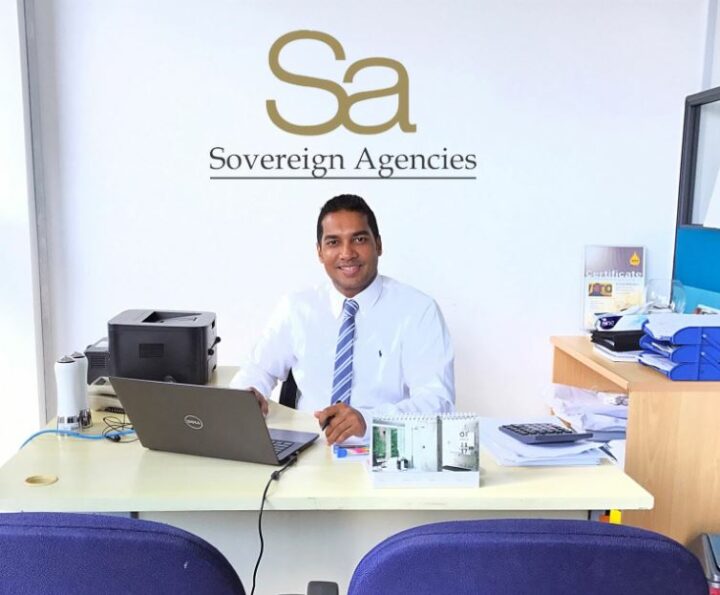 Sovereign Agencies: Enhancing hospitality solutions since 2003
Winner of the World Quality Commitment Award 2016 under the GOLD Category, Sovereign Agencies has served over 13 years as a supplier in the hospitality industry in the Maldives. Striving to be the undisputed leader in providing solutions to the hospitality sector by the end of 2019, Sovereign Agencies currently caters to over 70 resorts across the country.
Brisham Mohideen, the General Manager of Sovereign Agencies, welcomed us with a buoyant smile as we settled in for an interview with him. With over 14 years of total experience on his side, Brisham elucidates the vision they foresee – to be a valued partner for their customers.
In a nutshell, he explained how the business came into existence. "It all began initially with an idea to facilitate our resorts, under our parent company.
"Basically the company tied up with a few key brands in facilitating our group of resorts. Soon, given how well we were performing with these brands, the idea of expansion came about – that is, catering to not only our own resorts but throughout the nation. We saw potential here and viable options for a business to grow."Primarily the company represented three main brands; German-based WMF – tableware manufacturer along with Schott Zwiesel – Crystal glass, followed by Primus – a leading laundry brand. "We remain the exclusive distributor of all three brands as well as a selection of other key brands, with whom we have preserved a good relationship, since the inception of the company."
To date, Sovereign Agencies also represents VITO – oil filtration systems; ideal for resorts as it can help reduce up to 50% of the frying oil costs, along with POLYSAFE for unbreakable polycarbonate drinkware and VICTORINOX – professional kitchen knives from Switzerland.
In addition, as the local distributor in sourcing these brands to resorts, the company currently caters to over 20 brands overall ranging from guest-room amenities, kitchen utensils including glassware, tableware, crockery and much more.
Having positioned quality products as a core strength, Sovereign Agencies generally caters to premium brands, given its reputable relations with international suppliers from Europe. However, they have now paved the way for customers seeking mid-range products by ensuring a value for money approach.
"While we are generally known to supply premium high-quality products, we also see the potential in supplying to customers who seek more affordable items. Currently, we do offer few brand options for such customers, in our line-up".
Brisham also stressed the importance given by the company to maintain a high standard of their products and service. This is portrayed in the global recognition received for their dedication towards upholding quality brands."For us, it was humbling to have been recognised at an international level during the event organised by Business Initiative Directions, held in France," he revealed.
"The Quality Commitment Award we received, was selected out of 116 competing countries, where a selected committee of experts voted for their preferred company, which I think was a remarkable achievement for us."A firm believer in the impeccable results that teamwork creates, Brisham believes that: "If you have a good team with you, even the impossible is achievable." At Sovereign Agencies, the team works under a common goal in line with their company mission.
"If not for our hardworking staff, we would be nowhere. As a leader, motivation, guiding and leading the team towards their potential is necessary in order to achieve the desired implementation of operations. I think this is what our team has worked to exhibit so far."
Another factor contributing to their growth is their "service mindset" which consequently helped in maintaining a good rapport with both suppliers and customers.
Providing consistent customer service is treated with utmost importance at Sovereign Agencies. "Given the good reputation we have cultivated with our suppliers over time, we often get requests from new brands abroad that are keen on creating an alliance with us, as well," he said.
"However, our objective at Sovereign Agencies is to remain focused in the core brands we hold. We believe that rather than simply adding more brands to our line, we can achieve a better long-term growth by directing our efforts in sustaining the existing brands and agencies."With an MBA from Cardiff Metropolitan University in the United Kingdom, Brisham reminisces back to how he ultimately became involved in the industry.
"I actually came to Malé on a holiday," he explained. "This is when I received an offer for a position to oversee the operation which initially, I didn't take seriously. But I was confident in the potential I saw in the Maldivian market for such a business."
His experience in sales, brand management and trade marketing and having worked previously in Qatar & Sri Lanka, shaped his vision of a business in Maldives where he could also incorporate certain practices and key learnings from the international market in making it a success.
"I've noticed that the Maldivian market/work culture tends to lack good customer service. Most often, suppliers fail to deliver their promise to customers during business engagements and at Sovereign Agencies we too at some point have been guilty of this.
"However, the importance is for us to strive at all times to mitigate these differences and focus on being unswerving in delivering our promise to our customers. After all, there is no substitute for hard work and a positive attitude."
Sovereign Agencies is soon set to explore new horizons with its plans to set up a brand new outlet in Malé City.Fore more information about the products and services provided by Sovereign Agencies, please visit sovereignagencies.com.mv.