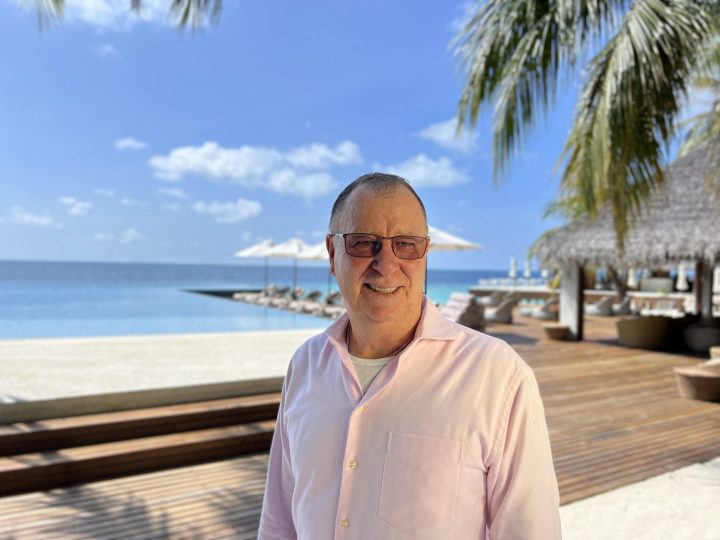 GM's View: Noel Cameron, Huvafen Fushi Maldives
Noel Cameron joined Huvafen Fushi back to the position of General Manager, nine years after his first appointment. With an impressive track record in the hospitality industry, including leadership roles with some of the world's most exclusive luxury hotels and hospitality brands, Noel brings exceptional creativity and expertise to the role under the management of Universal Resorts.
Hotelier Maldives spoke to Noel to learn more about his career, his work as the General Manager at Huvafen Fushi, and his advice to aspiring hoteliers.
Hotelier Maldives: Tell us a bit about yourself and your career.
Noel Cameron: I have always been a 'people' person, and love to create memorable experiences. I was born in Australia, with a passion for food and wine at the onset. Thus, hospitality was the perfect mix allowing me to work and reside. I just wanted to build beautiful things, and mostly travel for the rest of my life. With a lot of hard work and commitment, I kept discovering this beautiful industry and my curiosity for operations, marketing and finance grew, ultimately pushing me towards senior managerial roles. This set my course for a journey on four continents and ten countries, starting with London, Mauritius, Seychelles, South Africa, Vietnam, onto Tanzania, in independent, boutique and branded luxury resorts, and leading it to Bali and Maldives. I suppose one could say that I have now made a career of living where others only dream of holidaying.
HM: What is it like to be the General Manager at Huvafen Fushi Maldives?
NC: There is something special about Huvafen Fushi! When arriving on the island, you are greeted by a smile from the heart. It's a true, genuine warmth that is found in abundance here and quite rightly known to the world over for captivating the hearts of many. The experiences you get to create here are pure magic! Our guests have the chance to truly unwind, connect, and immerse in the island vibe. It is a true honor to be part of this 'Dream Island' – as it is aptly known in the local language. I have been lucky twice, to get the opportunity of turning experiences into memories for all our guests.
HM: You have been working with Universal Resorts for a long time now. Tell us more about your experience working with the group?
NC: It has been a dream to live in the Maldives, and what's even better is to be doing it with the pioneers of Tourism – Universal Resorts. In Q1 2023, I will complete 6 years with the company, and it continues to be an incredibly rewarding and enjoyable experience. Universal Resorts are very well known for being the founders of Tourism 50 years ago and their contribution to the industry and core values for guests and team members is what sets them apart from our competitors. The rich culture and futuristic vision of the company are deeply woven into the DNA of the employees. To have a voice and collaboration with the leadership team is unique and very motivating and the future plans of the company will ensure that new benchmarks are set while achieving numerous milestones. I am grateful to our visionary owners who continue to believe in me and I am extremely proud to be able to call the Maldives my home, with all credit, to Universal and will continue to create exceptional experiences, built on their legendary hospitality.
HM: What are the unique experiences available at Huvafen Fushi?
NC: For Huvafen Fushi guests, privacy is the priority. With only 44 bungalows and seven categories, nestled on a small jewel of an island in the Indian Ocean, there is no feeling of prying eyes; our location is absolutely unique. Not many know that Huvafen Fushi is the first resort that opened in the ultra-luxury segment in the Maldives and since has acquired a very central place across the globe. Our location, a mere 30 minutes speedboat ride from the international airport, of course draws people more, especially to see one of the most beautiful reefs in the North Male Atoll. Huvafen connects guests to nature and the surrounding through a deep respect for natural systems and the health and well-being of the environment.
Another unique aspect is the worlds only underwater Spa, which is surrounded by abundant tropical fish and marine life, dancing over the clusters of coral. A private Spa experience in this unique underwater location or a dining experience in our underground wine cellar, Vinum are two examples of unforgettable experiences to be had whilst staying on Huvafen Fushi.
We've also been very active in coral reef building, over 250 coral frames created to date. Numerous guests have been coming to the property since its opening 18 years ago, and we have new guests experiencing the 'Dream Island' for the first time every day. We will always be committed to maintaining what Huvafen Fushi is all about – providing a rhythm of sophisticated laid-back luxury with distinct Maldivian flair, and delivering the best service in the market while staying current and relevant.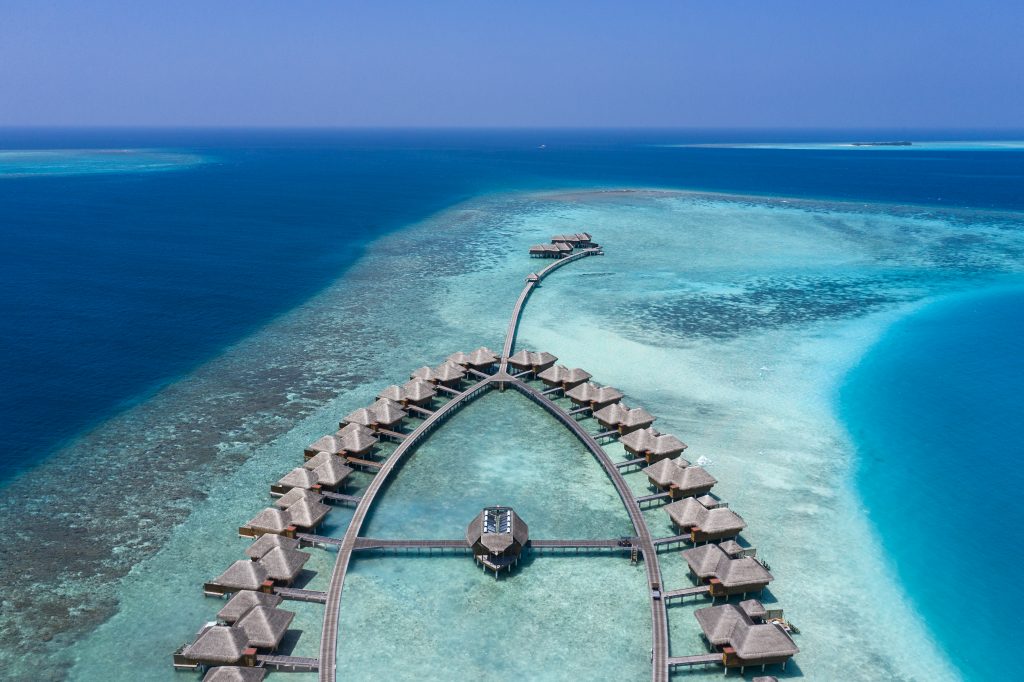 Featured Image: Huvafen Fushi Maldives 
HM: How is Huvafen Fushi preparing for the festive season?
NC: Christmas and New Year celebrations are unique in Huvafen Fushi. It is not among the white snow; instead, you get the soft white sand beaches washed by the turquoise waters of the Indian Ocean. We offer several opportunities for families to enjoy this year-end holiday with various events, quests, games, and workshops. The period begins with Cocktail parties on Christmas Eve, plenty of celebratory events for all to enjoy, which seamlessly evolve into gala dinners on new year's eve, with a delectable selection of holiday delicacies and continue into the next day with champagne brunch and gourmet snacks. Huvafen is all set to dazzle this festive season featuring a Masquerade theme for an upbeat and stylish celebration.
HM: Describe a day in your life as GM at Huvafen Fushi Maldives.
NC: For me, everything is a priority – the guest, our team, everything! Every day is about visibility and a proactive approach to our offering and guests' experiences from our valued members of the team. We all live and work together, and the team is the absolute backbone, so I ensure that time is dedicated to their welfare, support, and training needs, on a daily basis. The best-laid plans can disappear in a heartbeat, so we must also be ready to improvise, adapt and overcome to ensure expectations are not just met but exceeded. The warmth of the team is extraordinary, and I love seeing the connection our guests make with our team, which contributes to a great day for us all at Huvafen.
HM: What's the biggest challenge you face in your work? And what do you like most about it?
NC: Being on an island, one of the biggest realizations you have is that you're self-reliant. When you live and work in the same place, team spirit goes far beyond the office, it is needed as a community. And what is most rewarding is working side by side with a dedicated team of the best and brightest hospitality professionals to share all of the distinctive cultural and unique experiences that the property has to offer with our new and returning guests.
HM: What's your advice for young hoteliers starting out?
NC: My advice would be to take time to learn all aspects of the business, from the ground up as this is where the roots and strength of the organization lie. As and when you move up and assume other roles, you have the experience and knowledge to succeed and progress. Hospitality is about embracing change and being innovative, shaping people, individually and collectively, and the environment they work in. This can only be achieved if you are willing to listen, share knowledge, motivate and collaborate, be well-informed about the industry, and be humble. You also need to believe in people, in the power of being positive and having a vision.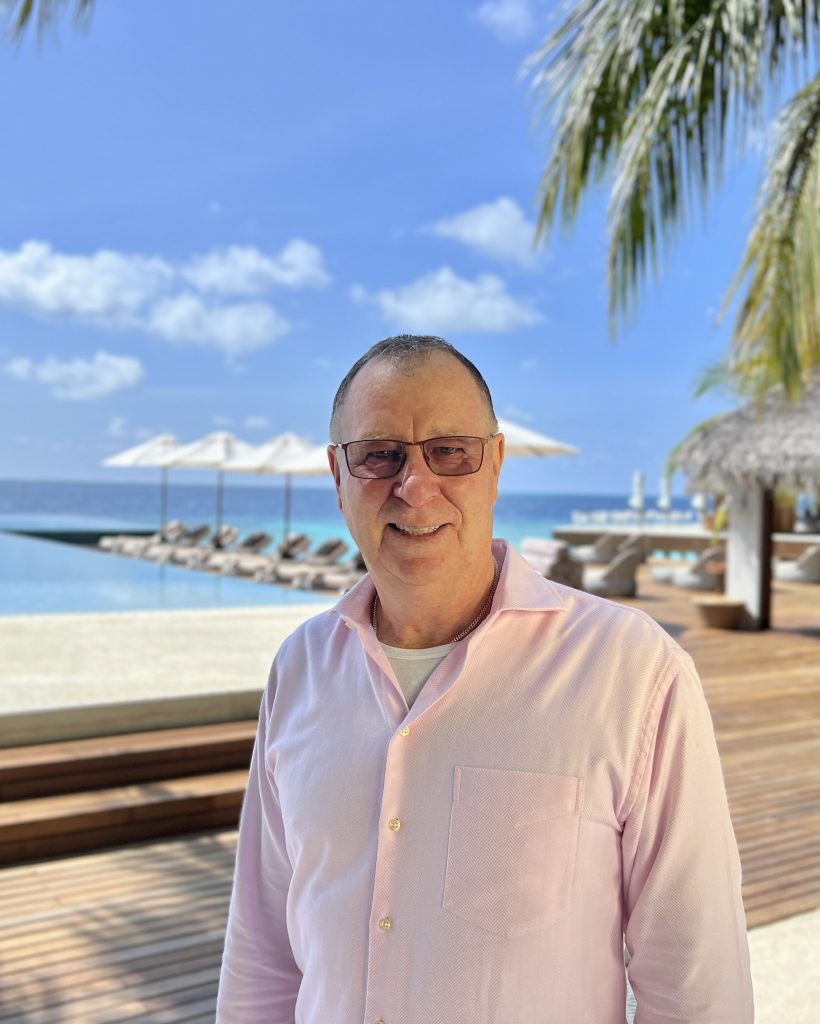 Featured Image: Noel Cameron, General Manager, Huvafen Fushi Maldives 
HM: What hobbies do you enjoy when you are not working?
NC: On island, as and when the windows of opportunity arise, I dedicate time to personal wellness with a weekly style of training & stretching programs in place as well as my paddling routines. Luckily, our weekly team matches for the team are another addition to my workout and a highlight of my week. When I do go off the island, I love to follow my passion for road and mountain biking, and in Germany, there are fabulous places to do this. I mix it with my other love, Golf! The most important, however is re-engaging with the family when I am home and recharging via their energy.
HM: Your career in the hospitality space spans over 20 years – how do you think luxury travel has changed during this time?
NC: Luxury begins where necessity ends and lives in the details which lies in simplicity and perfection in delivery. Luxury tourism nowadays is more than just a nice hotel. These guests are yearning for longer trips, better service, and sustainable travel. Luxury travel is not limited to getting the highest category room, but about experiencing the distinctiveness of the destination. Huvafen fits perfectly for such travelers, delivering an intimate vacation in a naturally enchanting location with unique and diverse experiences and personalized service.
HM: What is your top tip for someone travelling to the Maldives?
NC: Come with an open mind! I personally find Maldives one of the most relaxing and beautiful places in the world, that I have had the privilege to visit. The natural beauty extends not just over the turquoise water and white sandy beaches, but to the magnificent beauty underwater. Sometimes in the fast-paced world we all live in, I see people are a little removed from the art of switching off and enjoying time together. After a few days at Huvafen this emerges as a natural characteristic that people genuinely embrace and enjoy. Sometimes it takes a place like Huvafen to discover this rewarding experience!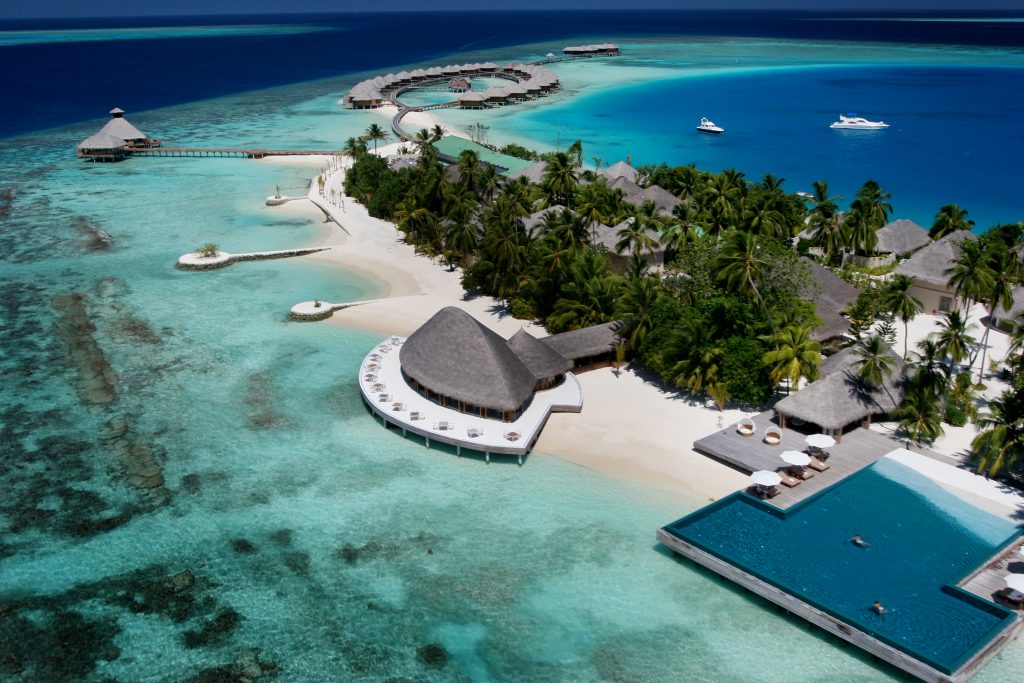 Featured Image: Huvafen Fushi Maldives