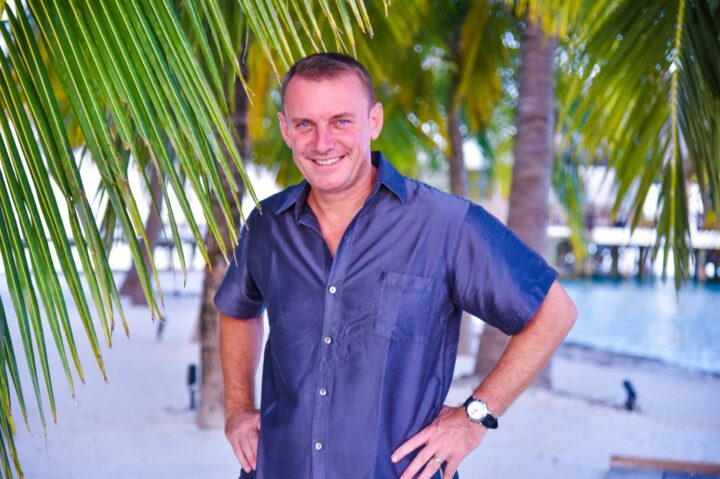 GM's View: Olivier Larcher, General Manager, Raffles Maldives Meradhoo
A French national, Olivier Larcher, with his inventive, influential and multicultural working background, brings his passion to lead Accor Hotels' newest, prestigious venture, Raffles Meradhoo Maldives with its intuitive gold-framed brand that's been well-recognised for more than a 100 years. His hands-on and strategic approach in the pre-opening of the resort towards the actual opening challenges the status quo to add value and competitive advantage to the resort's refined culture.
Hotelier Maldives: You have a very interesting portfolio. Before commencing your role as a General Manager in various luxury hotel brands, you have had a background in Finance and before that in F&B. Could you tell us a little about how these transitions took place and what motivated you?
Olivier Larcher: I used to cook with my mother, both my grandmothers and the French food culture is something special. I started my career in hospitality in F&B as a steward in the kitchen at a local brasserie in France. From the stewarding area, I moved to the food preparation side. I worked on the service side as well. But this was not a permanent job, it was more of a student-life job, as I was supporting my studies while working. I had the choice to work in a bank or an insurance company or a printing company after graduation. But I preferred to work in the hotel industry so I joined the hotel industry as a cost controller. When I worked in Tahiti with the French Polynesian government on the tourism board it was very interesting. I was going island-to-island preparing a business plan with the individual owner of the guesthouses that were affected by a disastrous hurricane. Before I became a GM at the age of 34, I managed rooms division and was a hotel manager too.
HM: What draws you to working with luxury hotel brands?
OL: Well, I have always worked with luxury hotels so I do not have the know-how of mid-scale hotels or economy hotels. This might be a weakness on my side, but I started to work in luxury hotels and I have never been out of the luxury hospitality scenario. I am a perfectionist by nature and again this might be a weakness in some aspects but I work around these. Luxury is about perfection, it's about having the best accessories and the right temperature for the face towels for example. It's having an espresso with a cookie on the side with white or brown sugar cubes. I have very little tolerance for mediocrity, even for myself, in my private life. I think to get closer to perfection, it's important to not get too stubborn with one idea or one concept even if you are doing it for years. I like to challenge the status quo. I like to get suggestions from people who are not from the industry. Sometimes it is very interesting, innovative and disruptive.
HM: As the GM of a property what would you say is your leadership style?
OL: I do not think I am the best person to describe myself. But if you ask my colleagues how the GM is, they will probably tell you that you can find him everywhere. Hands-on, not scared of lifting things, emptying the boat, driving the boat, off-loading the supplier boat. I would say I am quite directive. Especially now, in the early operating stage. But I can be both, that is, very directive and I can also drive some brainstorming sessions and get some participation. I believe in leading by example. I respect my colleagues. I think a leader should behave in a way that gets respect. Respect is not something you get because of your title. You get it because you built this respectful relationship with one another.
HM: What are some trends in the industry that have an impact on your role as the GM?
OL: I think the level of luxury hospitality in the Maldives is the highest in the world or one of the highest in the world. The number of competitors, the quality of the competitors, and the growth that we have seen in the past five years, is just setting the place to be the window of luxury resort hospitality in the world. You are not seeing that in other island resort destination such as French Polynesia, Mauritius, Seychelles or the Caribbean.
But this creates additional challenges for newcomers. Like us, though we are coming with a 138 years old brand, we have to challenge ourselves here. We cannot just rely on our reputation. We are challenged by the quality of the resorts in the Maldives. So we have to improve a lot of the aspects of the resort. I believe the Maldives is a big laboratory for luxury resorts where there is a lot of innovation. In some resorts you can open the roof with remote control, some resorts have submarines, some others have underwater restaurants, spas, and even villas. The number of new gimmicks is phenomenal in just one location. We, of course, study our competition. Fair enough, we do not have all of those mentioned above, so we stick to the basics of hospitality and this is where we want to excel. To be successful, we believe in the traditional combination of great hardware and exceptional software. We have historical reasons to believe that the software is something critical for the success of the restaurants, the success of the hotel; this is the pillar of hospitality. This is where we are focusing.
HM: On a typical day at your last position how do you prioritise your tasks?
OL: The last five properties that I worked at were city hotels. It is a different rhythm in a corporate hotel. In terms of operation, it is very different. During the day you rarely see your clients as they are gone out for work and they come back sometime after dinner at night. In a resort, your guests are captive as they staying 24 hours in the resort. In my opinion, there is less space for mistakes in Island resort.

HM: What are some of the most challenging issues that you face in this position? And how do you overcome these challenges?
OL: I do not see any challenges concerning the location or the island because we believe this is a strength. I believe that being far away from the capital is giving us an edge over our competitors. But I see challenges on a global scale. Brexit is a challenge that impacts our activity, which impacts our business, our forecasts, and our visibility. The grounding of the 737 is another element that is impacting our industry. The massive increase in supply in the Maldives is concerning too. We are not too sure that the amount of demand will be aligned. It's great to get more supply but will the demand follow? We are concerned about the economic war between America and China. We are additionally concerned about the slowdown of the Chinese economy and the slowdown in the European economy. We can control things locally up to an extent but the global instability, especially in the Northern Hemisphere is concerning as most of our clients are coming from this area. It would be good to see more direct flights coming into the Maldives. I believe the connectivity of the Maldives with other countries by air is a key driver of the hospitality industry.
HM: What is your greatest accomplishment?
OL: I think opening successfully the Raffles Maldives is our greatest accomplishment as a team.
HM: With the growing number of new openings and projects in the pipeline, what is Raffles Meradhoo Maldives doing to stay ahead of the competition?
OL: We would like to elevate the level of the Butler Service at the resort, and we would like to sustain and emphasise the beauty of the island. We are striving to be very intuitive, we want to be smarter in terms of our service, to connect emotionally with our guests so they will remember it and share it with their friends with sincerity.
HM: What do you think is essential to minimise employee turnover rate? How would you describe the company culture?
OL: I think the most important thing for our generation in the working field is to have the opportunity to be developed. When we do our exit interviews with leaving employees and when we ask them why they are leaving, 90% of the time, they will mention their manager. So it's often because of the leader not being able to manage the team development. I believe in the development of all employees to their personal best. To keep the status quo and to keep everyone in the same position is not sustainable. I am pleasantly surprised by the quality of professionalism with employees working in the resorts in the Maldives, I believe the training they undergo here is very high. This is a lovely place to work in.
HM: As a GM's role pertains to being a Business Maintainer of a property in the long run, how do you think each department can contribute to being fruitful with the outcome of their different roles in the establishment's growth?
OL: Well, I see all my department heads, as business owners. I empower them to run their different businesses, as they are all sub businesses of our resort. They have to manage their equipment, they have to manage their selection, they have to manage their purchasing, their budget, their revenue and above all they have to manage their people. I see them like micro-entrepreneurs. I give them a lot of autonomy as well. I do not step in for every aspect of their business. But we support each other in all the aspects that we can, of course.
HM: As a destination, what more can the Maldives do to market and promote itself as a tourist destination?
OL: I would say that we would need more connections by planes with more direct connections to the main cities in the world. Not only in the peak season, but throughout the year. It is a key element as we are dependent on flights. We compete with Mauritius, the Mediterranean, the Caribbean and Seychelles amongst many. I think we need to fight with the same weapons. If they have direct flights in low season, we should too. I would also suggest improving waste management. We are not having a good reputation or image regarding our waste management. We cannot ignore the amount of plastic we are finding in the ocean. We need a long term sustainability approach towards our carbon footprint. We need to perform better and seek opportunities to lessen our plastic consumption, our paper consumption, and our electricity consumption. We need to change the way we are operating island resorts, collectively, for the next generation and the sustainability of our business. 
HM: What is the relationship between your current position and your future career goals?
OL: After having these corporate experiences and the resort experiences, I have been doing many openings for the last seven years. I have been working in China, South Africa, Morocco, French Polynesia, and the Maldives at present, looking after one-resort one-island concepts. I aspire to work more on concepts and developments. I think with the opening of this property, I demonstrated my ability to tackle extreme challenges in very remote locations.
HM: In concluding, what advice would you give for hopeful hoteliers?OL: Be on the floor and get closer to your team and your guests. This way you will be closer to your business and make it grow successfully.