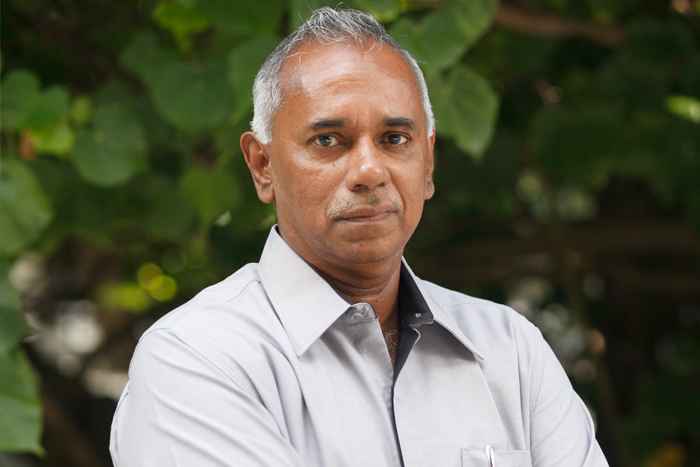 The GM's View: Ramsay S. A. Perera – Embudu Village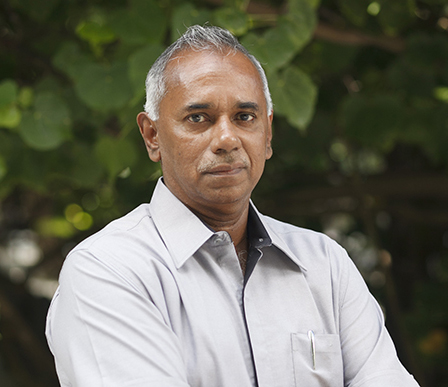 Ramsay. S. A. Perera was born in Kadawatha, closer to Colombo, Sri Lanka. An Accountant by profession he was introduced into the hotel industry in the late 70s through Walkers Tours, then he joined their hotel sector. He worked at several properties in Sri Lanka including Hotel Swanee in Beruwala and Habarana Village in Habarana(John Keells), & Browns Beach Hotel. While working as an accountant, he was exposed to hotel operations. He received an offer from Kaimoo in 1987, where he was involved in operations of Embudu Village. Upon the departure of then Resort Manager he was offered the position, which he accepted and he has been Promoted as General Manager after Company took over Summer Island in 1996 . In 1999 Equator Village-Gan – Operations were also taken by the Company
You have been in the country for over two decades. What are your thoughts on the Maldives?
I've seen it grow since I came. It has advanced so much over the years, and I'm happy to see the various sectors, health, education and business taking great strides. It's still going on today. I think people are happier now, they have access to more facilities, and they are able to travel. The young people are educated and willing to work. This paves the way for a better future.
How does Maldives compare to other places that you have worked in?
It's completely different. They don't have this concept of one island, one resort. Here, you are self-contained, on an island surrounded by sea. Also I noticed the cooperativeness of the staff here. And the Chairman of the company and his brother too, were extremely helpful to me. They were always ready with answers to whatever questions I had, and I had a lot as it was my first time in the country. Also, in Sri Lanka, I did not have to worry so much about supplies, whereas here, you have to plan everything. You have to keep on top of logistics.
How would you describe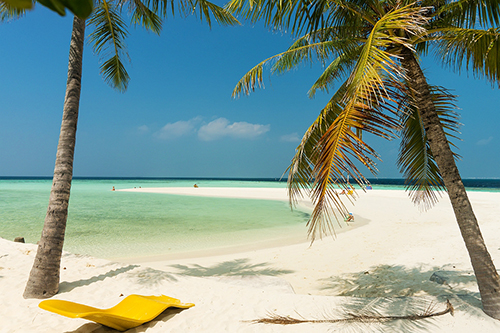 the attitude of Maldivian workers? What have you observed?
They are hardworking individuals. And what they want is recognition for the work they do. They want to be treated fairly, which is something I always emphasise. We try to make their lives easier, giving them what they want where it is possible. This makes them happy, and creates a feeling of camaraderie between the management and them.
What significant changes have you brought about since you took over?
We have built additional rooms, created over water villas, and made some major refurbishments, in the rooms and the restaurant/Kitchen for instance. Also for the garden, we brought a lot of plants from Sri Lanka. Changes/upgrading was done by the Chairman & these were discussed with Manager to figure out the best way to do it with concern to bottom line. It's one of the things I really admire about him. We've tried to keep this property as close to nature possible, and the guests like it that way. We also computerised & streamlined our accounting process. That is a major change as well.
How would you describe your approach to management? Your philosophy?
I have a very open approach. I like to discuss things openly with my HODs, get their feedback and implement things after taking their ideas on board. Their ideas mean a lot to me.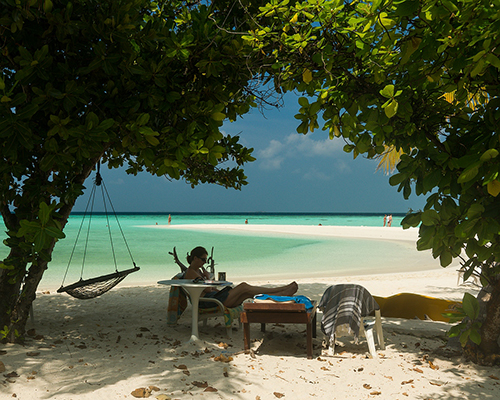 How do you keep your staff motivated?
I'm very open with them, as I've said. I'm friendly and approachable. They can come up to me at any time if they need anything. Perhaps all managers aren't like that. Every day I walk around the island and I talk with most of the staff while I'm doing the rounds. I'm like a friend to them, and I think this helps keep them motivated and doing their best.
What would you say are your challenges?
Well, maintaining staff morale requires work, like I've said. And keeping this resort running at optimum is quite a challenge. I also have to ensure that the resort's name is well known and maintained in the places that we market to. I focus on providing guests with good food and accommodation. Sourcing supplies is easier these days, but when I joined, we even had to import Soft Drinks etc, from Singapore. We had to bring almost everything from outside the country. We only had dhonis then, and things required much more planning. Even the diesel for the generators had to be brought in barrels. It's different now. And today we have a high percentage of repeaters (repeat visitors) and this is perhaps an indication that we're doing things right.
How do you see the future of the tourism industry in the Maldives?
It's a unique destination, peaceful and safe. There's still a lot of potential for Maldives to grow, as a special destination. It's a lot of people's dream to visit the Maldives.
What are your thoughts on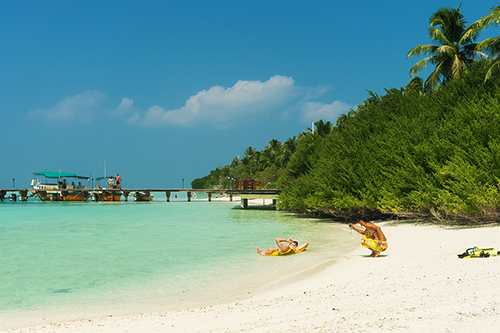 investing in tourism in the Maldives?
I think it's a great idea, and would be a great investment. So many people are still investing in it and a lot of people are looking for islands to be developed. I feel that the Maldives has a greater demand for three plus or four star resorts, where it's more affordable, than for the high end resorts.
What are your future plans?
Since I have devoted closer to half of my life with Kaimoo Group , my goal is to make Embudu Village a value for money Resort affordable to all while maintaining the highest possible standards & dedicate my service to the Company as long as they need and I am satisfied.