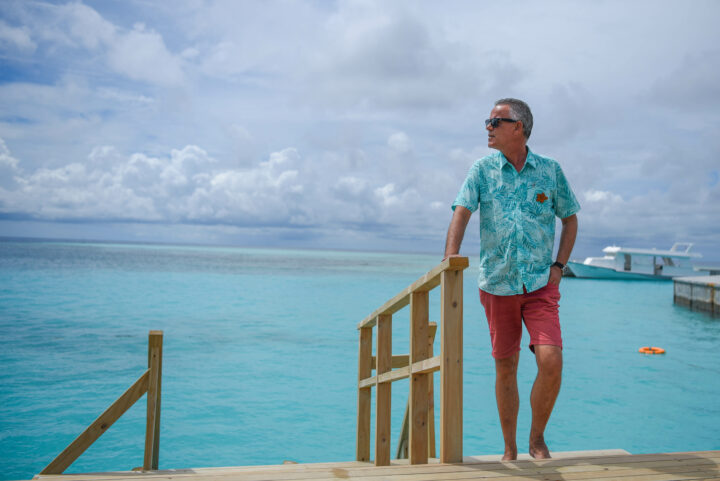 The GM's View: Rein W.M van Zandvoort, OBLU by Atmosphere at Helengeli
Rein W.M van Zandvoort has worked in the travel and tourism industry for over 22 years. Hailing from Holland, Rein first got the opportunity to work at the famous brand Sheraton in Russia. He has since worked at hotels and resorts in Kuwait, Abu Dhabi, Qatar, Singapore and a few resorts in the Maldives, including opening the first resort by Atmosphere at Kanifushi. Currently the General Manager at OBLU by Atmosphere at Helengeli, Rein shared his work ethics and how he runs this brand new resort which opened only a few months ago.
HM: What made you decide to join the Atmosphere group?
Rein: Well, It's a growing company. There's a lot of space for creativity, the core values are very solid such as the 'joy of giving' one of our cornerstones on our approach to hospitality. I always say 'it's a kind of feeling, that extra little effort we put into making our guests stay as wonderful as possible. Being creative and being involved in the whole project, from inception to operations, you get to be part of it. Mutual respect and appreciation and encouragement of each other on all teams.
At the Atmosphere group, there's this mutual involvement of team members from all our departments, and this helps the team grow, together. The whole philosophy of being able to bring your own ideas and having them be accepted by management is wonderful. There are no 'silly ideas', I believe in thinking outside the box. Think different, and try different things.  The biggest advantage here is, team work.
HM: How does working at a hotel such as Sheraton in Russia compare with working at a remote island in the Maldives?
Rein: I never saw myself working at an isolated area. But I fell in love with the place from day one. It is quite different here, with the 'one island, one resort' concept. The guests who come to this resort choose this resort with care, and so it is our duty to make sure they get the holiday of a life time.
With the island being so small, and secluded, I always make it a point to greet my guests at the jetty the moment they arrive. Whether their flight lands at 5 in the morning or late in the evening, I almost never miss an arrival. I want to make my guests feel welcome and at home here on the island.
Like I said, the island is very small so we often run into teach other on the daily. It is nice to stop by and say hello, greet them by their names so they feel special and at ease.
On a different note, because the island is 45 minutes away from the capital island, it sometimes gets a bit tricky in getting food supplies etc. to the island through rough weather. But we've managed to find means and we have recently started growing some of our own vegetables here on the island. We plan on developing this idea more in the future.
HM: How would you describe your role here at OBLU? What changes have you added since you came here?
Rein: I arrived here 3 weeks before the opening so had to work swiftly to meet our deadline. As the General Manager at OBLU, I encourage my colleagues to work under the philosophy of 'being happy in what you do.'
One of my top priorities is making sure my colleagues are happy in their every day jobs. I dedicate 80 per cent of my day to my colleagues and always have a very open relationship with them. They are always free to come up to me to discuss any issues they might have, because ultimately, we all have one main purpose here on the island – that is to make sure that our guests have the perfect stay.
As the GM , I have made a few changes such as adding a mini bar to the rooms. I brought a few changes in general, in terms of restaurant concept, bar, adding a few things, removing a few items, etc. I also introduced a new art program by local artist Umair Badeeu. Umair has created a wonderful piece showcasing the monsoons of the Maldives. He used natural items from coconut palms to create the project and guests find it interesting to know more about the Maldives through pieces of art such as the one Umair has created. I initially thought of the idea because I felt that if anyone came to the Maldives, it would be unfair for them to leave the island without getting to know a little bit of the Maldives as a whole – not just experience the resort life. I always believe that people will appreciate more of a place if they find out more about the culture, traditions, the people and their way of life.
HM: What about your work philosophy? What are the top rules that you encourage your colleagues to go by?
Rein: I always encourage my colleagues to be happy in what they do. See every day as a new opportunity. For me, keeping my staff, colleagues happy is top priority. 80 per cent of my day will be for my colleagues. Because ultimately, the services the colleagues deliver will depend on if they are happy or not. If the staff are happy, the guests are happy. And I am very proud to say that our guests leave the island happy and they actually go back and write to us to tell us of their incredible services they do. The little things, staff going out of their way to do that small things for them to make their stay perfect.
I also introduced the Gabbe' Award. As you know Gabbe' is a national hero for sailing around the Maldives in a Catamaran. The guy doing the bottling plant. What he does is incredible, sterilizing the bottles, re-filling, etc. And as he works back of the house, he is not recognized easily, but as a way to encourage my staff, I decided to give an award each month for the caretakers of the island, the staff for their work.
HM: And lastly, what is it about OBLU that makes it so special?
Rein: First and foremost, it is my colleagues who make the island so special. Everyone from the back of the house to the front of house staff is responsible for the incredible feedback we get from our guests. They are the people who work hard around the clock to make sure that guests stay here is special and memorable. I am extremely proud to say that in just one year of opening the resort, we already have many repeaters who choose to come back to this resort, because of our services.
We also do our part to help reduce waste by not using plastic where possible. We have our own small bottling plant, which has been very popular and effective. For our staff we provide them with flasks so they can refill them instead of buying plastic bottles. We also try and discourage our guests from using plastic straws, etc.
And lastly, thing about this resort is that we market this resort as a 4 Star Superior. But I think it is safe to say that the services we deliver are nothing short of 5 Star. Since we sell the resort as All-Inclusive, we always go by 'under-promising, and over delivering'.