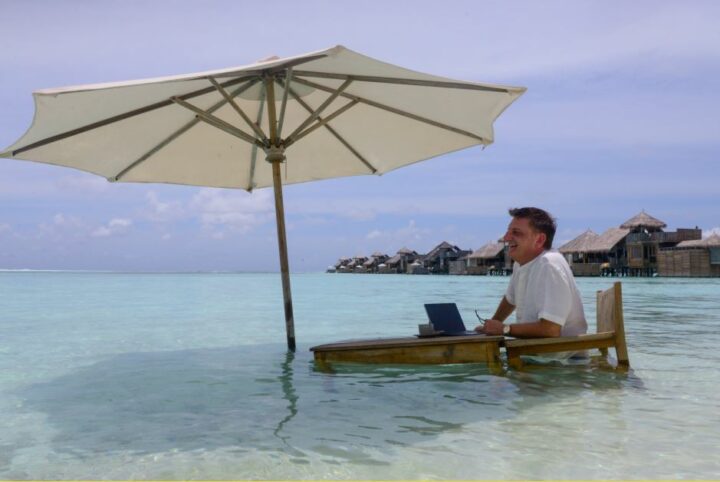 The GM's View: Steven Phillips, Gili Lankanfushi Maldives
Steven Phillips, the former General Manager of one of the most sought-after resorts in the country; Gili Lankanfushi, is no stranger to the hospitality scene in the Maldives.
Since 2007 he has been an active presence in serving guests that travel to the pristine nation-island from all over the world. Managing both properties of the Constance Hotels and Resorts, he served as the Pre-opening General Manager and General Manager for Constance Moofushi Maldives and Constance Halaveli Maldives for over three years during his tenure. For a span of time, Steven oversaw operations for Anantara Hotels & Resorts in the UAE as the General Manager.
Amidst the cosy, wooden interiors of the Gili Lankanfushi over-water bar, Steven Phillips discloses the intricate details of his journey with Hotelier Maldives.
Tell us about how your journey to Maldives began?
My previous background was actually in managing private clubs. I was fully immersed in that for four years; two in the UK and two in Japan. In private clubs, the main concentration is focusing on the members and the guests whereas and not a lot of focus is concentrated on the money-making factor because generally the owners are the members themselves.
I decided my marketing and finance knowledge needed more brushing up, so I joined Marriott in the UK and Hilton in Cardiff in South Wales later on. I also ran the 400-bedroom Hilton in Malta and it was ranked number two among all the 2,000 hotels at the time under the Hilton brand. I came to find out that this was the area I was able to excel in, that I was able to bring out my best skills.
In fact, I was involved in the construction of a convention centre, a 100-bedroom extension to the hotel and service a banquet for 3,000 people and so on. I even had the opportunity to look after the Queen on a few occasions.
The more I realised that I had a likening to converse and interact with people, the more I became engaged in the idea of working in hotels. And it was at this opportune time that Constance Hotels and Resorts approached me. To my surprise, they were intrigued by my background in managing membership clubs and liked my ideas.
They offered work for me in the Maldives. I came to know that I was introduced to them by someone else and up to this day, I have absolutely no idea who that was. In any case, I decided to go ahead and landed in Mauritius soon after and before I knew it, I was here in the Maldives three weeks later.
How did you manage to complete two projects so close together and on such short notice?I was running Moofushi for a few months before moving on to Halaveli for its construction. I was instructed in October and it was scheduled to be completed by April. So when the proceedings for Halaveli went underway, Moofushi remained closed for a year without operation. I recall the CEO of Constance at the time saying that we were supposed to start building in September and I was asked to complete the Moofushi project for November.
When you building in any part of the world, one of the major challenges to completing a project on time is when you stray from the operating brief. Normally the brief is very exact, saying that the finished resort if going to be, down to where the plug points are; the moment you change it, that's when the delays begin.So after Halaveli had opened, for the next few months we finished the operating brief for Moofushi. I wrote in every detail we needed, sat with the engineers, consultants, and when I finally handed it over to the project team I asked them not to change anything.
Right down to the quality of the wood and where it was coming from, flying all over the world to check the interior design and checking that everything was done properly meant that we changed very, very little.
What makes the experience in Gili Lankanfushi unique?
When you're in Gili, rest assured, you know you're in the Maldives. There are two types of luxury resorts in the Maldives. One is the international luxury resort and the other is the Maldivian luxury resort. There are only two of the latter here in Maldives and we are one of them.
From our furniture to the interior and the set-up gives an aura of the traditional Maldivian style. Most importantly, we ensure that the service rendered is by a Maldivian staff which makes the experience ever more close to the heart. 60% of our staff are Maldivian nationals.
What makes the scene in Maldives exceptional?
I owe it to our amazing Maldivian staff who go out of their way to ensure the guest is pleased with the service received.
Even when hiring, we highly encourage Maldivians to join our team. If two people with the same qualifications are in a tie-down we would always go for the Maldivian. Last year, we promoted 33 staff out of which 27 were locals.
We don't have name badges here but 90% of comments on TripAdvisor give credit to our team where guests go to the lengths of naming the staff and complimenting them. Guests comment on their great smile, amazing attitude and if you do a mistake they really care about it. Our extra care notices are for the smallest, minutest issue that a guest may have had.
We also have a single point of resolution standard to address customer complaints. You give a waiter a complaint and if you can't give that waiter the ownership of the complaint it results in the issue becoming a whole lot bigger. If the hierarchy were to get in the way, the guest receiving the service becomes too frustrated, having the issue passed on from person to person.
Ultimately, the compensation you have to offer is much bigger whereas giving the waiter the independence to resolve it single-handedly means that the compensation cost is less while assuring customer satisfaction too.
I believe Maldivians and the Mauritians are very similar in that regard as both exhibit a very guest-focused approach and go the extra mile of pleasing the guest.
What do you look for in selecting the right candidate?
We look for the right attitude in an individual which I believe is very important. Of course, if you have experience then that's great too. You can always tell someone has a great attitude by the way they smile and shake your hand. It gives you an inner sense of what someone's like. And if you have the right attitude, then with a bit of training we can always teach them.
Last year we had a 72 hours per person training here in the resort itself. But it doesn't just end there. We make sure our staff feel comfortable too. For instance, our guests also have access to a cinema in the resort; something to help them interact with other staff and unwind.
Our food in 'Gililicious' – the staff restaurant – is by far the best in Maldives and we know that because according to reviews; we are. The Maldivian football team for example, loves the food over at Gililicious. According to them, our food is the best. So it's equally important to make sure you invest in people who possess the right attitude.
In your opinion, what has been the most challenging aspect of working in the Maldives?
To create the right Infrastructure you are bringing in everything from your housekeeping products to your F&B products, etc. You have to be so organised in your orders. You have to correctly forecast the guest arrival estimates because you don't want to be running out of stock either.  It can be a challenge and I think that new owners and resorts do find that a technical challenge.
Recruitment is becoming a big issue now with numerous amounts of resorts opening up, although we have had a stable workforce we are losing people to other resorts.
You recently became the recipient for Top 25 Luxury Hotels in Asia category of the 2016 TripAdvisor Travellers' Choice™ awards for Hotels, ranking first out of 25. What is the secret of Gili Lankanfushi becoming one of the most in-demand resorts in the Maldives?
To create a business you have got to be at the front of the lines; you have to spend a tremendous amount of time with the guests. I meet every guest on arrival, I say goodbye to the vast majority of guests on departure and our private reserve guests residing in the Gili Over Water Villa; which happens to be the World's Largest Over Water Villa. So it's all about the guests.
Another thing is the changing role of the GM. It used to be that the Sales & Marketing team made all the Sales & Marketing related trips. But now, you'll find that the top GMs who spend hours working, also go out and spend time on such trips which has brought incredible results. I always joked that I was the worst Sales & Marketing person ever because I used to convey what we do wrong but turns out that by admitting it, it's basically creating a more 'human' side to the resort.
I think that it's the way we resolve the error which has to be highlighted here as we truly care about the guests and their stay being memorable. A lot of people know; I'm sure there is a scientific fact somewhere that if you convert a guest who has a problem and he tells more people, it makes such a big difference. Personal recommendations are a huge convincer.
I'd like to share with you an exclusive on an imminent launch of an initiative named Friends of Gili. In the past, if guests' friends or colleagues recommend us, it was undoubtedly very nice. However, because of the overwhelming amount of personal recommendations we get, we have decided to officially recognise it.
So, if any guest leaving after a stay, tells a friend or colleague to come to Gili, it is converted into a booking and we will offer them free stays for 2-3 nights. Our reservations team is keeping a lookout to this; all we ask is the name of the guest who made the recommendation; be it a reservation made through travel agent or directly through us or anything. We just want our guests to know how much we appreciate them.
I think we are the only resort in the world that offers a GM Button on the guest room telephones. How it works is that I could be anywhere in the world but if a guest simply presses the button, they can reach me immediately. This is the extent to which we value our guests and their concerns.
Has Maldives treated you kindly? What will you miss the most?
When you're working in the Maldives it is fantastic but when you're on construction sites, it's not nearly as convenient. One day I walked into my villa and found my wife – a wonderful lady who is truly the backbone to everything I do – cutting her hair using nail scissors. . That's when I decided maybe its time to move on for a while.
But without a doubt, Maldives has treated me well. I will definitely miss the walks on the beach after I wake up every morning. I will miss being greeted with 'Bodu Meeha' by my high-spirited staff. For me, everything has been a learning experience. The day you don't learn something is the day you shouldn't be in that place.