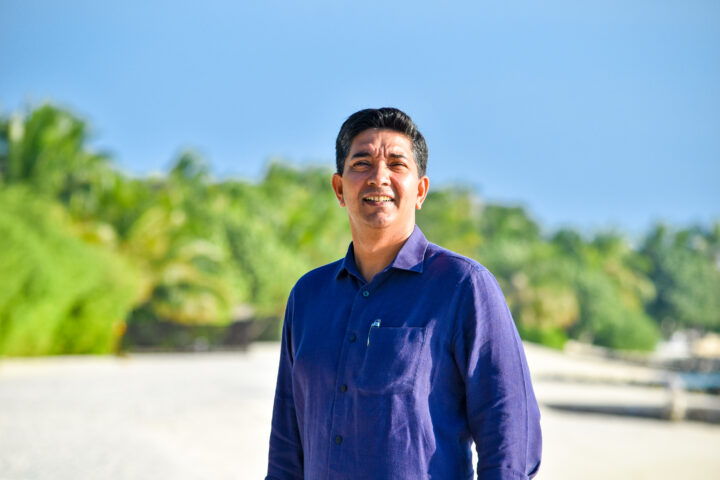 The GM's View: Vishal Singh, General Manager- Taj Exotica Resort and Spa Maldives
Vishal Singh is the General Manager at Taj Exotica Resort and Spa Maldives. With a hospitality background that spans two decades, he kicked off his career with Taj in Mumbai. He hopped up the ranks through F&B and has overseen several properties in India before arriving in the Maldives in March 2012.
An experienced hotelier, Vishal Singh likens his journey to painting on a canvas, a metaphor he makes use of later on in the interview.
Hotelier Maldives sits down with him to have a tête-à-tête about how working in F&B enriched his management experience, the pros of working at Taj Exotica, his thoughts on the Maldivian hospitality industry, and exploring new markets.
HM: Over 20 years ago you embarked on your career with the Taj group and you've spent several years with them in Mumbai and Goa. You've had experience in F&B and marketing, among others. How do those experiences enrich your understanding of your present role?
VS: F&B really helps you a lot. What happens is, you're handling a lot of aspects: sales, costs, especially at Taj we operate our restaurants as profit centres where you're responsible for profit or loss. To be profitable you need an understanding of sales and marketing as well. It sort of functions as a base for you to take on bigger responsibilities, you know, you have to deal with the production team, storage, maintenance. General administration is kind of like a magnification of the whole thing.
HM: So you were in Goa and Mumbai where you've done city hotels and resorts. What are the unique opportunities that each present?
VS: They're completely different things, you're catering to two different mindsets. When people come to resorts, they want relaxation, they want to 'chill-out', rejuvenate themselves. You have time with you. In a city hotel, everybody's time is really precious so these hotels have to be incredibly efficient. The margin of error in a city hotel is next to negligible, whereas in resorts we might have a larger margin. Interestingly, what I've observed is that you get a lot more creativity at resorts that's hard to replicate at city hotels. For example, if I have to do a renewal of vows for guests it can be done beautifully and at a gentler pace here whereas with a city hotel it would be rushed. Also, with food, you can get really creative in a resort whereas in a city hotel people don't have the time, they just want to come and eat what's available and go about their business. Also, the accommodation; in a city hotel you check in and out very quickly whereas in a resort you stay for a few days, your room becomes your home, and that's where the experience starts; how it's kept for you, how it's personalised.
HM: Your first experience of the Maldives was at Vivanta by Taj. How did you find the change, did you experience a sort of culture shock, given the one-island one-resort style that exemplifies the higher segment of Maldivian tourism?
VS: Not really. See, I've been in Goa when it wasn't that big, it also used to follow a similar tourism trajectory as the Maldives, six months on, six months off. There were other similarities too, everything used to come from Bangalore or Mumbai. They too had different resorts and each resort was functioning on its own, similar to what you get here. There really wasn't much of a culture shock for me, shifting here. I'm used to travelling, and I've been in some remote locations so it was easy to throw myself into the thick of things here.
HM: Can you tell me about the Taj brand and how its ethos is exemplified here?
VS: We're an old institution with a rich history. We have genuine palaces in India, the youngest is about 70 years old. We have developed a lot of places in India as tourist destinations. We were also one of the first few companies to set up shop in the Maldives. Our ethos is centred on giving back to society. Our brand promise is 'We sincerely care for you', meaning we sincerely care for all our stakeholders. We try to do things for the local communities, empower local youth. We always make it a point to hire local talent, artists, musicians. We're also doing things to support environmental causes, we're part of the Olive Ridley Project, and we plant corals. It's about giving back in a meaningful way and giving genuine care not just for guests but for our teammates as well.
HM: What would be the pros of working at Taj Exotica for an employee?
VS: Taj believes in building people, giving opportunities and loyalty. I'd say loyalty is an important part in progression for anybody. We've got staff who've been on this island for a very long time and they've grown with us. We invest a lot in people, in trainings and we reward our employees. We send our star performers to India where they can go and benchmark themselves against other hotels, observe and learn from a different culture.
HM: How would you describe your approach to management?
VS: I look at the broader picture. We're a collection of teams who come together around a common goal. I give people a lot of leeway to practice their own style, but within the boundaries I've set up. It's like painting on a canvas, they can do whatever they want within its confines.
HM: On a different note, what are your observations on the local tourism industry?
VS: I think we're facing some headwinds. It was a great meeting of minds at HIH, at the GM Forum hosted by Hotelier Maldives. It led to a lot of interaction that was beneficial because I think the government also heard our concerns and, post that, the government took some good measures. So yes, there are headwinds, but I think the government and the industry together can weather the storm. The really scary part has always been that the RevPAR has been decreasing. On the other hand, tourist numbers are growing. The thing is, and I'm sure that the government has taken this into consideration as well, is how to keep the luxury business alive. That's our mainstay. But at the same time, guesthouses need space to function as well, it's about co-existence.
HM: What new markets do you think should we be exploring?
VS: If you ask me the great markets which would spend money, it would have to be a mix of Asian, European and Middle Eastern. If we have to remain a 365 market (a year-round market) then we need South East Asia and the Middle East for those monsoon periods. They don't mind the rain, they don't mind it being overcast, they're not very water-friendly people but they like the concept of a pristine beach, and the beauty of the Maldives. If we have that, that takes care of the first six months. The next six months, when the sun is out and it's nice and bright, that's where the European and North American market can start coming in. Should we go Europe only? I'd say no. It'll have to be a healthy mix.