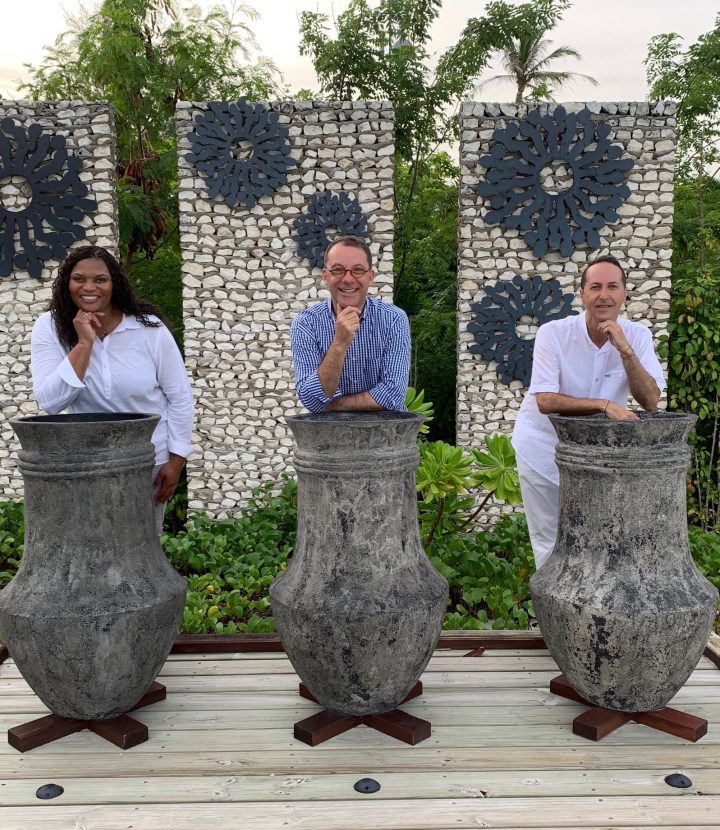 Marc Van Bergen, Managing Director of Heilbron Hospitality Talks about Butler Training
Grand Park Kodhipparu in the Maldives began their butler training programme in 2019 for the lifestyle hosts with follow up trainings in 2020. However, due to the pandemic, this was delayed for a year. Now things are back on track and, Heilbron Hospitality is assisting the team with restarting and reviving their energy after the challenging months of lockdown, restoring motivation, prioritising work/private life balance, and finding a place in the new normal.
Hotelier Maldives interviews Marc van Bergen, managing director of Heilbron Hospitality, based in the Netherlands, about butler training who says: "It is heart-warming to see that everybody in the team is participating in the training and giving it their best. While guests are returning to the Maldives, this is a right time to create together service excellence.
"The role of the butler has changed enormously over the years. Today, the main task of the Maldivian butler or thakuru, lifestyle host or guest experience maker is to look after his/her guests, providing them with personalised service based not only on the guest profile but also on cultural background and international etiquette to ensure maximum satisfaction and the guests return.
"Training the next generation of butlers, we share useful knowledge, skills, and techniques. All our modules are customised in accordance with the resorts SOP's, and we prepare the trainees to carry out their predetermined tasks."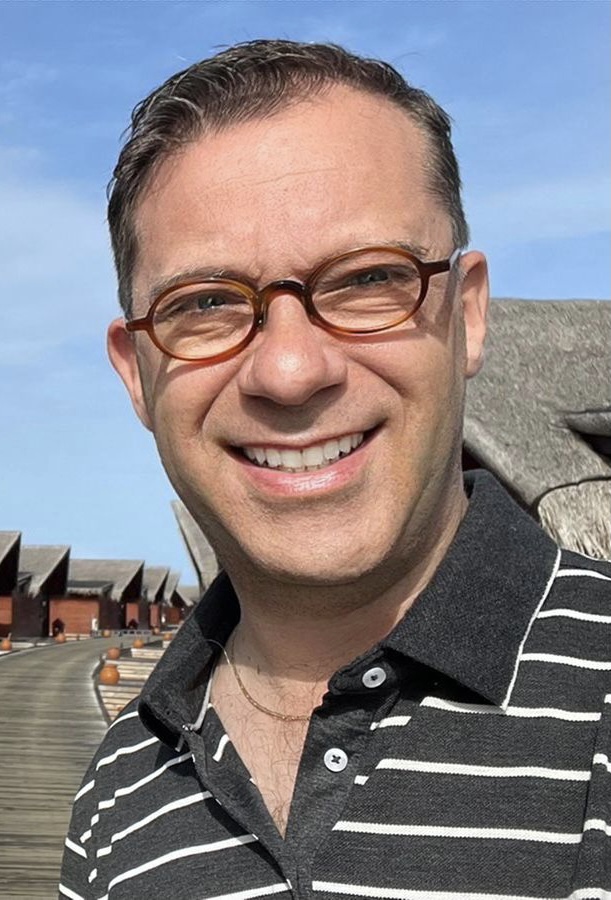 Heilbron Hospitality offers professional butler service training, recruitment and hospitality support in the Maldives and have also worked with Six Senses Laamu, Joali, Vakkaru and JW Marriott, AMAN, IHG, Fairmont, Rosewood, Kempinski, Jumeirah, Rosewood, Sofitel, One&Only, Rixos, Ayana, Zaya, LUX, amongst others. At present they have trained over 200 butlers in the Maldives including many local Maldivians.
Heilbron Hospitality is a privately owned company that conducts training for hotels and resorts worldwide. As one of the leading training companies in the world, training hotel and resort butlers, they are experts in providing personalised and intuitive service training for staff to create unforgettable stays that will make guests want to return.
The company provides a world-class training programme, focused on providing true five-star intuitive and personalised guest service in today's modern environment. Trainers share their immense wealth of professional experience and keen eye for detail with the trainees in a series of dynamic, hands-on sessions. Topics covered range from personal presentation and communication, guest interaction, detail retention and inner mindfulness to anticipating and exceeding guest expectations by crafting intuitive and detailed individualistic service. The training includes sessions centred around inner mindfulness and balance, enabling the participants to grow not only as service providers but also as individuals.
The Alliance of Professional Butler Trainers
Heilbron Hospitality is one of the founding members of The Alliance of Professional Butler Trainers, an organisation founded earlier this year bringing together globally recognised professional butler schools to guarantee their working practices and ensuring the correct Butler Training standards.  It is a global network of Butler Training Companies with integrity, value and professionalism who have agreed to give the Butler World meaningful input and to share knowledge in many different areas, including policies, expertise, and organisational development. Heilbron Hospitality is also a member of The International Guild of Professional Butlers.
What makes a good butler?
Marc explains 'in one word: passion!' "Personalised butler services extend beyond welcoming guests at the arrival jetties and delivering fruit to the villas. A butler must be able to organise the complete stay of the guests, know what their preferences are, follow the guest's time schedule during their holiday and perhaps most importantly, he or she needs to be able to anticipate the unique needs and preferences of the guests.
"That the butler reflects the brand or resort, goes without saying. It is important that they are not only trained in all aspects of personalised service but also in formal and informal etiquette. A wide knowledge of cuisine, wine, and mixology is a prerequisite. Other qualities are being organised, discrete, calm under pressure, able to work under tight deadlines and patience."
Currently, several of the world's top training companies are associated with this exclusive group. The difference is very much in the training methods. All cover the same subjects, assisting teams to deliver top service. Then it is up to clients to decide which training method fits their team best.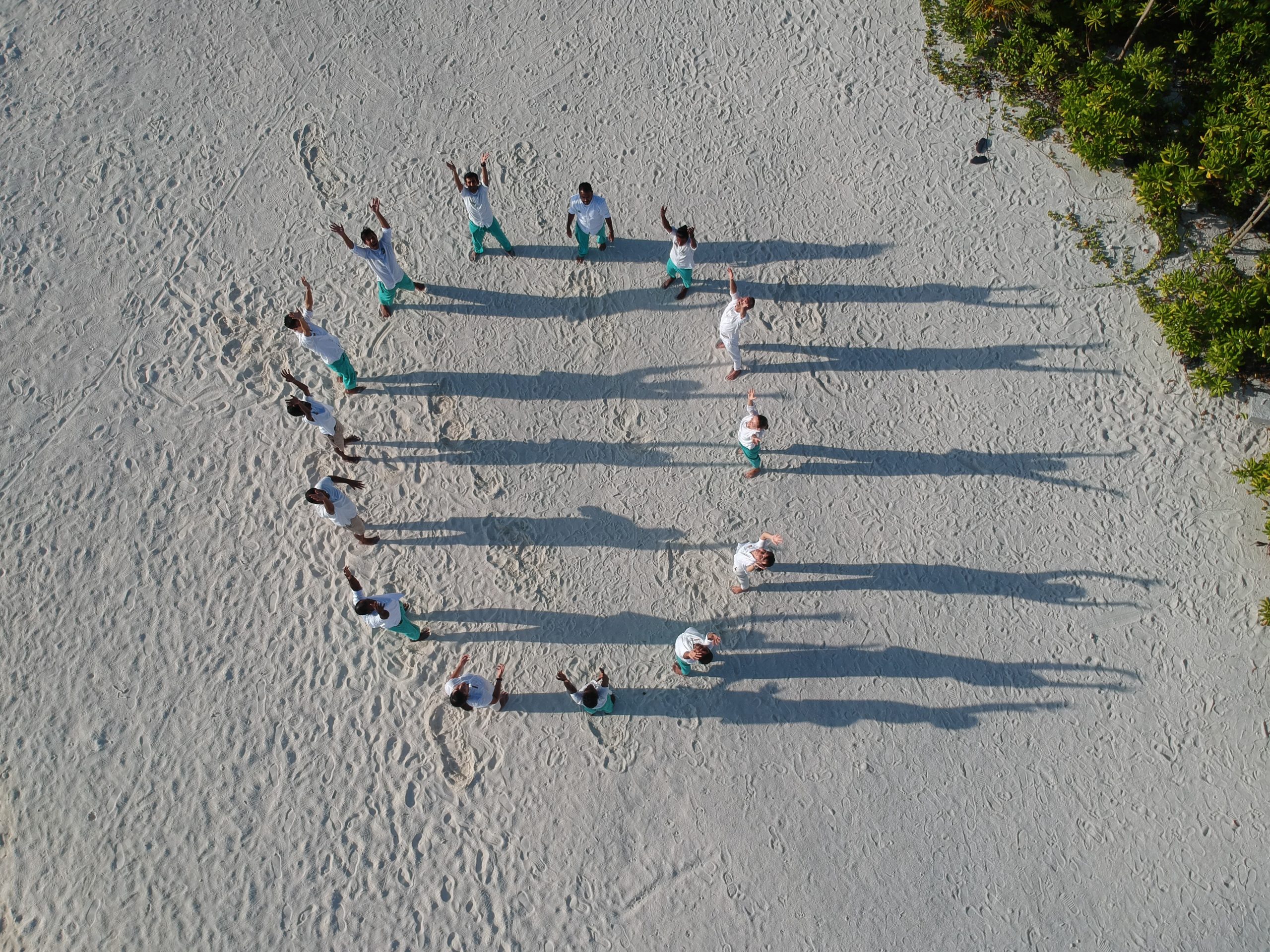 Heilbron Hospitality is specialised in hotel and resort training, working with local staff whose English is not their mother tongue. This asks for a specific approach. Furthermore, we have a programme designed to assist our clients to roll out a programme post training to monitor the trainees and to ensure that the momentum of the training is continued. Most importantly, none of our trainings are in a classroom set up. You don't create butlers sitting around a table and listening to theory.  Where resorts want to make a difference and offer a signature and custom-designed Villa Service for their guests, there are butlers. Everything that a guest needs during their stay is taken care of by the various departments. The butler is there to add the personalised touch and to create memorable moments.
Marc explains: "Very often resorts only focus on guests having a birthday, an anniversary or a wedding. It's our belief that every guest should have at least one memorable moment during their stay in the resort. And that moment needs to be customised to perfection. Training in the Maldives requires some additional skills. Our trainers focus on technical and vocational education giving Maldivians the necessary skills to compete for butler jobs in hospitality concentrating on the butlers and those who want to become a butler.
"Hotels and resorts work tirelessly to exceed guests' expectations. The challenge is that guests' expectations proliferate daily. A warm reception upon arrival, local welcome amenities, a 24-hour gym with brand name equipment, high speed Internet and a points Reward Loyalty Programme are all standard, predictable and generic. Today's guests demand unique, unexpected and engaging experiences during their stay.
"During the training, we assist the trainees to become more familiar with the concept of intuitive service, to increase their levels of empathy, to observe and understand their guests and to know where to find the necessary clues in order to creatively provide memorable experiences for their guests."
How has the pandemic affected butler training?
Heilbron Hospitality is active around the world, working with butlers from all corners of the globe. They are not only active in the Maldives but also China, Japan, Vietnam, Cambodia, Malaysia, Singapore, Indonesia, Thailand, UAE, Qatar, Saudi Arabia, Oman, UK, Netherlands, Russia, Montenegro, Croatia, Portugal, Turkey and USA.
As such they have an international talent pool of American, Bangladeshi, Belgian, British, Dutch, Canadian, Chinese, Egyptian, Ethiopian, French, Indonesian, Indian, Italian, Japanese, Kenyan, Malawian, Maldivian, Mauritian, Moroccan, Nepalese, Philippine, Portuguese, Russian, Saudi Arabian, Spanish, Srilankan, South African, Swiss, Thai, Tajik, Turkish, Ugandan, Ukrainian, Uzbek and Zimbabwean butlers – and more.
Most of their clients are in the Middle East, Asia, Europe, and the USA and the company has full teams of professional trainers located in South Africa, France, England, and the Netherlands. Depending on the needs of clients and their teams is the way they compile their teams.
Since March 2020 Heilbron has conducted several virtual butler trainings for clients in Asia, Europe and the USA, and as the world has opened up, they plan to expand again.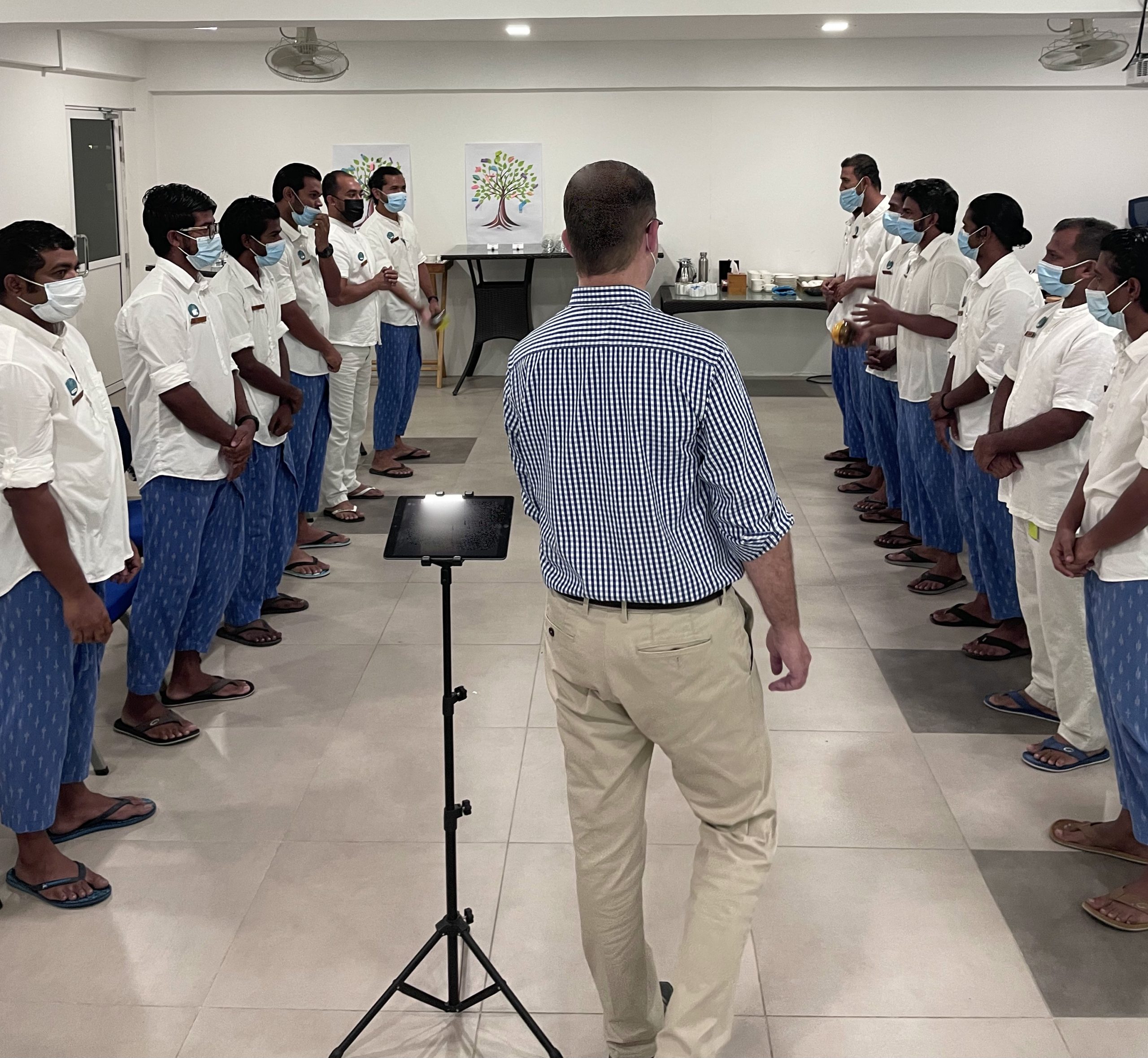 Marc says: "We all know that online training is not the ideal option but when there were no flights and travel was restricted, it was a good alternative. For pre-opening projects, we do not advise a virtual training. Many resorts did everything possible to support their teams during the pandemic while being completely closed or only open for local guests and some expats. Guests are on their way back. It is amazing to see that our industry is getting back on its feet, although training budgets are tight all over the spectrum, not only in the Maldives. Various hotels and resorts see training as an essential element where employee care is more than just a standard. We currently assist the various teams to understand and adapt to the new normal in Hospitality and assist in the introduction of the many new procedures."
Raffaele Solferino, general manager of Grand Park Kodhipparu said: "Your holistic approach to the training with technical, soft skills and mindfulness brings a new level of learning to all our team members. They thoroughly enjoyed the training. Their eagerness to use their new skills and knowledge in their daily interaction with our guests and colleagues after the training is an inspiration to all. They are charged with energy, passion and commitment."
Meanwhile, Frans Westraadt, former resident manager of Six Senses said: "Your inspirational training along with the materials shared will enhance the capabilities of our GEMs team and will definitely be instrumental for our host to live the company vision by bringing emotional luxury' to our guests. Helibron Hospitality is a flexible, modest, discreet and with a superb eye for detail. They know how to add that extra special touch that makes an outstanding contribution to our guests.  We heartily endorse Heilbron Hospitality to any luxury Resorts worldwide."
JOALI commended Heilbron's training which was 'carried with a lot of zeal and professionalism by the team'. "The services rendered were of high calibre and the shared knowledge and attention to detail have aided our front office team to set up the structure for the butler service of the resort."
And Vakkaru Maldives said: "The key factors for choosing Heilbron Hospitality is your in-depth knowledge and experience as well as your expertise in hospitality, and dedication to our needs and requirements. Showing flexibility and dedication in honing the skills of our team members your methods of training have created an impact to them as individuals and as a team that up until now is gaining good results through their continuous excellent service towards our guests. We are very satisfied and happy to be your client and looking forward to a long lasting business relationship."
Follow Heilbron Hospitality on Instagram and Facebook.
Featured Image: Heilbron Hospitality trainers at Grand Park Kodhipparu