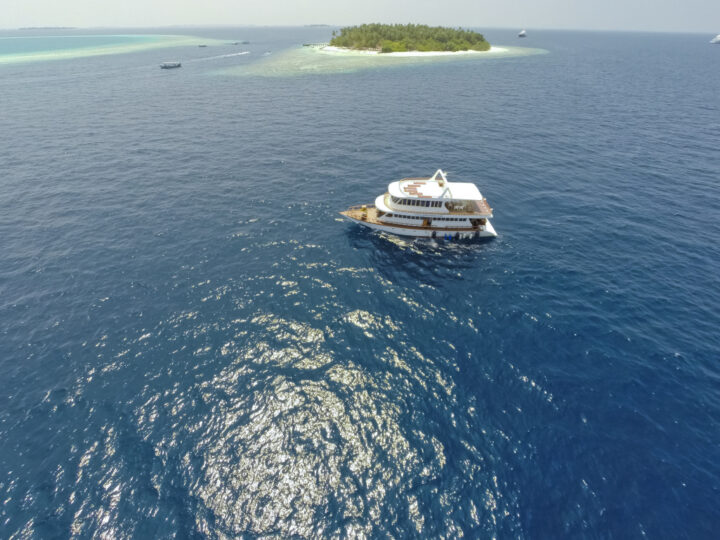 GTM Cruiser
Lying in the Hulhumale' harbor, the GTM Cruiser offers a sleek profile of its hull, white against a cloudless sky. On board the guest is treated to a warm welcome by the crew, and cool refreshing drinks are proffered, which may be taken up to the sundeck, where the guest can take in unique Maldivian vistas, the blend of blues and greens that define the country's waters, the white crests of wavelets, the forest green foliage of islands dotting the horizon.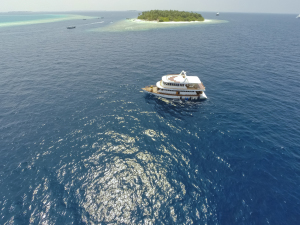 The vessel offers cruises across atolls in the country, where guests can stop and explore inhabited islands, mingle with locals and try some authentic local fare. Vaavu Atoll and Ari Atoll are particularly favorite haunts given their proximity to Male' and the number of uninhabited islands on offer, places of utmost privacy where guests can enjoy dips in the lagoon and barbecues of  freshly caught fish on gloriously soft, powdery beaches.
The GTM Cruiser offers guests eight snug, comfortable rooms overlaid with wood. Each room is air conditioned and comes with its own attached bathroom. The boat's facilities are spread across three decks. It comes with a kitchen, a dining area at the rear that offers splendid views, a bar where guests can partake of alcoholic beverages, a lounge with a television and comfortable and at the very top, the sun deck, offering sweeping panoramas of the Indian ocean and on clear days, immaculate sunsets, and night skies brimming with stars.
The GTM cruiser is operated by Good Travel of Maldives (GTM), who, despite offering other services, are mostly focused on providing guests with diving and surfing experiences. "The boat is designed with those two things in mind," says the managing director of GTM Hassan Abdul Hameed. "We have the diving season from November to April and the surfing season from May to October. It's really hectic, and I'm happy to say that we've enjoyed 90% occupancy these past couple of years. We're operating on a full schedule this year as well."
The boat was built in 2011, and has since become popular with tourists hailing from Europe, particularly France and Holland, thanks to good marketing in the region. "We market through tour operators," he says. "We've got operators in three different countries in Europe. We've also got an agent in Australia through whom we get a number of surfing clients."
Diving is a spectacular experience in the coral reefs of the Maldives, and the GTM cruiser hires a dhoni to ferry guests to choice dive spots. "Divers come in groups of about 12 to 16, so it's more convenient to hire a dhoni to transfer them to dive spots rather than on the boat's dinghy," says Hameed. The dinghy comes in handy however, when taking surfers, who come in smaller groups, to the waves.
After the day's activities guests can relax onboard with chilled beers, wafted by cooling sea breezes. They can feast on traditional Maldivian fare prepared by the boat's cook, or if they wish, try their own hand at making a meal of their choice in the kitchen. The GTM Cruiser goes great lengths to make one feel at home, even if home is a thousand miles away.