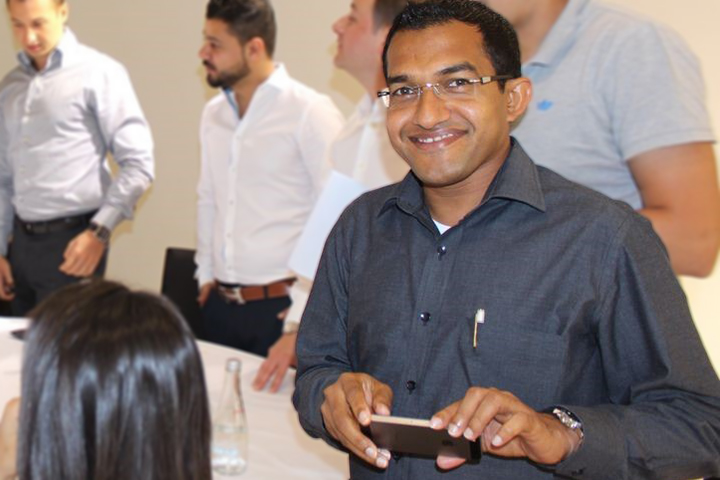 Careers: Nasrulla Ali, Executive Housekeeper at Velaa Private Island Maldives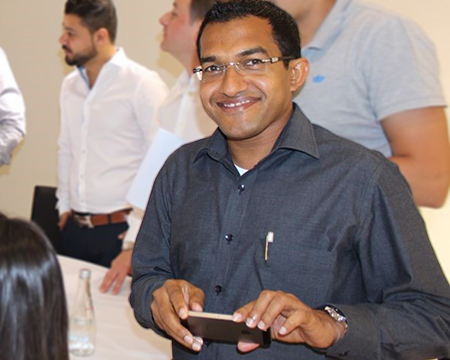 Maryiam Athiza Athif
When Nasrulla Ali joined the hospitality industry, he was just 19 years old and had just completed his O'Levels from Majeedhiyya School. "I didn't have a specific plan. But I also didn't want to spend too much time without going to a job either. Back then I found that the easiest work to find was within the tourism industry, and some of my friends were already working in the industry as well," he explains. In 1994 Nasrulla got his first job; he became a receptionist at the resort back then known as Ihuru Tourist Resort.
Today, Nasrulla is an experienced executive housekeeper, currently working for Velaa Private Island, and so far his journey has been something to take inspiration from. After working at Ihuru for a year, Nasrulla took a break from the hospitality industry to focus on his family's business. Two years later, he was back in. And this time he took on an administrative post as housekeeping clerk at Four Seasons Kuda Huraa, and was promoted to junior supervisor 5 months later.
It was at Four Seasons Kuda Huraa that Nasrulla received the opportunity to do what he believes to be one of the biggest achievements of his career. Nasrulla was offered the opportunity to work at the Four Seasons Hotel in Boston. "It was something that I had not expected. I was among the first two individuals from Maldives to work at the Four Seasons Hotel in Boston. It was an eye opening experience." Nasrulla worked at the Four Seasons Hotel in Boston for one and a half years and this was his first experience living in another country. He found Boston to be fast paced compared to the slow island life he was used to. "It was a big country, a mega city, and I had to adapt. It changed my thinking. I learned to think positively and I realized that a whole world is out there," says Nasrulla.
Nasrulla's experiences abroad is not just limited to Boston. He has also worked in Malaysia, Thailand, Qatar and the United Arab Emirates. He views these experiences abroad as great learning opportunities. "New places present new things, and housekeeping is also different at different places," he says. Before joining Velaa Private Island Maldives during last September, Nasrulla has also worked at Four Seasons Resort Maldives at Landaa Giraavaru, One & Only Reethi Rah, and Anantara Kihavah Villas.
As Executive Housekeeper at Velaa Private Island Maldives, Nasrulla is responsible for the overall management and supervision of rooms, public areas and laundry. He manages 56 staff and his approach to managing them is centred on keeping a comfortable and open relationship. Every morning at 8.30 he meets them for the department's daily morning briefing, and Nasrulla sees seriousness to be something that's often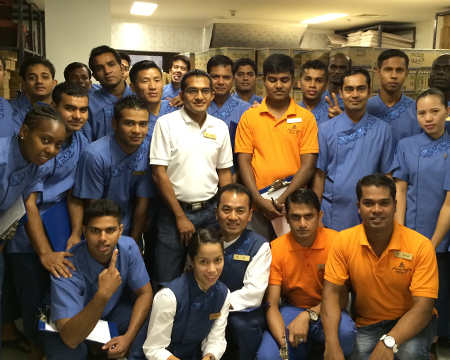 useless in this scenario. "If the meeting is serious, it will be cold, and the staff would be scared to communicate. I want to eliminate that fear. Traditionally, meetings of this kind are a one way thing. The head of the department would speak and it would be over. I start off by talking about something that would be interesting to the staff such as news, politics, the previous night's Champions League match or a Premier League match. This makes the staff feel comfortable and more communicative, and then I proceed to talking about the daily operations. I try to maintain a close relationship and be approachable. Otherwise the staff would keep a lot of things uncommunicated and that would speedball into bigger things," he explains.
To Nasrulla, the favourite thing about his job is managing so many staff. "I like it because it's interesting and challenging. Providing a service to the guests is also a pleasure. Traditionally, housekeepers were people who made the beds and cleaned the toilets. But now we've become much more. Now it's a service and there are creative aspects to it such as bed decoration. Additionally, I also do take pleasure from sharing the experiences I've gained from the many countries I've worked at in order to help in improving and developing my staff," he says.
Nasrulla offers some advice for the young adults looking to enter the hospitality industry. "Attitude is the most important thing; a positive attitude. Even if you have no experience, if you are willing to take on the challenges with a positive attitude you will succeed," he says. In addition to this, according to him, flexibility, timeliness and keeping one's self well groomed are also factors that can contribute to one's success within the industry.