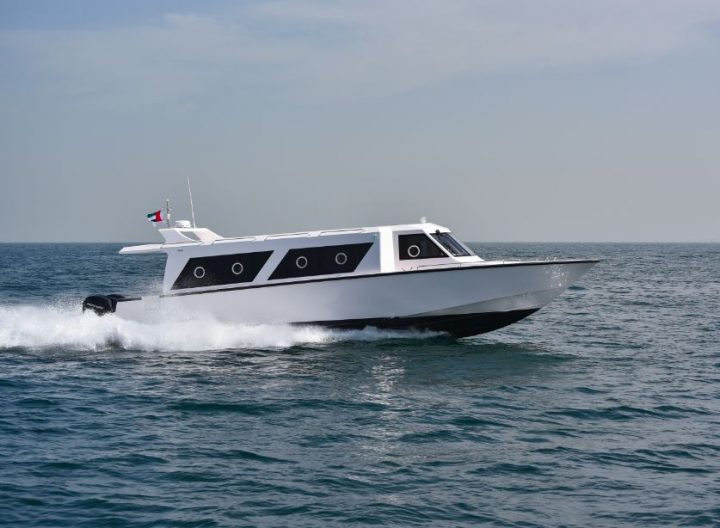 Gulf Craft launches new Touring 48 series partly manufactured in the Maldives
Gulf Craft has announced the launch of their new Touring 48 line of vessels. The new Touring 48, under their Utility Series Fleet, is one of the very few passenger boats in the world that features a stepped hull made of reinforced composites; a typical design for performance boats. This fine limousine boat built with luxury yacht materials, can take up to 15 people, while the custom-made ferry version can take up to 42 guests.The boat is powered by four 250hp outboard engines, gaining a speed of 38 knots. According to the company, what also makes this new model special is that it is being manufactured by Gulf Craft in two of its facilities, the UAE and the Maldives. Available in Ferry and VIP versions, the Touring 48 makes for a truly adaptable vessel for several uses.With an expanding portfolio that includes the enchanting Majesty Yachts, the oceangoing Nomad Yachts, Silvercraft fishing boats and family cruisers, and Oryx sport yachts and cruisers, Gulf Craft proves to have built an enduring legacy.Gulf Craft is a brand recognised internationally for its reliability in the marine manufacturing industry, innovative design layouts and exterior styling for both the regional and international markets. The company regularly exhibits at leading international boat shows keeping Gulf Craft's name and product at the forefront of market attention.The use of the latest technologies, such as sandwich construction and vacuum infusion processes, water-jet drives engineered on large yachts, and gyro marine stabilizers, distinguishes Gulf Craft products in the market.
According to the company, their state-of-the-art manufacturing facilities, spread over 1,000,000 square feet, enable them to carry out major production processes in-house, ensuring tighter quality control, cost efficiency and the ability to be flexible with client requirements. Gulf Craft produces products to strict international maritime and industrial standards, such as ABS, RINA, MCA, Lloyd'S Register and others. Gulf Craft has also been CE and BVQA certified.
Founded in the Emirates in 1982, Gulf Craft currently ranks as one of the world leading manufacturers of luxury yachts and leisure boats. Gulf Craft is also one of a handful shipyards that offers a range starting from 27 feet up to 175 feet. With thousands of its vessels cruising international waters, its products are distinguished and admired in the global yacht-building industry.