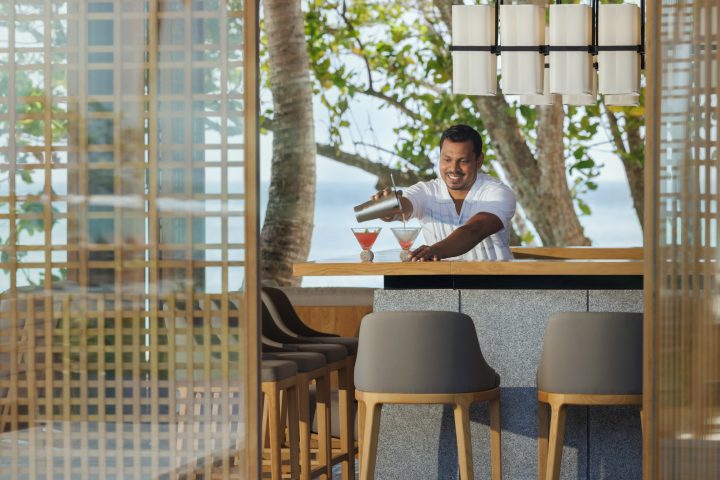 The Immersive Culinary Repertoire at Alila Kothaifaru Maldives
Experience a well-crafted culinary journey infused with Maldivian culture during your island escape at Alila Kothaifaru Maldives.
The resort's all-day dining beachside main restaurant, Seasalt, serves coastal Mediterranean cuisine with Middle Eastern influences. The restaurant features salt-baked fish dishes featuring homemade sea salt produced by the culinary team. The sea salt is produced from the pristine sea water that surrounds the island of Kothaifaru, which is collected, filtered and reduced to a brine and then air-dried to create crystallised flakes.
Combining two essential ingredients in Maldivian cooking, salt and spice, the culinary team produces two handcrafted salts: original sea salt, a core ingredient at Seasalt Restaurant; and Mirus sea salt, the foundation of cocktails and cuisine at Mirus Bar, which can be sipped in eight island-inspired signature cocktails, including the must-try Chili Margarita.
The island features a Japanese-inspired menu at Umami restaurant prepared in a teppanyaki theatre with a premium selection of organically grown vegetables, Wagyu beef and sustainably sourced fish and seafood. The adjoining Yakitori Bar is the place to be to indulge in sundowners, from Asian-inspired craft cocktails and mocktails to fine Japanese sakes and spirits, amidst delicious aromas from a robata grill. Beyond dining and imbibing, guests also have the opportunity to learn about new cuisines and cultures under the guidance of the resort's resident chefs and mixologists in two interactive Alila Experiences.
The journey doesn't end there. The Pibati Café provides light bites and comfort food that are convenient to grab and go en route to an excursion. It's also the place to enjoy a refreshing afternoon tea paired with traditional sweet and savory Maldivian snacks. For a healthy twist, pick from 20 herbs and spices such as ginger, galangal, goji berry and pink peppercorn as your table host introduces you to traditional mixing principles to produce potent blends that will soothe your palate while protecting your health. Guests are able to enhance their romantic getaway with a unique curated culinary escape accompanied by the gentle sway of palms, the glimmer of stars above and the sound of calm waves lapping the shore. Enjoy  a candlelit dinner anywhere with an island-inspired table set-up and decorations, and your choice of set menu ranging from authentic Maldivian cuisine to Mediterranean and BBQ options.