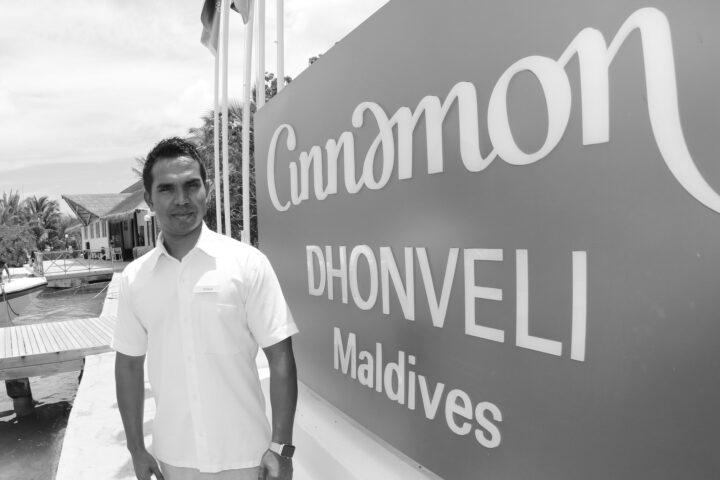 Hassan Shihab: Assistant Manager – Operations at Cinnamon Dhonveli Maldives
Hard work and a desire to succeed to reach the top are some of the most important qualities to flourish in any field we embark. Hospitality and Tourism industry is no exception, and especially in a challenging environment such as the Maldives, examples of such dedication is very seldom to find. Hassan Shihab, at the head of operations at Cinnamon Dhonveli Maldives, is one such individual."I am from Komandoo Island in Shaviyani Atoll, and I joined the hotel industry six months after finishing school after a friend recommended," says Shihab, who is today the Assistant Manager of Operations, at the award-winning resort.
His debut to the industry came as a receptionist at Ari Beach in the year 2000. He stayed with Ari Beach for eight months, before his venture into John Keells Group with Velidhoo Island Resort in 2001 as a receptionist. With nearly a decade at the resort, Shihab gradually climbed up the ranks and became a valued employee at Velidhoo. He was promoted as a reservations executive in his fourth year, and as a front office executive in his sixth year.
From there on, a whole new chapter of Shihab's life began when he completed an inter-company transfer to Cinnamon Dhonveli Maldives in 2006. His first appointment in Dhonveli was as the assistant front office manager. His work and dedication did not go unnoticed as he was handed a promotion which eventually made him the front office manager. Loyal to his work and the company, Shihab performed well at the post for nearly a decade before eventually rising to the post of assistant manager of operations at the resort in 2017."Some of the most difficult challenges I faced in the industry was familiarising myself with different systems at the resorts and working under different management styles and synchronising my lifestyle to the place," says Shihab, when asked about the different challenges he faced over the years.
"I remember once I had to learn about a billing system in my early days because there was a change in management and none was there to oversee the operations at the resort. I take pride in the fact that I managed to understand everything about the systems and took over the operations until someone was appointed. Another challenge I faced was when my former superiors had to work for me after my promotions."
Shihab also adds, "I was exposed to training conducted by the company which I have been thankful for. I remember once I got the opportunity to visit Cinnamon's properties in Si Lanka and learn about how things work there, which really developed me not only as a person yet my career too."
One of the most notable things about the John Keells Group and Cinnamon Dhonveli is the dedication it gives to training its staff. Shihab benefited from these sessions where he learnt the arts of leadership, coaching and mentoring. Generally described by his colleagues as a fun loving and friendly character, Shihab also has an avid affection for sports such as football, volleyball, badminton and tennis.Talking about the opportunities for Maldivians in the industry to rise higher, Shihab recalls that some of his colleagues, the very ones who encouraged and supported his career were surprised when he got promotions to higher-ranking posts. "They were surprised and asked if there really was a chance for locals in the industry. I replied firmly that of course there was, but you have to work hard and be dedicated for these things to happen," says Shihab.
John Keels Group was described by Shihab as a very independent and organised company, where there were perilous tasks that cannot be completed without the full effort of every employee. He also states that the company gave its staff freedom and that it was up to the staff to manage accordingly. Shihab stated that the John Keels group always focused on hiring new fresh graduates and getting them the training they need, rather than poach talent from other hotels.
"We currently have three programmes for our staffs, one is the Supervisor Development Programme, the other is the Talent Acceleration Programme (TAP), and then there is the last one which is the Management Acceleration Programme (MAP)," he explains. "These are all targeted for Maldivians to break into the industry and hone their skills. The company also holds training sessions in other locations such as the Housekeepers' training session held at the Emirates Academy. These are just a few of the efforts by the company in nurturing its staffs and taking them to the next level."
Maldivians are some of the best when it comes to hospitality, this is something that Shihab believes in firmly, and this is one of the main reasons why he believes that young Maldivians can succeed in the industry and take it to greater heights. He believes that Maldivians should be at the helm of the industry and that is the only way that the Maldives can rise in terms of human resources in the industry.Addressing the high turnovers in the resorts, Shihab says, "Most Maldivians who are experienced in the industry are always offered new posts with bigger pay from new resorts. Since there are so many upcoming properties, this has become the norm and this has to change. Maldivians would have true love for the industry since it is our own nation and we want to keep the country as beautiful as it is, so Maldivians cannot be compared to when it comes to hospitality."
Finishing up, Shihab notes the importance of locals working in the industry and the opportunities which it holds. Speaking about his own future, Shihab stated that has no intention of slowing down and that he wants to go even further in the industry. For Cinnamon Dhonveli and the John Keells Group, he is sure that the future is bright.
My small chat with Shihab made me realise that he is a role model for young locals working in the industry. His dedication, loyalty and passion for the industry were evident from his long career and it seems that there is no end to his career goals.