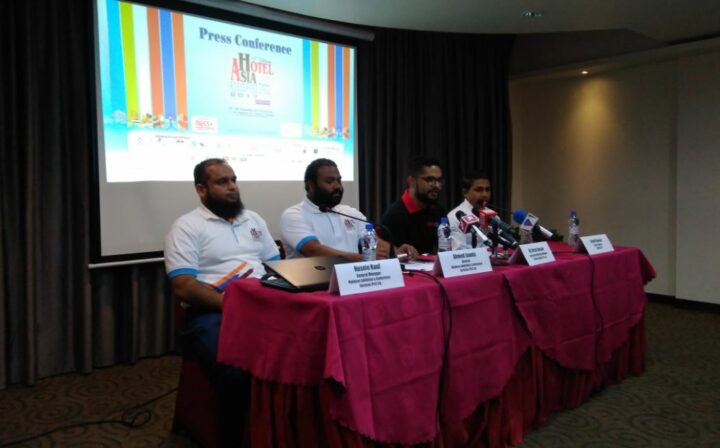 Hotel Asia to see over 2,000 brands, Culinary Challenge draws in over 600 chefs
International Culinary Challenge held as part of Hotel Asia Exhibition 2017 has drawn the participation of a record 600 chefs this year. The thirteen edition of Hotel Asia Exhibition and International Culinary Challenge will be held this September in Dharubaaruge.
The Culinary Challenge is set to open on September 17, with the Hotel Asia Exhibition set to open the following day and continue through to September 20. Hotel Asia Exhibition and International Culinary Challenge is Maldives' first and largest international trade exhibition.
"The overriding purpose of the show is to cultivate healthy relationships between hospitality providers, suppliers and the community," says Ahmed Jaamiz, Director of Maldives Exhibition and Conference Services (MECS), the organiser of the event.
"The only way to achieve any growth potential is through harmonious relationships.  Hotel Asia is a platform for counterparts to speak to each other. It is a one stop shop for anyone in the hospitality field."
This year, the exhibition will showcase a total of 175 stalls representing over 2,000 brands from some 32 countries. The exhibitors will showcase portfolios covering aspects of the industry including in the best in food & beverage, room technology, laundry, air conditioning, hygiene and catering, architecture, gardening, landscaping, outdoor furniture, swimming pools, waste management, software systems and modern security systems and a wide array of hotel supplies.This year the organisers set a more interactive tone in run up to the event with Masterchef styled Masterclasses and specialised seminars. Bestbuy Maldives Pvt Ltd (BBM)—one of the largest F&B suppliers in the hospitality industry—is the main sponsor of the event."Having studied market developments, we decided to introduce many new competitions that will give contestants the opportunity to display personality, showmanship, technique and presentation skills," says Mohamed Mazloom, Director and CEO of BBM, commenting on the Culinary Challenge. "The Culinary Challenge competition recognises the pressure of the F&B and restaurant industry."
The competition will recognise contestants' skills in preparation of speciality dishes specifically looking at cooking techniques, use of ingredients and plating. "What started in 2002 as a small competition with less than 50 contestants has seen significant growth over the years," notes Husnie Rauf, the General Manager of MECS.
"Today, we have over 600 entries representing around 70 resorts. 18 distinguished, world qualified judges will be flown down from all parts of the world to witness the culinary magic provided by the chefs taking part. The star studded panel of judges is another key factor that contributes greatly to the credibility of the event."
The expert judging panel is made up of Alan Palmer (Chief Judge), Thomas A. Gugler, Martin Kobald, Otto Weibel, Tarek Ibrahim, Adrian Bader, Rohan Fernandopulle, Michael Strautmanis, Jodi-Ann Palmer, Edwin Leow, Edmund Toh Heng Wee, Eric Low, Erich Roos, Richmond Lim, Stefan Mueller, Bruno Menard, Leslie Teong, and three locals; Ishag Solih, Aminath Shaanee, and Abdulla Sobah.
The criteria for the competition is based on international standards and will select winners who represent some of the leading chain of hotels and resorts in Maldives. Category winners will represent their resort on the international stage as well, according to the organisers."Similar to Hotel Asia 2016, we are looking to host the winners of this year's event at the Food and Hotel Asia in Singapore, and in Germany as well," says Ali Afrah Hassan, Assistant Marketing Manager at BBM.Winners of Hotels Asia 2016 took part in HOFEX 2017 – Asia's leading food and hospitality trade show in Hong Kong; sponsored by MECS and BBM. The winners were Chef Ahmed Fatheen from Bandos Island Resort and Chefs Ismail Naseer and Indra Kumar Limbu from Hulhulé Island Hotel. Chef Fatheen and Chef Ismail both won silver medals in the Western Cuisine – Sustainable Seafood category with dishes using Halibut while Chef Indra Kumar participated in Pastry Professional Fantasy Table.The 22 categories of the Culinary Challenge are; Dress the Cake, Fruit & Vegetable Carving, Novelty Cake, Plated Hot Dishes, Desserts (Display), Tapas / Finger Food, Bread and Pastry Display, Hot Cooking – Fish Fillet, Hot Cooking – Beef, Hot Cooking – Seafood, Hot Cooking – Poultry, Hot Cooking – Lamb, Desserts, Hot Pasta Appetizer, Creative Asian Dish, Cold Salad, Team Challenge, Maldivian Dish, The Perfect Steak & Omelette, Young Chef, Tea Challenge, and Iced Mocktail.
The exhibition itself is a tremendous opportunity for resort owners to see what new technology, products and services are available in the market. Recognized as an International Standard Exhibition, Hotel Asia is considered the purchasing forum for resorts and hotels annually. Hotelier Maldives is the Official Magazine partner of Hotel Asia Exhibition and International Culinary Challenge 2017.