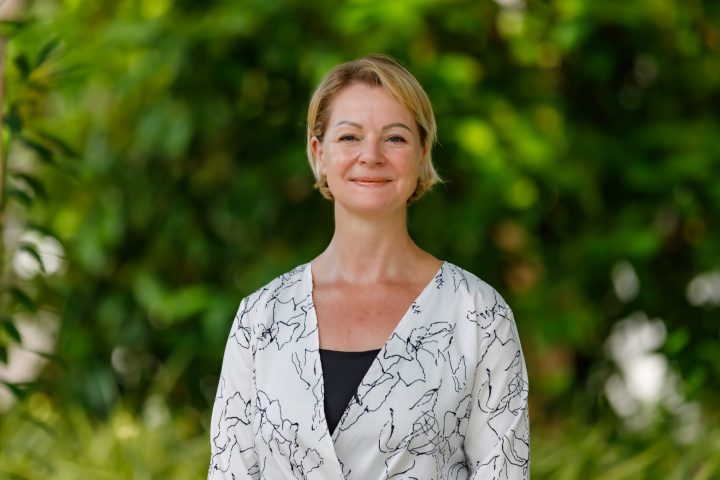 Heidi Grimwood, Vice President, ELE I NA Spa
Heidi Grimwood, the Vice President of ELE I NA by Atmosphere shares with Hotelier Maldives her vision in steering ELE I NA towards the future of Maldivian Wellness.
At the age of eighteen, Heidi first began her career training as a fitness instructor and personal trainer in New Zealand. With her experience in fitness, she was offered a unique opportunity in her home country, England, to do the set-up of the first Corporate Gym for Richard Branson at the Virgin Atlantic Corporate Head Office in London. With these accomplishments and strong passion for adventure, she sought out to work at cruise ships and ended up spending over seven years on water. Her fitness career then slowly evolved from fitness towards wellness and eventually began to find herself drawn towards Maldives.
Hotelier Maldives: Is this your first time here in Maldives?
Heidi Grimwood: Not at all. The first time I was here was when One & Only Reethi Rah opened around eighteen years ago. I came in as the Director of Spa, developed that spa over the years, then I left. After working in several spas in Ireland, I ended up opening my own consulting company specializing in spa development and training. While running the company, I frequently found myself in Maldives, consulting several companies and even hosted a special programme with Cyrax College of Maldives. So for the past two decades, I have been familiar with Maldives.
HM: How did your career evolve from fitness expertise towards wellness?
HG: I was a fitness instructor, then became a Manager. At the age of 23, I stepped up as a manager temporarily and twenty years later here I am still at it. So I suppose for me, when things were developing in the industry, where there was a transition of spa and wellness, it was very interesting for me, because I was trained in each section and as I was trained as a therapist as well, for me there was always a synergy. It all connected well.
HM: How did you come across with the current opportunity with ELE I NA?
HG: While I was running my consultancy business, I kind of got a message from Atmosphere, saying that they have a position and are looking for a recommendation. It was in the midst of the pandemic and I was longing for a change and I said, "I would be very interested and I am available". In the end here I am, I got the offer and along with my family, we moved to Maldives.
HM: Could you tell us a bit about the rebranding of Elena Spa?
HG: When I arrived we did a full rebranding of Elena. Even though we still have the same name, ELE I NA is now considered as our brand. Under the same brand name we have different sub brands, ELE I NA The Spa, found in our Atmosphere properties and ELE I NA Elements of Nature, which is for our luxury properties under our OZEN Collection. Currently we are working on launching our training academy which will be ELE I NA Training and ELE I NA Wellness, which is a project which we are working on this year.
HM: As the Vice President, what is your current role and what are your development visions for the brand and properties?
HG: Wellness is obviously going to be a huge part of the whole development phase. We just started it now and  really kind of just getting it really well-known. This year we will focus a lot on getting our name out there, we want more people to talk about our bespoke treatment and experiences. Instead of taking full treatments from other cultures, we focus on how we can provide a more relevant treatment. Like, instead of using lava shell, our corporate trainer created a treatment using the actual coconut shell, we smoothed it over and now we have a beautiful coconut shell massage and it gives the guests a more authentic experience. We also have sand bundle massage and a treatment created with betel leaf paste, these are our three signature treatments designed with Maldives in our minds.
We are very much focused to keep developing the local influence, keep their authenticity there, and keep working with local companies. On the wellness element, we are going to have wellness projects outside as well. We have our wellness retreats designed with visiting practitioners and other international experts, what we are most interested in now is getting to work with local practitioners.
HM: What kind of efforts are you making in collaborating with local practitioners and what is your current plan?
HG: Since we have this interest, we began working closely with some Maldivians and we invited some local practitioners. As most of them are new to resort environments, it can be a bit overwhelming for them, so we are putting together a module to train them in how they can become visiting local practitioners for the resorts and enhance their career further. Currently they are not familiar with the expectations of a luxury tourist, so these training will help bridge the gap and eventually we can start introducing local practitioners rather than constantly bringing only foreign practitioners. I think this will open many opportunities to further develop the local wellness industry.
What we are interested in is getting more local people trained into the industry. We are working on finding a way to begin the classes in Male' region and we are trying to find the support which we need. I think there is a huge potential if we train young Maldivians as currently a huge percentage of this industry is occupied by foreign workers. If we can provide at least some of these jobs to the locals, it will open new doors. So within our company, what I created when I arrived is a complete development program.
Like, some of our spa attendants have always wanted to become therapists, we have trained them and we are going to certify them. The biggest challenge they face is even after getting trained, most of them don't have a professional qualification. What I don't want for the people who work in our company is to leave empty handed. When they leave, I want them to have the opportunity for a professional career, rather than them facing the issue of only having on-site internal training without a proper qualification. I want to set them up for their future, so they can get certified. So that we know we have trained them up to a great standard and when they leave, they can move on and build themselves up. This is why we are focusing on opening a training academy.
HM: What are your tips for the readers to stay motivated?
HG: Rather than what's in the trends, you should follow your passion, what you strongly feel about. Always focus on what drives us. It's about moving towards what you're passionate about. When you are trying to keep yourself ahead of the game, it's following what you're passionate about, then you keep on upgrading, upscaling, updating on those passions. Then there is the synergy, it works.
About ELE I NA
ELE I NA by Atmosphere Hotels and Resorts is the wellness brand behind the resort chain. Atmosphere Hotels and Resorts is a dynamic, fast-growing hospitality company founded in 2012. Today, the ELE I NA brand operates in five different resorts in Maldives and further two more properties will be added to their portfolio by March 2022. ELE I NA is working on developing other projects in India and Sri Lanka along with Atmosphere.