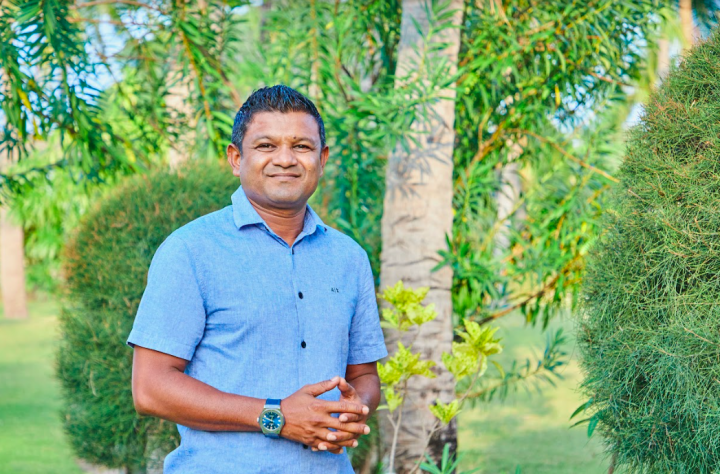 Exclusive: Mohamed Solah, The Journey of a Dedicated Hotelier
Mohamed Solah is a prime example of a passionate and dedicated hotelier. From a young receptionist to the Chief Operating Officer of Crown and Champa Resorts, one of the largest hotel groups in the Maldives, Solah's hospitality journey proves that with the right discipline and hard work, there are no limits to one's achievements.
Solah comes from a humble family where his parents worked hard to earn a living. His grandparents were fishermen. The eldest of seven siblings, Solah, moved at the age of twelve from his island to the capital city, Malé. At a young age, he took care of himself and overcame life's hurdles. After completing his schooling, he wanted to study finance and become an accountant. However, at the time, this dream was beyond his financial means. Pondering on what he can study, he decided on hotel school as a more affordable option. After completing his diploma, Solah sought job opportunities.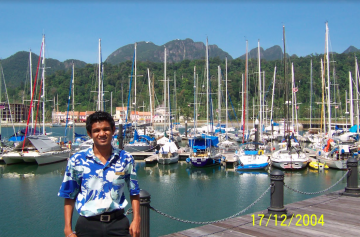 Featured Image: Solah in 2004
In 2002, Solah embarked on his hospitality journey at Meeru Island Resort. Today, he is the Chief Operating Officer of Crown and Champa Resorts, overseeing the operations of nine resorts in the Maldives, including Meeru Island Resort.
"My first option was to work at the airport as a representative so that I could stay in Malé. I went for a couple of interviews, but I did not get the job because I lacked the required experience. Then on the news I saw that Meeru Island Resort was looking for a receptionist. I applied for it, went for the interview and I got the job," remembers Solah.
After joining Meeru Island Resort, Solah wanted to pursue his education further and build a career. He received a scholarship to complete his higher diploma at Taylor's University, Malaysia. From there, he did management training at Sheraton Langkawi Beach Resort, Malaysia before returning to Meeru Island Resort as a Front Office Manager. He completed the General Managers Program from Cornell University in New York, and received his MBA from the University of Bedfordshire, and completed his Bachelor of Hospitality and Tourism Studies.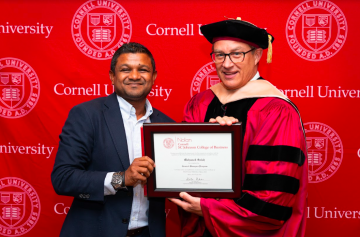 Featured Image: Solah at Cornell University 
During his career, Solah held various roles at different departments in the hospitality industry, including Guest Services Manager, Recreations Manager, Rooms Division Manager, and Director of Operations.
"I was given the chance to get the whole experience at the operational level. When you work in different departments, you have an idea of how it runs. Otherwise, from the outside you think being a chef is easy, but when you actually work as a chef, it is completely different." says Solah.
In 2015 to 2017, Solah moved to Abu Dhabi to work as the Rooms Operations Manager at Zaya Nurai Island. After that, he worked for a year as the Director of Operations at Hurawalhi. From 2018 to 2021, he assumed the position of General Manager at Komandoo Island Resort.
During his time as General Manager at Komandoo Island Resort, Solah changed the staff concept to 'champions.' According to him, they were all champions because everyone was a winner. "We created reasons why you become a champion and how champions work. It really helped bring the service level higher because everyone was upbeat, energetic, and very motivated to work," says Solah.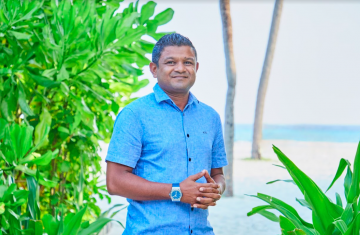 Featured Image: Mohamed Solah 
Solah's management philosophy is very simple; take care of everyone. He focuses on creating an environment where the employees are comfortable, content and constantly growing. This work culture allows staff to maintain a high standard of guest services.
To render excellent services, Solah considers understanding the lifestyles and where guests come from as very important. According to him, this understanding allows hotels to deliver the best services based on individual preferences. He says that in hospitality, one does not need to be a rocket scientist, but must have basic human skills. Protecting the Maldivian hospitality and service culture is of utmost importance to Solah.
"It is up to each individual person in the industry to uphold these ethics and mannerism. We have to attract more of our people to the industry and uphold the good values our ancestors taught us. Our traditions in respecting each other, how we greet, and the way we bid farewell with a 'hih heyo kurahchey'. Literally translated, it means 'keep your heart good'. It is a very strong phrase with a beautiful meaning. We have to evolve, but also make sure our roots are stable and firm. We cannot lose who we are," says Solah.
In 2021, Solah took on the responsibility of Cluster General Manager of Zaya Hospitality in Dubai, where he handled two city hotels. Looking back on the experience, Solah says that it differed greatly from the Maldives. Since he was handling two very new properties, there were many hurdles to overcome daily. Solah considers this experience as one of his biggest achievements.
"It is not the money that motivated me to be here or the title. It is the satisfaction from staff and guests feedback," says Solah.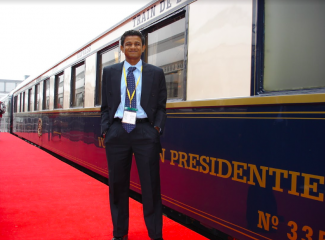 Featured Image: Solah at ITB Berlin in 2006
His curious personality has him constantly travelling to understand different cultures, hotels, competition and industry workings. He is constantly looking for opportunities to learn, challenges to tackle and ways he can grow. In 2022, Solah was offered his current role at Crown and Champa Resorts. As the COO, he will take the company to the future, ensuring its growth and increasing the values offered to the staff and guests.
"At Crown and Champa Resorts, we do not compete with others. We are not trying to be better than anyone. Instead, we compete with ourselves to become a better brand and better people than we were yesterday," says Solah.
Solah highlighted the importance of creating more Maldivian hoteliers. According to him, by creating awareness, educating the young, and showing the various opportunities available in the industry can increase the number of young people looking to work in the industry.
"So many talented people do not push themselves to do more because they are shy or lack confidence. Sometimes you will look at the challenges and wonder if it is worth it. But if you have long-term goals, dedication and the right discipline, you will make it," says Solah.