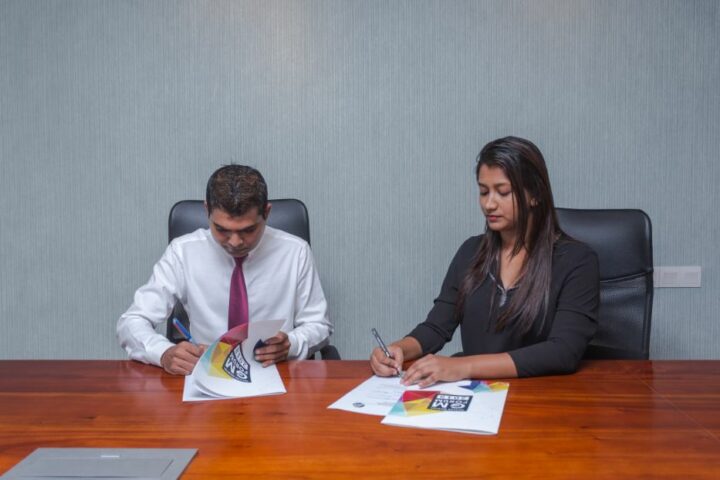 Hospitality & Retail Systems (HRS), Oracle Platinum Partner opens its office in the Maldives
Hospitality and Retails Systems (HRS), is an international company and market leader in IT for the hospitality and retail industries. HRS recently signed on as the platinum sponsor of Hotelier Maldives GM Forum 2018.The GM Forum, organised by Perspective Pvt Ltd – the publisher of Hotelier Maldives magazine – is an annual gathering of hospitality industry stakeholders that entails keynote speeches from industry leaders and interactive panel discussions by experts on the Maldivian tourism industry.
HRS was established in 1990 by British business entrepreneur, Joanne Vaughan and now in its 29th year, provides innovative management solutions for hotels, restaurants, retail chains, stadiums, spas and fitness clubs.HRS has an impressive portfolio of products and services, including pre-project analysis, hardware and software supply, strategic IT consulting, solutions implementation and integration, staff training and consulting, 24/7 technical support and a wide range of professional customer service. The company is known for its quality services and strong global presence. HRS has established itself not just as an IT solution provider but also as a proactive contributor to the hospitality industry.
Slava Ovchinnikov, Managing Director of HRS, joined the company in 1997 as a Head of Department and was promoted to Commercial Director within a few years, becoming the Managing Director in 2006. Slava manages the smooth functioning of HRS operations worldwide and stands at the helm of the company.
"We truly believe that HRS will make a significant contribution to the hospitality industry of the Maldives by bringing our international product portfolio, our global expertise and developing of local talents that become part of the local community in the Maldives," says Slava.
Composed of staff that has strong experience in the hospitality industry, HRS recognises and relates to the requirements of the day-to-day hotel operations. HRS operates in 39 countries and has a strong presence in the Asia-Pacific region; having established itself in Singapore, India, Sri Lanka, Hong Kong, South Korea, Japan and now the Maldives. HRS has a very rich portfolio of products and services, which consists of more than 50 IT solutions for the hospitality industry, with all the products being the best in the segment.
HRS is a long-term partner of Oracle Hospitality (formerly known as Micros-Fidelio) and recognised as its Platinum Partner. Acknowledged as the largest Oracle Hospitality partner worldwide in terms of number of countries covered (39 countries), number of customers (over 1800 hotels) and number of employees (over 300 employees), HRS also offers a wide range of complementary innovative solutions, such as Spa & Guest Activities, Business Analytics, Payment Gateway, Mobile Applications, Channel Manager, Online Distribution Services, Finance and HR Systems, Passport Scanning and Recognition and many others.
HRS is a novel company that exists to serve the service industry, bringing next-generation technologies to hospitality, such as Blockchain, Artificial Intelligence, Face Recognition, Robotics, etc. HRS has an impressive list of more than 1800 premium international clients. Now HRS extends its operations to the Maldives: it registered its Maldivian company 'Hospitality and Retail Systems Private Limited' (HRS Maldives) and opened its office at H. Jazeera Building, 3rd Floor, Boduthakurufaanu Magu, Malé.
HRS Maldives is led by Abdulla Mohamed, a manager with 12 years of experience in the hospitality industry. Abdulla, with years of experience working for international chains under his belt, represents the HRS brand and is in charge of its operations in the country. At the age of 19, Abdulla began his career and has come a long way by becoming the Area Manager of a globally prominent company such as HRS.
The fully functional HRS local office in the Maldives provides all the solutions and services that are available for HRS customers worldwide. HRS plans to become the largest local IT solution provider for hospitality in the Maldives and are looking to hire up to 30 talented Maldivian employees for their local operations. A number of the latest technological developments and IT innovations will be introduced to the Maldives market.
Additionally, HRS brings its own Spa and Guest Activities solution, TNG, which offers a superior level of guest services, loyalty and efficiency of Spa operations. HRS localizes its unique Payment Gateway which will provide seamless integration between Maldivian payment providers and Opera, Micros and Simphony systems.
HRS provides its own unique services: HRS Academy, Products localization, Professional support and implementation services and plan to actively participate in industry events such as the GM Forum and will organise their own events: seminars, webinars and an Annual HRS Customer Event, which is scheduled to be held in late 2018. The company also wishes to actively engage with the local community by providing contributions and sponsorships.
With an extensive product portfolio and unparalleled professional services for existing IT solutions, HRS serves the global elite and is set to dominate the market of IT solutions for the hospitality industry of the Maldives. HRS is a unique and customer-centric company with long-term experience, rich technical expertise and global coverage. For further details about HRS, please visit http://www.hrsinternational.com.
To register your attendance at the GM Forum 2018, please visit hoteliermaldives.com/gmforum-register. For general inquiries and sponsorship requests, please contact Hussain Jazlaan on hussain.jazlaan@167.172.155.58  or mobile number +960 791 0858.