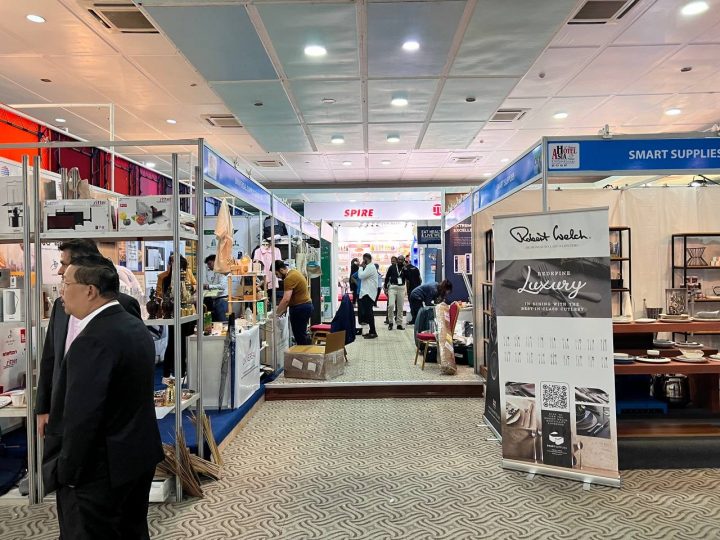 Hotel Asia Commences!
Dharubaaruge is a hive of activity filled with sawdust, paint, packaging and people as construction of exhibition stands reach completion ready for the opening ceremony, whilst the culinary competition is already in full swing!
The 16th edition of Hotel Asia is back, after a two-year hiatus, to provide a much-anticipated arena for local and international suppliers to showcase their product ranges to key decision makers and purchase executives. All 175 exhibition stands were eagerly snapped up, leaving those who hesitated, sitting on the side lines.
Suppliers are eager to have the opportunity to display their wares and make an impact on those who visit. This is evidenced by impressive display designs throughout the halls. The Faashanaa Hall is dominated by an eye-catching display from the main sponsor BBM, with well-known suppliers of fresh fruit and vegetables, flanking them.
More regular participants of Hotel Asia, are situated in their regular places, interspersed with newcomers, so that every spare inch is utilized with a plethora of supplies and services, covering all elements from food, cleaning chemicals, pest control, room amenities, linen, outdoor furniture, floor and wall coverings, technology suppliers, roofing, and much more, there is even a tank of fresh grouper!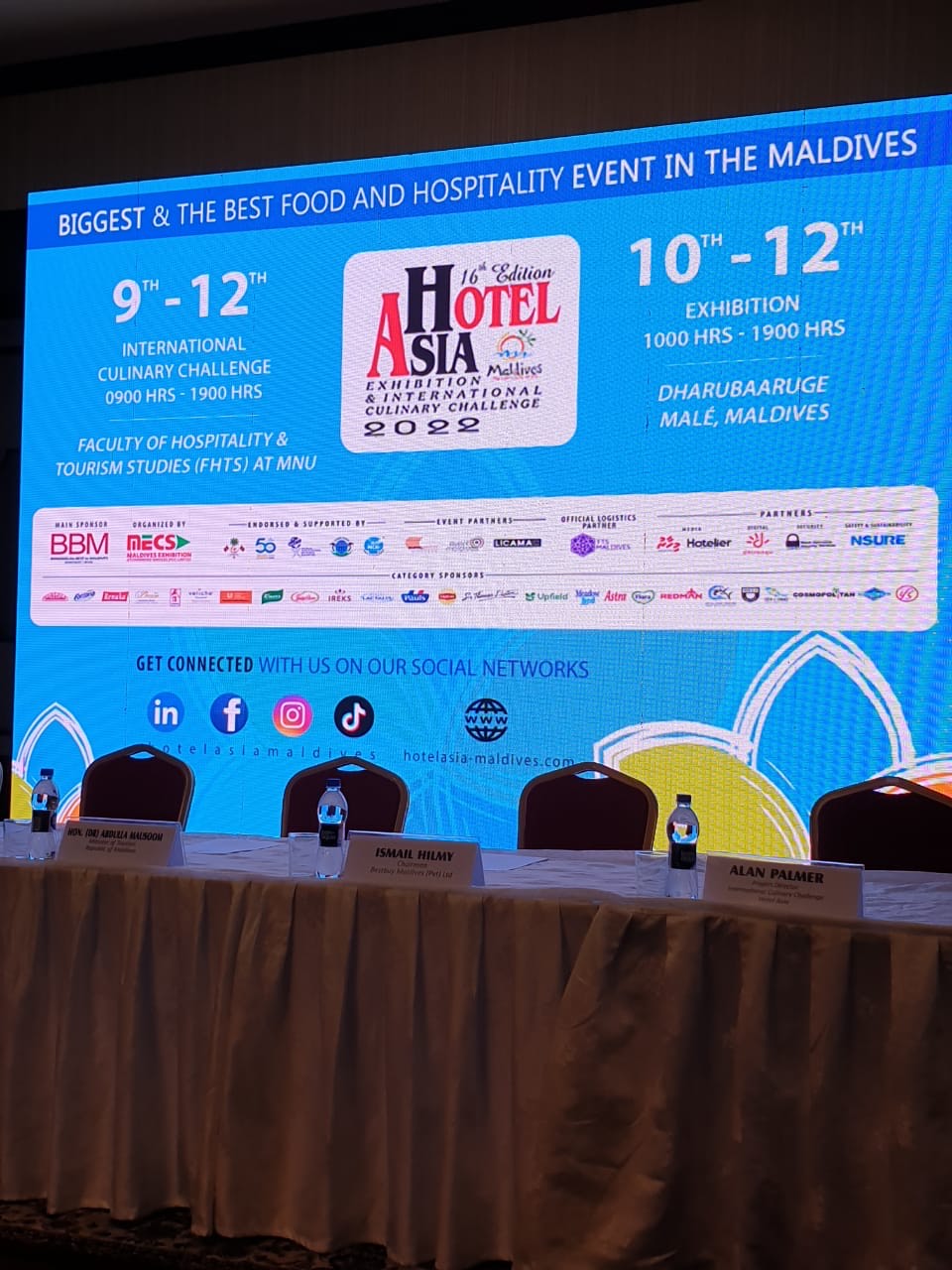 Featured Image: Hotel Asia Exhibition and Culinary Challenge 2022
The one regular that is not in residence this year is the prestigious Culinary Exhibition, which has moved to the FHTS kitchens in the Maldives National University. Having dedicated kitchen space is a huge boost for the competitors and the judges, as everything is under one roof and access to dedicated kitchen facilities, plus there is more space for the paraphernalia that every competitor must bring with them and plenty of places for the competitors to reconnect with friends and make new ones.
The competition has attracted a record-breaking number of entries across the 20 categories. With over 80 entries for both the beef and seafood classes, it was a busy first day for the hot cooking, whilst the pastry kitchen saw a seemingly endless array of tempting desserts. With over 650 entries, the classes over the next three days will be equally busy, with several chefs competing in more than one category with the goal of attaining one of the Challenge Trophy's.
The exhibition is open from 10am to 7pm on from 10th to 12th.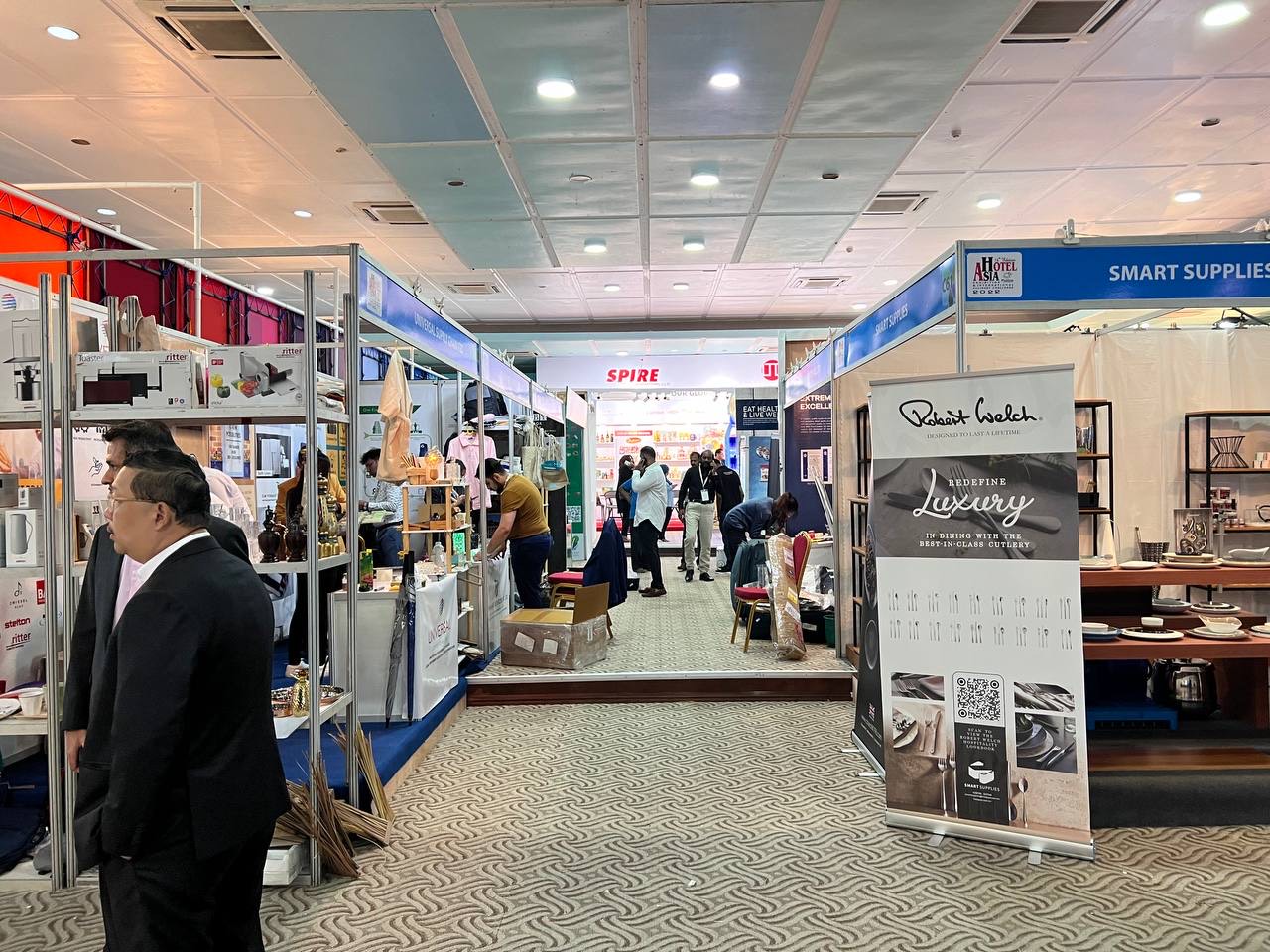 Featured Image: Hotel Asia Exhibition and Culinary Challenge 2022