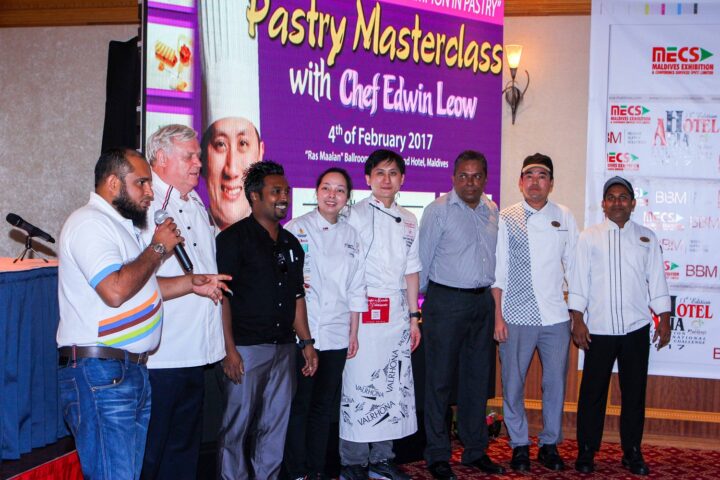 Hotel Asia Culinary Challenge 2016 winners to showcase talent in HOFEX 2017
The winners of Maldives Hotel Asia International Culinary Challenge 2016 are set to travel to Hong Kong to showcase their talent at HOFEX 2017 – Asia's Leading Food & Hospitality Tradeshow. The winners of the Culinary Challenge 2016 are Chef Ahmed Fatheen from Bandos Island Resort, and Chef Indra Kumar Limbu and Chef Ismail Nasser from Hulhulé Island Hotel.
Their participation at HOFEX 2017 is jointly hosted by Maldives Exhibition and Conference Service (MECS) and Bestbuy Maldives (BBM), one of the leading F&B suppliers in the country and Main Sponsor of Hotel Asia International Culinary Challenge. HOFEX is set to be held from May 8 to 11 at the Hong Kong Convention and Exhibition Centre, Hong Kong.
"As the Organizers of Maldives Hotel Asia International Culinary Challenge we are happy and proud to support the three chefs' participation at HOFEX 2017," Alan Palmer – Project Director for the Culinary Challenge said. "Our goal is to develop chefs working in the Maldives by participating in such prestigious events which will provide them the huge opportunity to improve their skills and also the chance to meet other culinarians from the world over."
Mohamed Mazloom – CEO of BBM earlier said that the company revels in undertakings to further the hospitality Industry. He said: "We believe in infusing knowledge to the hospitality industry, especially in F&B. From time-to-time, we conduct training programmes on diversified sectors in F&B in the Maldives and host chefs to travel abroad for training."
HOFEX has been taking the industry on numerous extraordinary journeys of culinary delicacies from all over the world in the past 30 years, bringing the most comprehensive selection of Food & Drinks, Hospitality Equipment & Supplies products to Asia. It is organized by the Hong Kong Exhibition Services Ltd and co-organised by Allworld Exhibitions, The Hong Kong Chefs Association and International Culinary Institute -ICI (a member of VTC Group).
The event – with the objective to provide channels promoting culinary experience, the skills and abilities of Chefs, Cooks, Pastry Chefs, and Apprentices – is endorsed by the World Association of Chefs Societies. Hong Kong Chinese Chefs Association and Hong Kong Bakery and Confectionery Association Limited are the supporting associations for the event.
In preparation for Hotel Asia Exhibition and International Culinary Challenge 2017, MECS and BBM came together in February to host a Special Masterclass in Pastry with award-winning Chef Edwin Leow. The 13th edition of the exhibition held this year would he held from September 17 to 20 at the Dharubaaruge Exhibition Hall.