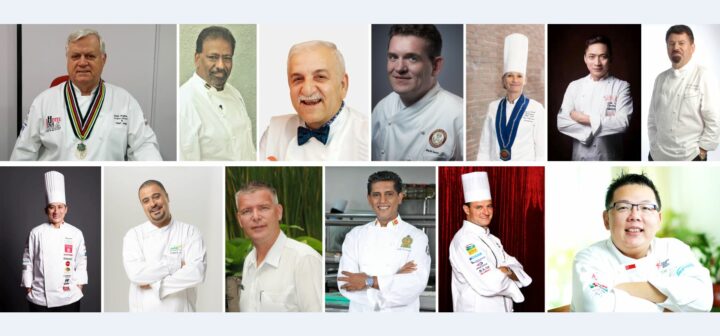 14th Edition of Hotel Asia International Culinary Challenge 2018, endorsed by World Association of Chefs Societies!
Maldives Exhibition and Conference Services Pvt Ltd will proudly host the 14th Hotel Asia International Culinary Challenge 2018 at Dharubaaruge, Malé in the Maldives from September 9 to 12, 2018. The four days of gastronomical-fest will have over 700 competitors and 75 resorts competing from all over the world to win world recognised awards and certifications. The event is headed by Project Director Chef Alan Palmer, a significant expert figure in the culinary world.
Hotel Asia International Culinary Challenge is considered to be an elite A-list occasion for it has gradually progressed to a benchmark that is a beneficial substance-oriented forum for career and business growth. It is August, a mark of distinguished affair. It is the only model to have one of the upper echelon culinary challenges in the Maldives for it is abundant in prestigious hotel groups and companies.
The event has been endorsed by World Association of Chefs Societies and will contain a certified judging panel of 14 judges; Alan Palmer, Chief Judge and Project Director from Switzerland; Otto Weibel, Director Food and Beverage and Culinary Consultant of Ottscott Pte Ltd from Singapore; Edwin Leow Seng Wen, Pastry Chef of Singapore Marriott Tang Plaza Hotel in Singapore; Leslie Teong, Technical Director Guangzhou Yepen Catering Management Co. Ltd in China; in addition to Garth Shnier, Executive Chef Sun International from South Africa, amongst others.
Other judges include Kristine Ǿvrebǿ from Norway; Eric Low, Cookbook Author Chef Owner LUSH Epicurean Culinary Consultancy from Singapore; Tarek Ibrahim, Corporate Executive Chef Meat & Livestock Australia from Egypt; Stefan Mueller, General Manager Prama Sanur Beach Resort & Spa in Indonesia; Anil Grover, Founder & CEO Groovy Foods in India; Alan Payen, WACS Culinary Judge & WCWB Ambassador from Mauritius; David Sosson, Executive Chef Qatar Aircraft Catering Company from France; Gier Skier, Chairman WACS World Chefs Culinary Competition Committee from Norway and Rohan Fernandopulle from Sri Lanka.
Hotel Asia International Culinary Challenge prepares its competitors by conducting master classes prior to the event ensuring the right skills and direction are provided to the competitors. The 2018 master classes were held in April by Garth Shnier Complex Executive Chef Sun International and Ronald Prasanto Executive Chef Arrack & Spice.
The competition has 23 categories that are subdivided into live artistic classes, display classes, live hot cooking classes, live hot cooking (apprentice) and beverage. The 2018 event introduces three new categories which are artistic showpiece, creative sandwich and barista competition. The live artistic classes include dress the cake and fruit & vegetable carving, the display classes include artistic showpiece, novelty cake, bread & pastry display, desserts (display), tapas & finger food.
The Live Hot Cooking Classes include hot cooking – fish fillet, hot cooking – beef, hot cooking – seafood, hot cooking – poultry, hot cooking – lamb, desert, hot pasta appetizer, creative Asian dish, creative sandwich, team challenge, Maldivian dish, the perfect steak & omelette. The Live Hot Cooking (Apprentice) includes Young Chef. The Beverage classes include tea challenge, iced mocktail and barista competition.
The Hotel Asia International Culinary Challenge is said to be a 'must-attend' item for aspiring chefs to accredit their culinary skills through participation and certification. The certificates issued at the culinary challenge are recognised worldwide and category winners from the past have been offered employment to Singapore, Germany, Malaysia, Australia and Sri Lanka.
The culinary challenge has five main award categories: Best Culinary Establishment 'Alan Palmer Challenge Trophy', Most Outstanding Chef, Most Outstanding Pastry Chef, Top Maldivian Chef and Best Artist. Hotel Asia International Culinary Challenge will prove to be another milestone for many competitors, increase business networks, spring innovations, begin culinary momentums and provide maximum outreach. For more information, please visit hotelasia-maldives.com.