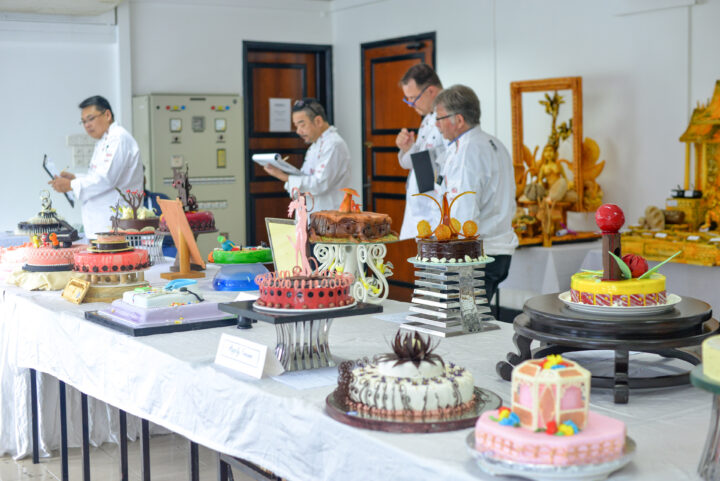 Hotel Asia Exhibition & International Culinary Challenge 2016 comes to a close
The 12th Hotel Asia Exhibition & International Culinary Challenge has concluded last evening after 3 days of product displays, seminars and networking, and a 4-day long culinary competition dubbed the 'competition of culinary excellence.'
The event took place at Dharubaaruge, Male', and was organised by the Maldives Exhibition and Conference Services (MECS) together with the event's long-standing partner and main sponsor Bestbuy Maldives Pvt Ltd (BBM).
Recognised as an International Standard exhibition, the annual Hotel Asia Exhibition is considered the purchasing forum for resorts and hotels and according to the organisers, the exhibition is an invaluable opportunity for resort businesses to discover new technology, products and services under one roof.
This year's exhibition saw more than 170 stalls including pavilions from Sri Lanka, Thailand, Indonesia, Dubai and Singapore.
"We are very impressed about the response. Most of the decision makers attended the event. We are very thankful to our valued customers for meeting us every year. This was a well-planned event organised by MECS and we are very proud to be the main sponsor," said Mohamed Mazloom, CEO of Bestbuy Maldives.
Similar sentiments were echoed by most exhibitors Hotelier Maldives spoke with during the event. "I think it is a very good exhibition. It's a good place for us to advertise our product. Next year also we will be here," said David Peng from LVTONG, a company participating in the event for the first time.
"I think the exhibition is good. We met a lot of potential clients here," said Vanshika Diaz, Country Manager Maldives, Spa Ceylon Luxury Ayurveda.
The exhibition also had a number of seminars conducted at the Hiriyaa Maalam of Dharubaaruge. Topics included food safety and hygiene, logistical challenges and solutions, culinary innovations and lessons on meat preparation.
International Culinary Challenge
Hotel Asia Exhibition & International Culinary Challenge 2016 was officially opened on 5th September with an inauguration ceremony held at the Hiriyaa Maalam of Dharubaaruge. However, the International Culinary Challenge began a day ahead.
Hotel Asia International Culinary Challenge is the country's biggest culinary competition, and from just 14 entrants in its first edition 14 years ago, the competition has grown to 520 entrants this year.
More than 300 chefs from over 40 hotels and resorts faced off in the elite contest.
The culinary competition was divided into 20 categories including Dress the Cake, Novelty Cake, Honeymoon Cake, Desserts, Bread & Pastry Display, Fruit & Vegetable Carving, Cold Pasta Salad, Creative Asian Dish, Maldivian Dish, Young Chef, Iced Mocktail and a Team Challenge.
Hot cooking categories were divided into 6 classes; Fish fillet, Seafood, Lamb, Beef, Poultry, and hot Pasta Appetizer.
Competitors also showed off their skills in two new categories this year; The Perfect Steak & Omelet, and a Tea Challenge.
Headed by Alan Palmer, veteran Swiss chef and chief judge since the first competition, the judging panel consisted of 18 international judges.
This year's panel of international judges include Rohan Fernandopulle (President of Bocuse D'Or Sri Lanka), Otto Weibel (recipient of the Lifetime Achievement Award by the World Gourmet Summit), Alvin Goh (Deputy Director, Culinary Arts Institute of Technical Education, Singapore) Eric Low (WACS certified judge/ Chef and owner of LUSH Epicurean Culinary Consultancy), Perry Yuen (Culinary Director of City of Dreams Casino and Hard Rock Hotel, Macau), Martin Kobald (global Master Chef and Honorary President of South Africa Chefs Association), Nobert Girnth(retired Master Chef and international judge),  Jodi-Ann Pearton( Founder and owner of The Food Design Agency), Tarek Ibrahim (Master Chef and Corporate Executive Chef, Meat & Livestock Australia), Eric Neo (Vice President of Singapore Chefs Association/Executive Chef, Intercontinental Singapore), Jimmy Chang (international culinary judge and CEO of Chez Jimmy Restaurants), Per Henrik Jonsson (certified culinary judge and curriculum specialist in Hospitality & Culinary training), Gary Lim Hock Seng ( Culinary Instructor at Temasek Polytechnic, Singapore), Rainer Werchner (Master Chef and international culinary judge), and Rith Aum-Stievenard (renowned tea connoisseur and co-founder/ COO of TWG Tea, Singapore).
Winners
Apart from the individual category awards, the main awards were, Most Outstanding Chef, Most Outstanding Pastry Chef, Top Maldivian Chef, the Judges' Special Award and the coveted Best Culinary Establishment award – the 'Alan Palmer Challenge Trophy.'
For the second consecutive year, the Top Maldivian Chef was awarded to Ahmed Fatheen, Senior Sous Chef at Bandos Island Resort.
"I was confident that I would win. I've always wanted to create a dish similar to the ones I see in other countries, but with a Maldivian twist," he said.
Christoph Pentzlin from Hideaway Beach & Spa Maldives resort took home the Most Outstanding Chef trophy.
The most prestigious award of the competition, the Best Culinary Establishment award – 'Alan Palmer Challenge Trophy', was awarded to Per Aquum Huvafen Fushi, with Hulhule Island Hotel and Baros Maldives winning second and third place respectively.
Partners and sponsors
Hotel Asia Exhibition & International Culinary Challenge 2016 was endorsed and supported by Maldives' Ministry of Tourism and Ministry of Economic Development, Sri Lanka – Maldives Bilateral Business Council and National Chamber of Exporters of Sri Lanka.
The event was held in partnership with MNCI and Asaree Services was the Event Partner.
In addition to the main sponsor Bestbuy Maldives, official sponsors of the event included Uniforms Unlimited (Uniform provider), Etihad Airways (Airline), TTS Maldives (Logistics), Hotelier Maldives (Magazine), The Beehive (Hotel), Mihaaru (Online media), Dhiraagu (Telecom) and Lowe (Culinary equipment).
The category sponsors of the International Culinary Challenge were Astra, Motha, IREKS, EMERALD Seafood, The MIDFIELD Group, COSMOPOLITAN, Wrist Resort Supply, Copacol, Colavita, VISMARK, Unilever Food Solutions, GOOD FOOD EXPORTS, RAVIFRUIT and TWG Tea.