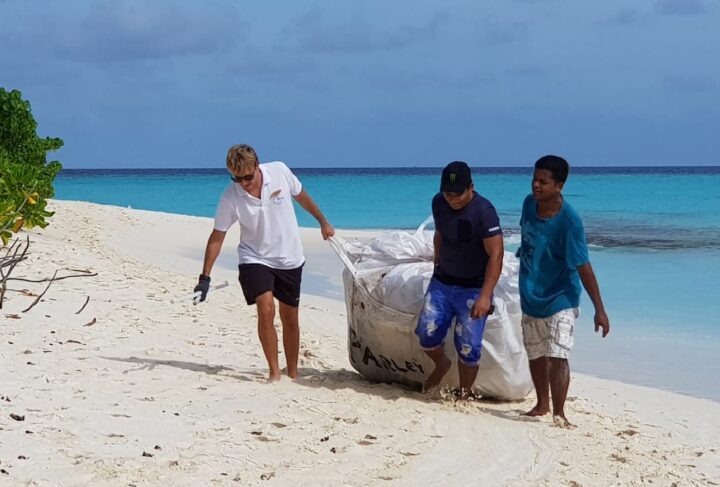 Resort News Weekly Roundup
Park Hyatt Maldives Hadahaa marks World Oceans Day and Global Wellness Day
The team at Park Hyatt Maldives Hadahaa has taken up the challenge of organising two full days of events to commemorate World Oceans Day and Global Wellness Day that fell on June 8 and 9, respectively. World Oceans Day, which honours the oceans, was celebrated on June 8, with Blue Journeys, Dive and Activity Centre organising a day of events to help raise awareness among guests and associates.
The first event of the day was held at Laabaadhoo, an uninhabited island that is 10 minutes away from the resort. Teams from the resort cleared marine debris from the beach and the house reef, while the day ended with the screening of Planet Ocean, a movie by Yann Arthus-Bertrand and Michael Pitiot.
On Global Wellness Day, marked on June 9 with the aim of raising awareness in living a healthier and better life, The Vidhun Spa put together a day of activities for guests and associates. It included a healthy breakfast selection, a morning session of Hatha Yoga, followed by serving a detox drink. Guests were also invited to participate in a healthy cooking class by Sous Chef Luca and Aqua Yoga.
Soneva Fushi announces Once Upon a Table, its newest addition at Out of the Blue
Soneva, the world-leading luxury resort operator, has announced the opening of Once Upon a Table, the most intimate dining experience available at  Soneva Fushi's recently opened Out of the Blue dining destination. To celebrate the opening, Once Upon a Table is set to host more than 30 of the world's top chefs throughout Soneva's 2018 Festival of Colour, with most of the chefs having Michelin stars or included in the San Pellegrino Top Restaurants lists.
Once Upon a Table offers a private horseshoe-shaped table that seats only eight guests. This intimate setting allows guests to watch the chefs at work creating and serving their dishes, and to also interact with the chefs themselves. There is no set menu, as each of the visiting chefs draws upon their culinary expertise to create a unique experience each and every time creates meals as per their own preference and specialisation.
Included in the line-up of visiting chefs at Once Upon a Table include three highly skilled chefs who each boast three Michelin stars: Sushi Master Kenji Gyoten from Japan, the country's youngest three-starred chef; Chef Christian Le Squer from Restaurant Le Cinq, France; and Chef Gert de Mangeleer from Hertog Jan, Belgium. Other notable chefs include the two-starred Tim Raue, of Netflix's Chef's Table fame, Chef Tom Aikens, the youngest British chef to receive two Michelin stars when he was just 26, and the two-starred Kiko Moya from Spain, among many others. For more information about Once Upon a Table, please visit soneva.com/soneva-fushi/dining/out-of-the-blue/once-upon-a-table.
Singha Estate acquires six spectacular properties from Outrigger Hotels and Resorts
Singha Estate Public Company Limited, Thailand's property development and investment holding company, has announced the successful acquisition of six spectacular properties from the Honolulu-based hotel chain and management company, Outrigger. The US$310 million acquisition is part of Singha Estate's strategic investment approach focused on the expansion and entry in high-yield tourist destinations around the globe.
With 70 years of hospitality development and management experience, Outrigger's resort properties are dotted throughout Hawaii and the Asia-Pacific region. With over 4,700 employees worldwide, Outrigger has been ranked 15th among the top 100 management companies in the U.S. by Hotel Business Magazine.
Outrigger will continue to manage the six properties: Outrigger Laguna Phuket Beach Resort and Outrigger Koh Samui Beach Resort in Thailand, Outrigger Fiji Beach Resort and Castaway Island in Fiji, Outrigger Mauritius Beach Resort in Mauritius, and Outrigger Konotta Maldives Resort in the Republic of Maldives; with a total of 859 room keys.
Kurumba Maldives celebrates World Oceans Day
Kurumba Maldives has hosted a number of activities for its guests and teammates in honour of the oceans, as part of World Oceans Day celebrations. The activities included a complimentary snorkelling safari and lagoon clean-up, including clean-up dives in the lagoon and house reef.
Inspired by the theme of this year's event 'preventing plastic pollution and encouraging solutions for a healthy ocean', the clean-up activity aimed to raise awareness about the danger of plastics to marine life. Children were also encouraged to engage in this event and show their appreciation to the ocean in a fun Art Competition organized at the Kids Club, according to the hotel.
The activities also included a presentation on marine life conservation, which aimed to help ocean lovers learn more about the inhabitants of the ocean, which is home to a home to a diverse range of marine life, according to Kurumba Maldives. To learn more about upcoming events at Kurumba Maldives, please visit kurumba.com/maldives-eventcalendar.