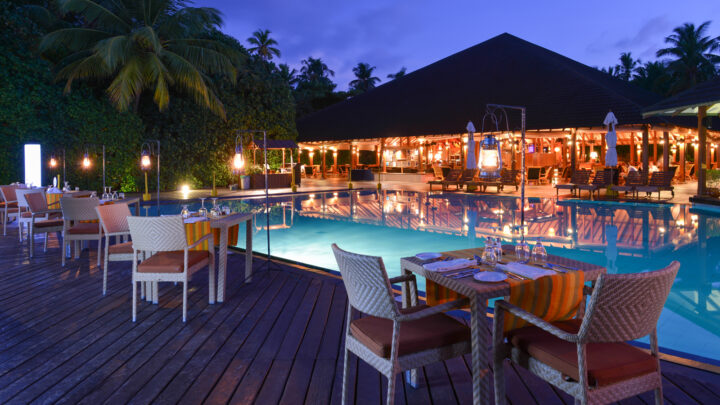 Hotel Review: Adaaran Select Meedhupparu Maldives Resort
The first resort in Raa Atoll is a title that Adaaran Meedhupparu holds comfortably; it has withstood the test of time to a certain degree, having been in business for over a decade. Meedhupparu is an unassuming place, mostly geared towards mid-market clients. It presents them the Maldives' tripartite classics while supplementing them liberally with its own offerings.
The resort, which commenced operations in 2000, has 215 beach villas including one suite. A typical villa is part of a two room bungalow, a concept that places it in the company of Maldives' elder resorts. The interior is dominated by wood, teal and custard tones and a touch of class apparent in its wood flooring and elegant furniture. The bathroom contains the usual amenities expected of a four-star property and features an outdoor shower. A small wooden deck, darker in hue, extends outside, populated with a coffee table and chairs. Facing the lagoon, it makes for an ideal place to enjoy a cold drink and take in the tranquil sights and sounds of the surrounds.
A notable feature of Meedhupparu is that part of the island is run as a separate resort. This may not be immediately evident to those visiting the island. The 20 water villas, which were added on in 2005, departs significantly from the four-star concept embodied by the rest of the island. Known simply as Adaaran Prestige Water Villas, this area of the island is marked off from the rest and contains its own reception, pool, restaurant and a miniature spa. It's a microcosm, a village within a village.
The water villas resemble the beach accommodation in that they are housed in a single structure split into two. But, being five-star, they are markedly superior in style and décor to their beachside cousins, with luxurious beds, gleaming wooden floors, more spacious bathrooms and outdoor decks with Jacuzzis. They're also the only rooms on the island in which you're provided Wi-Fi access.
In the early days of the resort, it featured an Ayurvedic wellness boutique, and sold packaged holidays focussed on wellness. It later abandoned the concept, while not entirely giving up on the idea of wellness playing a role in vacations. The resort houses a Chavana Spa that offers a beguiling array of massages, but not enough to discomfit the mind. Its signature Chavana massage employs two therapists simultaneously. An additional health highlight is the resort's reflexology centre, whose therapies rely on ancient Chinese traditions. Front Office Manager Mohamed Jinan informs that the management continues to receive positive feedback on the services rendered by the centre, especially from older couples.
Another key aspect of the resort is undoubtedly its food. With several bars, two main restaurants, an a la carte café and a fusion restaurant, this is almost self-evident. "Guests expect a certain level of culinary excellence when they stay with us," informs Executive Chef Chaluka Rodrigo. "And we try to live up to their expectations." Buffets at the main restaurants boast a range of selections, from local to continental culinary offerings. Theme nights are popular with guests, and spans half the globe in terms of fare, with Mediterranean, Far Eastern, South Asian and Continental dishes on offer on different days of the week. A health focussed approach is seen here as well, with a broad selection of fruits and vegetables available at every meal.The a la carte café, Café Mass, holds promotions every day of the week, featuring mostly cuts of meat and sausages, to cater to the resort's predominantly British and German clients. Meedhupparu's most recent culinary development, the Thavaa Fusion Restaurant, is a distinct, multi-cuisine setup. Here guests can sample delicacies given a special twist; French style Salmon paired with Italian risotto, Japanese tuna tataki in a South Asian style, and other delectable treats of the fusion of several culinary cultures.
While most may be content with these, there are several other activities on offer guests. If lolling on a spotless beach with a cocktail isn't to one's taste, one can take to the sea in a variety of crafts available for rent at the resort's water-sports centre. And the proximity to great dive sites such as the Rainbow Cave, Beriyan Thila and Kuda Thulhaadhoo Thila are huge plusses for any dive enthusiast. These spots are home to unusually high profusions of fish with common sightings of reef sharks, turtles and manta rays and occasionally the elusive napoleon wrasse.
Excursions are among the staples of any resort and Meedhupparu doesn't disappoint in this regard. Fishing trips are available on mornings and evenings. And guests can have their freshly caught fish cooked for them at a reasonable price. Dolphin sightings are common within the atoll, and the dolphin safari is a particular favourite among Meedhupparu's visitors. Couples can also enjoy the coveted desert island experience for a day on a pristine isle for a price. On Mondays and Fridays there are excursions to the neighbouring inhabited island of Meedhoo. Here guests can get a glimpse of island life and perhaps have a cup of tea at a modest local establishment as locals do.
Meedhupparu will face competition in the near future with several islands earmarked for development in the atoll. The coming years will test Meedhupparu's resourcefulness and resilience. Yet it must be said that Meedhupparu ushered in tourism to a hitherto ignored destination and managed to thrive against the odds. So perhaps Raa Atoll becoming a tourist hotspot may work in Meedhupparu's favour. Its holding company, Cowrie Investments, has already secured another island for development in the same atoll. Having a sister resort will enhance the brand's presence in the area and can help Meedhupparu maintain an edge over competitors.