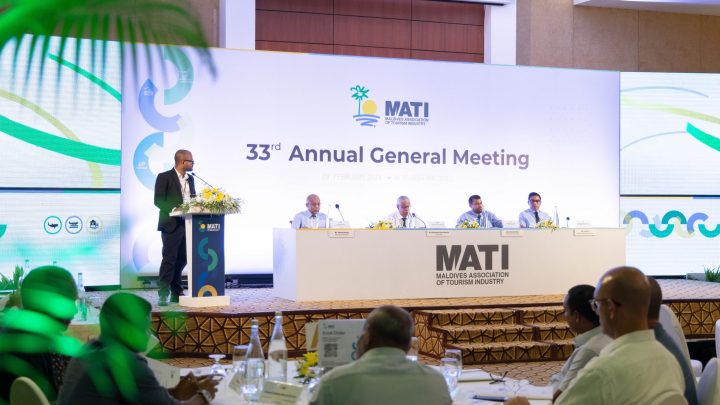 MATI Hosted 33rd Annual General Meeting and Book Launch
On February 19, 2023, The Maldives Association of Tourism Industry (MATI) hosted its 33rd annual general meeting at Kurumba Maldives. The meeting was well attended by over 96 members.
The meeting commenced with opening remarks by MATI's Chairman, Mr. Mohamed Umar Maniku. The Vice Chairman Mr. Hussain Afeef and Secretary General Mr. Ahmed Nazeer also spoke. Presentations of the annual report, financial report, and adoption of the 2023 budget were part of the meeting proceedings. An amendment to the Charter of MATI was passed that increased Executive Board Member terms from one to three years.
To celebrate the Golden Jubilee of Tourism, MATI launched two books, "Maldivian Resort Architecture," by Mauroof Jameel and "50 years of Tourism in Maldives – the Pioneers, People and Policies that Shaped Maldives Tourism," by Dr. Simad Saeed.
Maldivian Resort Architecture analyzes the architectural evolution of the Maldivian Resorts. Mr. Mauroof Jameel is an architect, independent researcher and an illustrator specializing in the architectural heritage of the Maldives. He is known for his book, "Coral Stone Mosques of Maldives: The Vanishing Legacy of the Indian Ocean"
The second book, 50 years of Tourism in Maldives is a historical account of the evolution of the Maldivian tourism industry over the past 50 years. The author, Dr. Simad Saeed, is the Managing Director of CDE Consulting and an avid researcher of Tourism in Maldives, that specializes in strategy, sustainability and social innovation.
The book launch was attended by notable guests, the Minister of Tourism Hon. Abdulla Mausoom, Chairman of MATI, Mr. Mohamed Umar Maniku, Minister of Health Hon. Ahmed Naseem, Secretary General of MATI, Mr. Ahmed Nazeer, CEO and MD of MMPRC, Mr. Thoyyib Mohamed.
To purchase books, contact info@matimaldives.com
Featured Image: MATI via Twitter