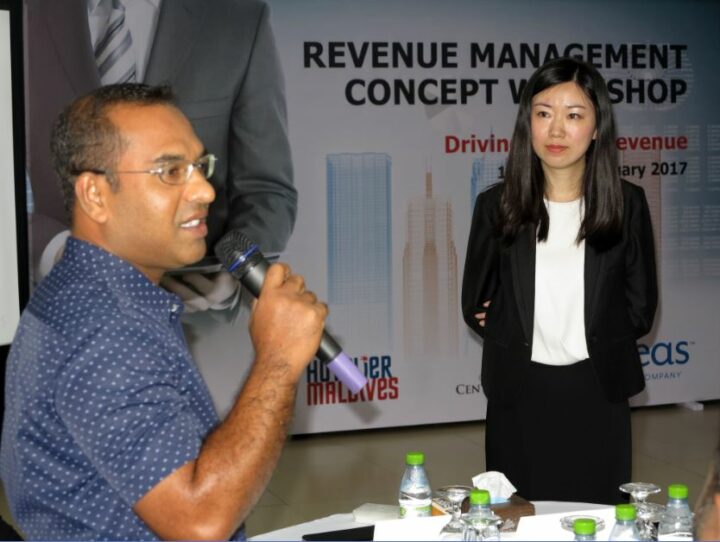 Hotelier Maldives, IDeaS announce the second edition of Revenue Management Concept Workshop
Hotelier Maldives – the only dedicated magazine for hospitality professionals in the country has announced the second edition of its Revenue Management Concept Workshop. The event, organised by Hotelier Maldives and IDeaS, in association with Champa Central Hotel, will be held on December 4 and 5, 2017, at Champa Central Hotel, Malé.
"Registrations for the first workshop exceeded the number of slots we had, so we planned a second one," says Aminath Ali, Business Development Executive of Perspective Pvt Ltd, the publisher of Hotelier Maldives.
"With the amount of inquiries and requests to attend the workshops from resorts and other hospitality establishments in the country, we foresee this as a regular item in our event calendar. We would most likely host two to three workshops annually starting from 2018."
The two-day workshop will be facilitated by Tracy Dong, the Lead Advisor of Asia Pacific region at IDeaS Revenue Solutions, an SAS Company based in Singapore."The workshop really lays the foundation of all you need to know about revenue management. We've heard wonderful feedback from workshop attendees that they've gained great insight into revenue management concepts and applications," says Tracy."The workshop schedule is highly intensive and interactive, many attendees benefit from the best practice and real case examples," adds Tracy, who has rich experiences in the field of analytics, pricing and strategies and revenue management standard operating procedures development.
The two-day workshop will have an overview of revenue management and also focus on market segmentation, pricing, forecasting, revenue management tactics, channel management, strategy setting and implementation, amongst other important topics.It is targeted towards Revenue Managers and Analysts, Reservation Managers, E-commerce Managers, General Managers, Heads of Rooms, Directors of Sales & Marketing, Front Office Managers and other hospitality professionals.Hotelier Maldives also provides other platforms for industry stakeholders; the Hotelier Maldives GM Forum – inaugurated in 2016 – is the country's only dedicated platform targeting General Managers of resorts and hotels; and the Hotelier Maldives Wellness Summit, scheduled for 6 September 2017, will bring together leaders in the spa and wellness industry, both in the country and the region.  To find out more about Hotelier Maldives and related events and publications, please visit; hoteliermaldives.com/advertise/.
To register your attendance at the Revenue Management Concept Workshop, please visit drive.ideas.com/rmmaldives17.To learn more about the workshop and for inquiries, please contact Bunaanath Yoosuf through email: bunaanath@167.172.155.58 or mobile: +960 791 0848, +960 791 0858.