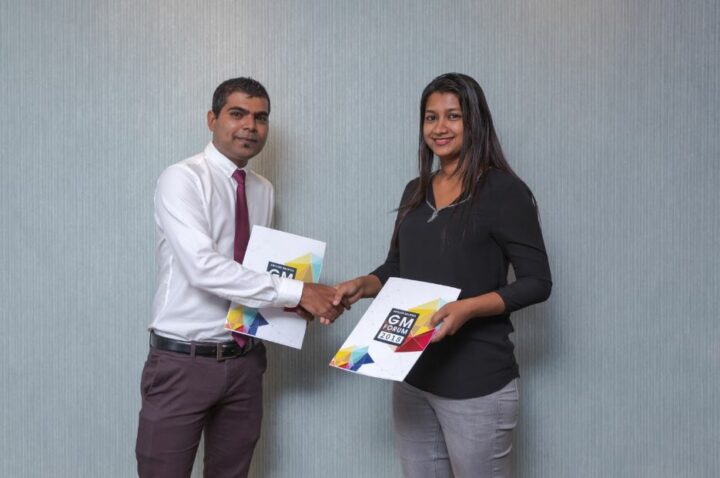 Hospitality & Retail Systems (HRS) signs as a Platinum Sponsor of GM Forum 2018
Hospitality and Retails Systems (HRS) has signed as the Platinum Sponsor of Hotelier Maldives GM Forum 2018. HRS is an international company and market leader in IT for the hospitality and retail industries and the largest Oracle Hospitality Platinum partner worldwide. With a regional head office in Singapore, HRS covers 39 countries and has an impressive list of international brands on its client list.The GM Forum – now into its third year – is a gathering of general managers and other industry stakeholders, and features keynote speeches and panel discussions. GM Forum 2018 would be held on April 18, 2018, at Kurumba Maldives. The agreement was signed by Abdulla Mohamed, Area Manager for HRS Maldives and Aminath Ali, Head of Operations at Perspective Pvt Ltd.For over 28 years, HRS has provided innovative management solutions for hotels, restaurants, retail chains, stadiums, spas and fitness clubs. HRS has an impressive portfolio of products and services, including pre-project analysis, hardware and software supply, strategic business consulting, solutions implementation and integration, staff training and consulting, 24/7 technical support and a wide range of professional customer services.Speaking to Hotelier Maldives, Slava Ovchinnikov, the Managing Director of HRS said: "We truly believe that HRS will make a significant contribution to the hospitality market of the Maldives by bringing our international product portfolio, our global expertise and developing of local talents that become part of the local community in the Maldives."
The GM forum provides insight into relevant and significant trends in the industry and focuses on sharing knowledge, experiences and the solutions to adapt to the challenges faced by the hospitality industry. It brings together industry professionals and aims to provide a platform to discuss and make proactive adjustments to their operations in the ever changing hospitality market.
GM Forums 2017 and 2016 saw the attendance of over 150 delegates; comprising of general managers, hotel owners, operators, suppliers and other businesses operating in the hotel industry. GM Forum 2018 will focus on topics including tourism-related taxation, trends in destination marketing, guest transfers and non-room revenue from resorts.
For general inquiries and sponsorship requests, please contact Hussain Jazlaan on hussain.jazlaan@167.172.155.58  or mobile number +960 791 0858.