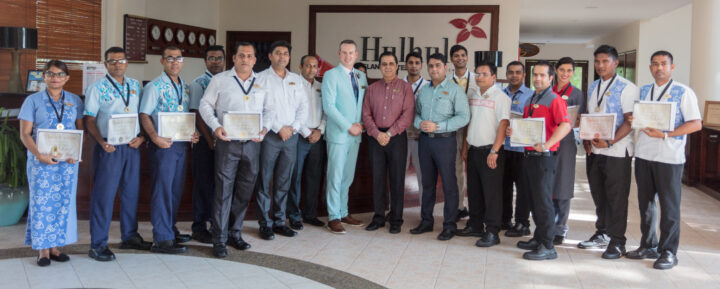 HIH hosts SABA International Butler Academy
For many resort representatives based at Male' International Airport, the arrival of Mr. Newton Cross, Principal of the South African Butler Academy has become a very familiar sight. The SABA International Butler Academy was established in 2009 with professionals having extensive international experience in the fields of Butlers, Front of House and General Hotel Management.
SABA International Butler Academy is responsible for Hotel Butler training and provides a unique course for both Hotel and Residential Butlers across the world. Butler training takes place in Cape Town, South Africa at the prestigious 'Butler Mansion' property owned by SABA International Butler Academy. Here, students can live and study under the guidance of 4 international Butler trainers.
Hulhule Island Hotel, graciously hosted the latest edition of SABA International Butler Academy's Butler Training. In all, 12 HIH team members enthusiastically attended the course and played host to the Trainer & Principal Mr. Newton Cross and to the 16 more budding butlers from various resorts. Speaking on the occasion of Graduation, HIH General Manager Mr. Utkarsh Faujdar firstly congratulated the Trainer and this fresh batch of trained butlers for completing the course and also emphasized on the need of constant training and evolution of skill set of Maldivian employees, who are naturally gifted with being hospitable at heart. He mentioned that HIH has always been at the forefront of supporting such training & development initiatives and would continue to play a vital role in future too. This edition of training was stitched together by HIH F&B Manager Mr. K.K. Bajpai. He was all praise for the trainer and the module and thanked all partners involved in making this 6-day long training an absolute success.
Speaking about the Trainer, Mr. Newton is outstanding as a teacher and excellent as a coach in mindfulness and his latest module is called the Authentic Touch. Being a mindful Butler has been his brainchild and is the golden thread throughout all of his training programs. He also initiated the first ever 'open' butler course in the Maldives during 2016.
The 'open' courses focus on the following elements; body language and etiquette, language skills, guest interaction and professional behavior, butler skills, rooming orientation, sharing stories, creating a mindful experience for guests, using international cultural interaction methods, how to create a wow impression, ten signature services of a resort butler and selling techniques.
Tailored to each and every resort, SABA International Butler Academy is mindful and creative of giving students, resorts and management a cutting edge authentic program.
This is another effort from Hulhule Island Hotel to further enhance the service levels with such training programs, conducted frequently for the team members.