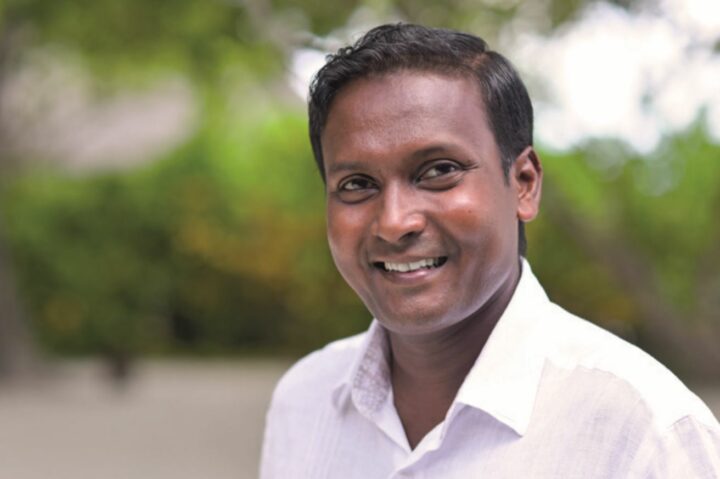 Ibrahim Rasheed Moosa, Engineering Manager, Four Seasons Maldives at Kuda Huraa
A proud native from B. Thulhaadhoo, the island famous for its lacquer work, with his own family involved in the craft, Ibrahim Rasheed Moosa started in the field of Engineering 10 years ago. Currently, he is the Engineering Manager of Four Seasons Resort Maldives at Kuda Huraa. With extensive experience carrying out projects at the luxurious property, Ibrahim has an innovative mindset and a growing interest in his field.
In his role, a typical day at work starts early in the morning. Rasheed observes the entire island to inspect ongoing projects, after which he will update the Director of Engineering at the daily morning briefing. Then he prepares assignments for all the engineering employees for their day's work. Working in the engineering department not only involves the hours spent working in front of a computer but notable important factors it requires are technical skills, assertiveness and alertness.
As an international chain, when presenting new concepts, primarily the department contemplates the brand philosophy of Four Seasons. Before commencing a project, a very thorough study is carried out to assess the areas lacking when compared with its competitors. Expert help is sought from industry professionals with several manual readings done for the technical details. Properties that might have done a similar concept are visited to obtain further insight. Findings are compiled in a concise format with various visual presentations and costing details for easy comprehension. The design and layout will then go through the approval stages before the project can officially start. The department has to think of ways to enhance their existing features with the constant development of the resort at the forefront. New technologies are researched in order to maintain the department as they will cut down on manual labour and will be useful in the long run.
The resort has taken several initiatives for a sustainable future, which include having a bottling plant to desalinate seawater used for several purposes, from drinking water to water used for laundry and washing purposes. The use of plastic bottles on the island has been eliminated since 8 years ago. In electrical initiatives, LED lights are used to reduce energy consumption and the guest rooms are installed with a heat-recovery boiler system. The generators are automatically synchronised which allow us to reduce running hours resulting in a reduction of carbon emission. A specialist solution is used for killing mosquitoes without chemical repellents that will be harmful to the environment. In the near future, the resort is looking at solutions and new ideas to reduce its carbon footprint further.
One of the challenges faced by an engineering department is not getting good, reliable contractors who work in line with the management's requirements. In order to mitigate this issue, it is vital to build a good rapport and keep strong relationships with the contractors. Another challenge faced is getting experienced locals to work in the field. As a Maldivian, Ibrahim stressed that he would like to see more Maldivians getting involved in this department. Creating awareness and providing educational opportunities to get more locals interested is paramount to succeeding in getting more locals to join. Important technical services are not readily available in the Maldives as well, in addition to not getting good supplies.
To safeguard workplace hazards, personal protection measures are foremost. In the engineering department, workplace hazards are identified by carrying out risk assessments. Arranging all the chemicals using labels and handling them with protective gear is practised. Additionally, conducting training for new employees and refresher courses for experienced ones is important. At Four Seasons Kuda Huraa, minor fire incidents have happened over the course of the years but practising safety measures throughout, with proper storage of equipment and awareness amongst employees, can help to lessen such incidents from occurring.
Ibrahim believes that safety is one of the primaries of engineering as both risk and uncertainty have to be taken into consideration. Safety management when carrying out large scale projects such as New Year's Eve celebrations or even small scale projects should be done accordingly to prevent any incidents. He trusts that the employees at present are well-suited to their roles in carrying out the engineering tasks of the resort in co-existence with the other aspects of the resort's operations.