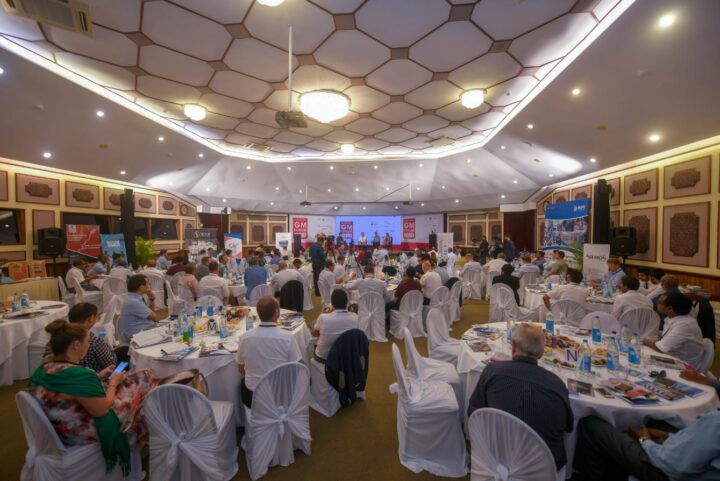 Registration opens for GM Forum 2020
Registration for the Hotelier Maldives GM Forum 2020 is now open as Perspective Pvt Ltd—the publisher of Hotelier Maldives—prepares for the event to be held at Crossroads Maldives on 2nd April 2020. The GM Forum, an annual gathering of general managers and hospitality industry stakeholders, consists of keynote speeches from industry leaders and interactive panel discussions by experts on the Maldivian tourism and hospitality industry and the region.
This year, the GM Forum would feature a keynote addresses and presentations by Solah Shihab, co-founder and Managing Director of Voyages Maldives and Seagull Group, Dr Ibrahihim Nashid, co-founder and Chairman of Renewable Energy Maldives, Ms Dolores Samarero, Digital Marketing Professional and Coach, Karan Mahesh, Account Manager, Central & South Asia, STR and Dr Simad Saeed, Managing Director, Commerce, Development & Economics (CDE).
In addition to keynotes and presentations, two panel discussions will also feature in GM Forum 2020 on the topics of Sustainability and '2020 Global Digital Media Outlook.'
The Forum will be followed by a networking reception hosted at Cafe Del Mar Maldives.
GM Forum 2020 is sponsored by; Ooredoo Maldives (title sponsor), Euro Marketing (Platinum Sponsor), MT Hojgaard (Gold Sponsor), The Hawks (Silver Sponsor), Cafe Del Mar (Networking Partner) and Best Yachts Maldives (Transfer Partner).
To register for GM Forum 2020, please visit this link: https://hoteliermaldives.com/gmforum-register/
To download media kit, please visit this link: https://forms.gle/Ghqksqfg1ScVU3qM7
For inquiries, please contact Ms Cristina Lago at cristina@perspective.mv and mobile: +960 7910858