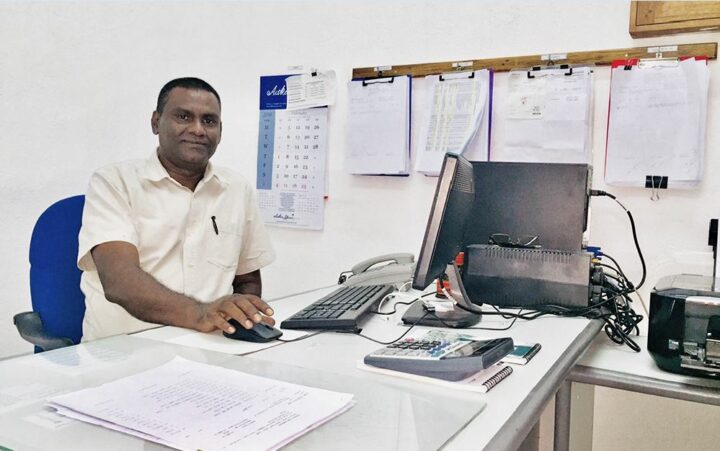 Mohamed 'Didi' Abdulla, F&B Manager, Adaaran Club Rannalhi
Sitting at the bar sipping a glass of orange juice, I sat content, observing the hive of activity around me. Adaaran Club Rannalhi (ACR) deserved its name. The atmosphere was charged and had the vibe of a night-club, guests walking around in vibrant attire, some dancing on their feet to the EDM booming from the speakers. Conversation and laughter flowed with the music. Now, this was a well-managed party resort.
The vegetable spring rolls I was munching on tasted excellent and I conversed happily with the Resident Manager, while I waited to be checked into my room. He turned his head as he saw a man approach and I followed his gaze. A tall, dark and pensive man with a kind face strolled in our direction. He had the loping grace of Obama, long limbs and long strides. I liked his smile immediately.
Mohamed Abdulla, or Didi as he was commonly known, shook my hand and his voice was as gentle as I had imagined it to be. We made plans to meet later for the interview and he strode off; a busy man with many tasks on his schedule. A few hours later, he called to let me know that he had some time to spare at sunset, so we sat down for the interview in the evening, me sipping my juice and him, his coffee.Didi grew up in Hithadhoo Island of Addu City with his grandmother after his father passed away when he was just eight years old. Though his childhood was difficult, the love and support of his brother-in-law and grandmother got him through the years and at the age of 16, he joined Rannalhi Tourist Village, as ACR was known then.Now, this was 1984, the year I was born, and the tourist industry was a completely different scene back then. His first job was as a kitchen steward and his first salary was MVR175. Inconceivable how someone could manage a whole month with that amount but then again, that was a different time; 33 years ago, in fact.
In 1986, he moved to Fun Island as a Waiter, and then assumed the same position at Bathalaa Island Resort in 1992. Shortly afterwards, he was promoted to the post of Supervisor and in 1996, he returned to Rannalhi upon the request of the management as the Restaurant Captain. In 2000, he was transferred to Adaaran Select Meedhupparu where he served as the Restaurant Manager and was transferred back to ACR in 2007 after which he has successfully held the position of F&B Manager to date. Didi fell in love with F&B from the very beginning.The pace, the diversity, the varieties, the requests and the trends, it all appealed to him. Throughout his career. Didi has participated in basic F&B courses, management training sessions and familiarisation tours in Italy, Greece and Sri Lanka, working in hotels abroad and acquiring a lot of experience from the fieldwork."F&B is a very diverse department that is constantly changing and evolving with the trends. There is no other department I would rather work in and wish to remain in F&B for what is left of my career in hospitality," he says.
Didi has had to sacrifice much of his time for his career but with the support and encouragement of his wife who always understood his absence, he has managed to enjoy his work over the past 33 years. The father of two daughters and three sons, Didi has worked hard to provide for his family and is grateful for their patience and understanding, given the nature of his work and long periods of absence.
His warm personality and how he chooses to interact with his peers has earned him much respect within the local hotels of the Aitken Spence Hotel Group – the parent company of Adaaran.His superiors have always given him free reign to trust his instincts and follow his own judgement and he is truly grateful for their faith in his abilities, especially to Chathaier Perera, the former CEO of ACR, who gave him a push whenever he doubted his abilities and motivated him to face the challenges.The former F&B Managers of both Meedhupparu and Rannalhi also deserve his appreciation for their commitment in helping him improve his skills and gain knowledge in the field and he wishes to thank Mohamed Ahmed, the Resident Manager of ACR for his camaraderie and support through the years. "ACR is my home away from home. The place, the people. It is where I began my career and where I wish it to end," says Didi.
Didi has seen the industry evolve and the trends change over the years, from architecture to wellness to hospitality to gastronomy, itself. And F&B remains the field he wishes to be in. He dreams of opening his own café someday and applying all that he had learned from his career in F&B to his own project and make it as successful as he hopes it would be.