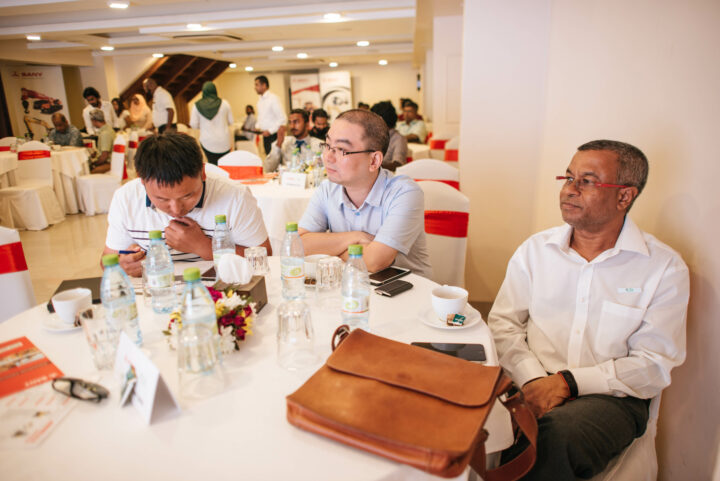 ILAA Maldives holds customer seminar for SANY products
ILAA Maldives has hosted SANY Customer Day 2018 for construction equipment and heavy machinery including earth moving, lifting and concrete equipment. ILAA Maldives is the authorised dealer for SANY products in the Maldives.
Commencing the seminar, Adnan Moosa, Managing Director, ILAA Maldives said, "Our journey with SANY has started and we are confident it will develop at a very fast pace along with the country."
Mr Adnan was followed by Mr Leo Tan, SANY Country Manager for Maldives & Sri Lanka. Mr Tan expressed his hopes for a prosperous future between the two companies. Mr Kundan Naikde, SANY's Head of Training, followed with and his presentation on the various available SANY products and heavy machinery.
Headlining the seminar, Mr Naikde went into the technical details for all categories of construction equipment and heavy machinery, highlighting products most suited for the Maldivian construction industry.
SANY's product line includes Excavators, Crawler Cranes, Truck Cranes, Rough Terrain Cranes, All Terrain Cranes, Truck mounted concrete pumps, Motor Graders, Pavers, Batching plants for concrete, Trailer concrete pumps, Line pump boom placers and transit mixers to name a few.
Going further into the technical details of the products, Mr Naikde outlined the quality and reliability, operating comfort, convenience and ease of maintenance for the products.
SANY is World No. 1 Concrete Machinery Manufacturer, China's No. 1 Construction Machinery manufacturer and a global manufacturer of industry-leading construction and mining equipment, port and oil drilling machinery, and manufactures renewable wind-energy systems. SANY has built 25 manufacturing bases and over 100 offices with more than 400 agents and 8,000 suppliers worldwide.
Currently SANY manufacturing bases are distributed in six sales regions and it has over 100 offices. In China, SANY has established six industry parks in Beijing, Changsha, Shanghai, Shenyang, Kunshan and Urumchi. With global R&D centres and manufacturing bases in the US, Germany, India and Brazil, SANY's products are exported to 150 countries and regions.
SANY operates under the motto: "QUALITY CHANGES THE WORLD". SANY's construction vehicles come notably with a remote monitoring system named EVI. EVI can remotely monitor all the main parameters of the vehicle and engine including uptime, downtime, fuel levels, location, engine temperature and rpm, engine idle time etc.
The seminar was concluded opening the floor to questions from the attendees. Questions raised were mainly regarding the durability of the machinery in regard to the Maldives' high salinity environment.