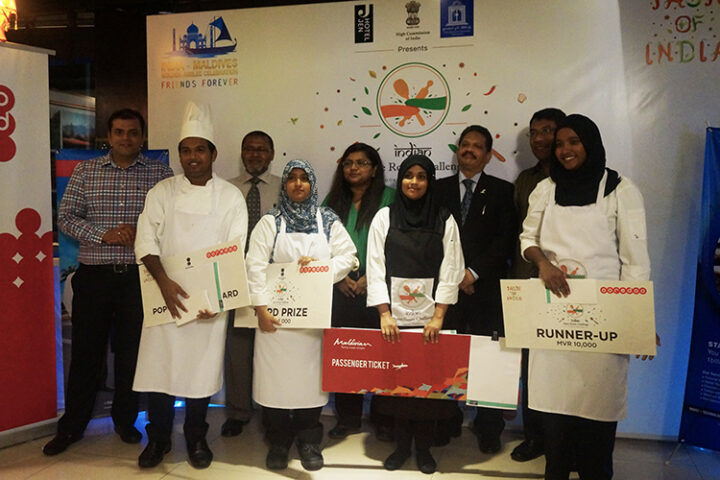 Indian High Commission organises Masterchef-inspired Spice Route Challenge 2015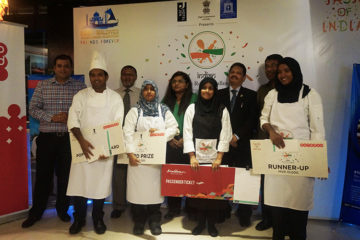 To celebrate 50 years of diplomatic ties between India and the Maldives, the High Commission of India, together with the Maldives National University and Hotel Jen, organised a series of events to strengthen the bonds between Maldivians and Indians. These events included a series of culinary competitions and food festivals organised at the restaurants at Hotel Jen.
The food festival, or BollyFood, which went on from the 7th to the 11th this month saw four participants – Aminath Abdul Rasheed, Aminath Maeysha, Aishath Shifa and Mohamed Ashrag, working closely with the chefs of Hotel Jen. The four finalists were paired with chefs at Hotel Jen, where they created different dishes to match the theme of the specific Indian region set for the night. The buffet which was open for all the public, was attended by many, who cast their votes in favour of their favorite dish, prepared by different candidates.
Speaking about the food festivals and the competition, the High Commissioner of India to the Maldives, Rajeev Sahare said: We thought this would be a good idea, to showcase local Maldivian students – the budding talent in the field, to give them an opportunity to gain some exposure and experience in the field."
The Spice Route Challenge 2015, in which the four participants from the food festival were asked to prepare an Indian dish using the ingredients provided, were challenged to do so in front of a live audience. The challenge was held yesterday. Four participants battling it out, preparing Indian dishes, for the prize money of a thousand dollars, return tickets to India, and a stay at the prestigious Taj Hotel in India. Aminath Abdul Rasheed, a student at MNU came out the winner with her version of an Indian Chappati, combined with gravy where she used mint and coriander leaves as the main ingredients and a special raita she made, using potato as the main ingredient.
At the closing ceremony yesterday the General Manager of Hotel Jen, S. Vathsala said: "If four Maldivians can participate and become stars of today's evening, my wish is that  more will join in the next year."