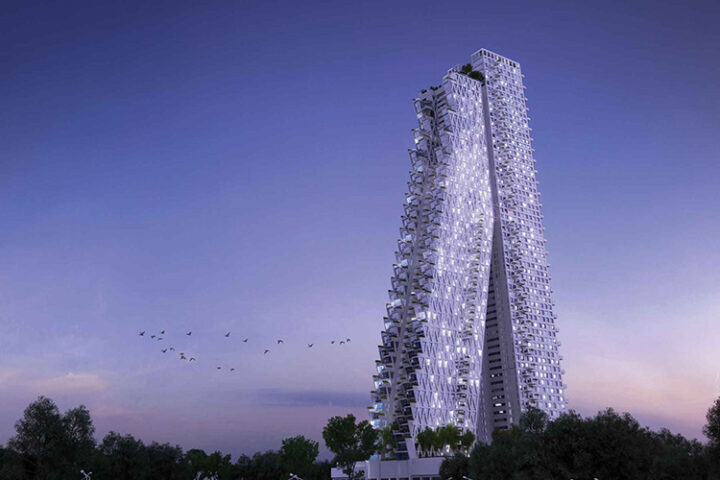 Indocean Developers and DAMAS Real Estate launch luxury Colombo property Altair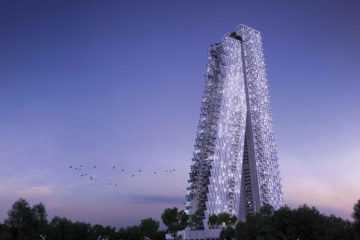 Indocean Developers (Pvt) Ltd., the promoters of Altair, in conjunction with DAMAS Real Estate, local partners for promoting Altair, yesterday officially launched the sale of apartments from the Sri Lankan Altair project in the Maldives, with an in-depth presentation and lunch at Hotel Jen, in Male'.
Altair is a testament to the wonders of modern architecture. Shaped like an A, the development comprises a 68-floor tower, with a 63-floor tower leaning onto it. Both towers sit atop 40,000 sq. ft. of high-­‐end retail and leisure space, which has as its 'reason for existence', the convenience and comfort of the residents of Altair. The development has 400 apartments ranging from 1,468 sq. ft. 2 bedroom units to palatial and eponymously appointed Presidential Suites and Sky Villas of up to 5,273 of sq. ft. Prices range from US$. 400,764 to US$. 2 million.
Indocean Developers describe the development as "a truly iconic development that epitomizes the 'Art of Luxury Living'".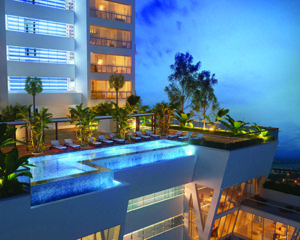 During the presentation, Director of DAMAS Real Estate, Zayan Salih expressed his sincere gratitude to the attendees and referred to Colombo as "many Maldivians' second home". Director of Indocean Developers, Mr Pradeep Moraes, added to this sentiment by saying that "Colombo is a lot of Maldivians' back yard – they study there, go there for medical issues, to shop – it just made sense for us to come to Male' today to introduce the project."
Altair is the creative brainchild of Moshe Safdie, the world-renowned Canadian/Israeli architect whose creation the Marina Bay Sands serves as a symbol for Singapore.
In a video presentation, Safdie explained that the two driving goals behind his designs were to make it iconic and to make it a 'game-changer'. He describes his design as a 'bold concept' that reflects the 'high-density urban living' in the city and maximises on the sun, the views and the beautiful climate.
The A-shaped design means that there is not a single pillar inside the apartments, which in turn creates spacious, open living spaces.
The development will be home to three swimming pools, a gym, sauna, games room and a 63rd-floor sky garden.
Project completion is expected by December 2017. Located at Sir James Peiris Mawatha (former Commercial Company property) it is in proximity to all conveniences quintessential to modern day living and commands stunning vistas of the sea, Beira Lake, port and city.
Altair is a development by Indocean Developers (Pvt) Ltd, which in turn is a venture by the Kolkata-based South City Group bringing together 150 cumulative years' experience in Property Development and has completed over 10 million sq. ft. of real estate development with a further 20 million sq. ft. under active construction.
Priding itself on continuously exceeding clients' expectations, Altair has further enhanced offerings by introducing home automation and a concierge service operated by the world acclaimed Quintessentially Lifestyle.
Mr Moraes explained that an initial 5% refundable deposit was necessary to secure an apartment and that upon completion of the construction the current 99-year leasehold would automatically convert to a freehold, as attested by the Urban Development Authority.
When discussing the wider effect of the development on Colombo as a city, Moraes predicted a 'pull-up effect', saying "Structures like this ultimately change the perception that the world has of a city. This is what we are expecting to happen in Colombo. This will be the subject of case studies for architectural students for 50 years to come."
Moraes also referred to the recent Mastercard study that found that Colombo was the fastest-growing destination in the world and that the Sri Lankan government had predicted the GDP to rise by 7% this year.
A senior delegation from Indocean Developers will be present in Male' between the 14-­‐17th June 2015 to assist interested clients with further information regarding the project.
For appointments with the delegation or for any queries regarding the project please contact DAMAS Real Estate (7774569 or 9991282).