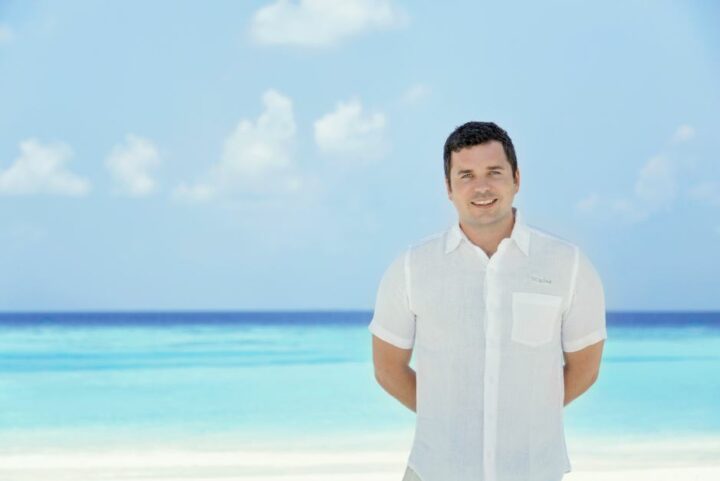 Niklas Bernstein, F&B Manager Hurawalhi Island Resort
Niklas Bernstein has been working in the Maldives for over five years, over which he has made immense contributions to the development of successful hotel-based F&B outlets. With restaurants such as the signature 5.8 Undersea Restaurant of Hurawalhi Island Resort under his belt, he has made a name for himself as one of the county's go-to F&B specialists.
It wasn't happenstance which led Niklas into the hospitality industry. The seed was planted at a young age for the charismatic Swede. He recounts: "I have always enjoyed working closely with people and used to entertain the idea of a career in hospitality during my high school days.It was only when I actually came down to the Maldives and started working for Kuredu Island Resort, starting with a one-year Management Trainee programme, that I knew that this was really what I wanted to do and build a career in."
By the end of his trainee programme, the decision to make hospitality his career was cemented.After looking at the available opportunities in Kuredu Island Resort, he set his sights on the Food and Beverage Department as an F&B Administrator. Bernstein rose through the ranks at Kuredu Island Resort and is today found as the Food and Beverage Manager at Hurawalhi Island Resort.
The decision to join Hurawalhi's pre-opening team came in August 2016, about four months before it opened: "I would describe that period as extremely educational, exciting but also very challenging." His team launched the 5.8, the world's largest, all glass, undersea restaurant, and he came onboard as F&B Manager in Hurawalhi Island Resort in April 2017.He helped launch several successful F&B concepts at Crown & Champa Resorts including new menus and completely new dining experiences: "If you present a good idea, the chances of making it into a reality is very high."
Speaking about how his appointment at Crown & Champa Resorts came about, he says;"The top management and Directors at Crown & Champa Resorts are committed to encouraging forward thinking members and loves it when we try new things to enhance the guest experience. This is one thing that is great about CCR."
Careful planning is the embodiment of this school of thought, and the introduction of new ideas to enhance the guests' experience is carried out after rigorous testing and fine-tuning. "A proper plan is formulated. When a new concept is created, we roll it out to the guests to experience, only if every stage of the plan is successful," he explains.
Niklas shared his personal selection of pastime activities to be ticked off at Hurawalhi Island Resort in a single day: "The tasting menu which we run in 5.8 Undersea Restaurant is really extraordinary. Apart from that, we have the privilege of having a private sandbank island, called Dream Island, which belongs to Hurawalhi Island Resort. There we do a traditional dug-in candlelight dinner where the guests get a completely private island, private chef, private waiter, making it one of our top dining experiences."For beverages, I have to say the Champagne Pavilion. At the end of our Ocean Villa walkway, we have our smallest, yet most exclusive F&B outlet. It's the best place for guests to enjoy a sunset, watch dolphins and enjoy a glass of champagne before heading out for dinner."Produce and personalities are major factors for Niklas when focusing on delivering a coherent guest experience. "You've got to strive to cater for everyone. Where we sit here, in the Maldives, it is not very easy to find a wide variety of produce. Regardless, the quality has to be of a certain standard, as that is what guests are accustomed to," he adds.
Personality is key to being able to leave a lasting impression on guests, according to Niklas: "Here at Hurawalhi 'friendly staff' is one of our most frequent feedbacks and also one of the main reasons our guests say they keep returning."Niklas confided to Hotelier Maldives that some of his most memorable moments are those when he gets to experience the beauty of the Maldives: "Take a day, for example, when we have an amazing sunset, spinner dolphins jumping in the distance, or a day that I am out on a boatwhere the water is perfectly flat and there isn't a single cloud in the sky. It is moments like that when I stop to take a breath and remember that I am in a world that I really love. The 'Kodak Moments' so to say."
Talking about where his energy is presently focused, Niklas mentions the newest member of the company family—Kudadoo, which is its smallest yet most exclusive resort. Kudadoo Maldives Private Island is a private island with only 15 Residences, managed by Hurawalhi Island Resort. For the hotel's final concept, Niklas and his team are working to develop spectacular impressions and guest experiences which will apply to both islands. Kudadoo Maldives Private Island, which fuses nature and premium indulgence, is set to open in early summer 2018.