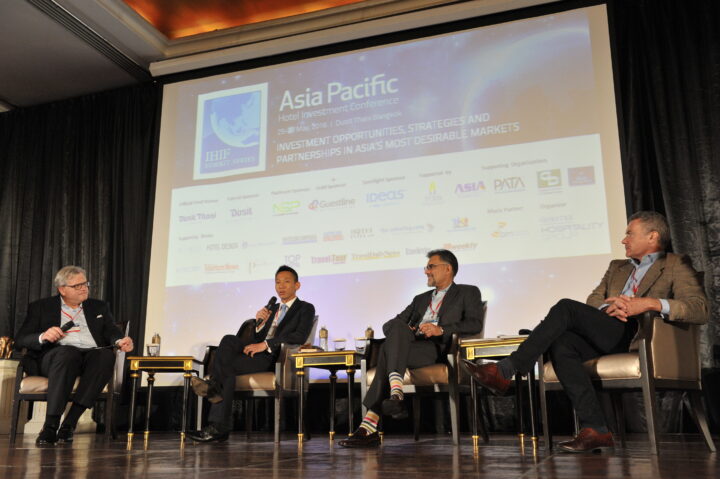 Investigating Overseas and Navigating Risks in ASEAN Markets highlighted at APHIC 2016
Hotel investors, developers, and industry experts from the Asia Pacific region gathered in Thailand late May for the 8th annual Asia Pacific Hotel Investment Conference (APHIC). Organised by Questex Hospitality + Travel Group and held at Dusit Thani hotel in Bangkok, the conference welcomed more than 200 delegates to discuss various topics that affect the hotel industry in Asia Pacific, including global investment opportunities, strategies and partnerships.
According to the organisers, one of the major topics discussed at the conference was 'Investigating Overseas and Navigating Risks in ASEAN Markets.' With compressing yield in Asia, private investors and family offices are searching overseas for opportunities.
Modern tourism is like a fire, suggested ASEAN Tourism Association President Aileen Clemente in her welcome address: "It can cook the meal or burn the house."
"Assets in China's domestic market are expensive," observed Stephen Chi Hsu Chen, partner and managing director of Infinity Global Real Estate Advisors in a global opportunity panel.
"France had a yield of 5-6 per cent and we thought that was quite good. The US and Europe markets are more stabilised and are prime for money preservation for the next three to five years. They then come back to China after the market has consolidated and cooled down."
Some participants, though, raised other concerns.
"It can be difficult when borrowing onshore emerging markets like Indonesia and India. For one, in India, the yield is 9 per cent and that the borrowing cost is around 11-13 per cent, which leads to negative carry," said Juay Hiang Tan, CEO of Ascendas Hospitality Trust.
But some participants prefer not having any leverage: "As a long term holder, we want to be in assets that we think will be good in the long run," said Sanjay Singh, managing director of Fico Corporation.
Hunting for foreign opportunistic deals does not exempt anyone from risks. And within the past few years, political risk, inflation risk, currency risk and other hazards and disruptions have affected tourism everywhere.  Hotel investors today are finding new ways to mitigate the impacts of various risks.
According to Greg Lapham, managing director, CIO, real estate – APAC of BlackRock, "China is stable because of the Five-Year plan. People to know where to go and they deliver."
Chan Chee Kian, CIO of Ireka Development Management went further in addressing other risks: "Getting the right location and de-risking from the start are essential. The biggest risk is to be stuck in the wrong cycle because construction cycle could take up to five years."
The lending situation is meanwhile slowing down, according to Faez Jumabhoy, managing director and head of real estate of CIMB Investment Bank. Bankers are now "linking capital to developers to increase liquidity."
Other topics covered in the conference included 'Innovations and Developments in Hospitality Education to Sustain Regional Hotel Industry'; 'Do Large Hotel Groups Really Offer Premium Brand Value to Hotel Owners and Investors', and 'Deriving Matching Brand Positioning, Design and Amenities that Attract the Core Targeted Customers.'
"To have a world-class conference like this one in Bangkok is a real benefit for the industry. Having this conference and this stature is good for the market and for our companies as well," said Simon Landy, executive chairman of Colliers International Thailand.
APHIC will return to Bangkok in May 2017. For more information, visit http://ihif.questexevents.net