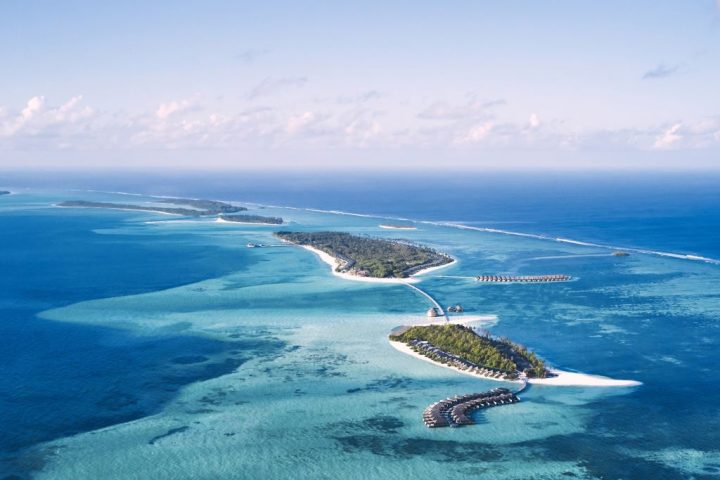 Jawakara Islands Maldives: Set to open on October 22, 2023
Jawakara Islands Maldives, the latest gem in the Crown & Champa Resorts portfolio, is gearing up for its grand opening on October 22, 2023.
Nestled amidst the pristine beauty of the Maldives, this 290-villa resort introduces the 'One Island, One Resort' Maldivian concept, ensuring an unrivaled luxury experience.
Just a short 40-minute journey by luxury speedboat from Madivaru domestic airport in Lhaviyani Atoll or via a scenic seaplane ride from Malé International Airport, Jawakara spans two separate islands – Mabin and Dheru – connected by an overwater walkway.
The resort's primary focus is on providing family-friendly and multi-generational experiences. Guests can indulge in an array of activities, from surfing, diving, kayaking, and snorkeling to golf, paddle tennis, and football tournaments on a full-sized pitch.
For those seeking relaxation, two Suhla spas, a yoga retreat, and two infinity pools await. Maurice Van Den Bosch, General Manager of Jawakara Islands Maldives, expressed his enthusiasm, saying, 'Jawakara is designed to be every family's dream for a luxury getaway – every detail has been thought of for all generations alike, an all-encompassing offering that will define Jawakara as the pioneer for luxury multi-generational travel in classically Maldivian surroundings.'
Activities
Mabin Island is home to the Jawa Kids Club, where children can enjoy a range of age-appropriate activities. From mini-golf, football, and paddle tennis to child-friendly spa treatments, sushi making, and mocktail mixology lessons, the program ensures a memorable experience. Children can also delve into Maldivian culture through music, dance, art, traditional fishing methods, sustainability workshops, and marine biology exploration.
Jawakara stands out as one of the very few luxury resorts in the Maldives that offers surfing opportunities, providing equipment and lessons for surf enthusiasts.
The resort also boasts a variety of water activities, including guided diving and snorkelling trips, paddleboarding, kayaking, and PADI five-star training. For those seeking high-energy thrills, there's jetskiing, waterskiing, wakeboarding, sofa-rides, windsurfing, kayaks, and catamaran sailing.
The facilities extend to two infinity pools, a kids' pool, sports courts, a fitness centre, a volleyball court, and a 9-hole golf course, the largest in the Maldives.
Accommodation
Mabin Island offers 202 villas, while Dheru comprises 88 villas, creating a total of 110 Beach Villas, 90 Beach Pool Villas, and 70 Water Pool Villas. This includes 10 two-bedroom villas on Mabin, which can be adapted for larger groups or families.
Additionally, there are 5 three-bedroom beach pool villas on Dheru, ideal for multigenerational holidays and large families.
Each villa boasts a king-size bed, private sun-decking, a 48-inch flatscreen TV, and an indoor bathroom with a rain shower, providing privacy and spaciousness.
Dining
The dining options at Jawakara cater to all tastes. 'Waves,' the à la carte restaurant on Mabin Island, offers Mediterranean cuisine. The Ekuveni Restaurant and South Side Maabinhura Restaurant, known as AILA, provide all-day buffets with live cooking stations. Mabin also features three bars, ensuring a variety of culinary experiences.
Guests can enjoy buffet-style dining at The Retreat Restaurant on Dheru or savor à la carte Asian-Pacific cuisine on the walkway connecting the two islands while enjoying breathtaking sunset views over the Indian Ocean at the Blue Zone bar.
Wellness
The resort offers two Sulha Spas, each providing a unique wellness experience. The spa on Mabin Island features 8 double treatment rooms nestled in a tropical jungle setting. The other spa, with 6 treatment rooms, includes a yoga retreat perched above the crystalline Jawakara lagoon. Both spas harness Asian massage techniques and organic products for a natural approach to Ayurveda spa and wellness.
Curating a Stay at Jawakara Mabin Island offers a premium all-inclusive package, as well as full board, half board, and bed and breakfast options.
Pre-opening rates start at $600 per room based on double occupancy with a bed and breakfast basis. Dheru Island provides a fully all-inclusive, intimate island escape, with pre-opening rates starting at $992 per room based on double occupancy. For larger groups and families, the three-bedroom villas are available, with rates starting at US$2400 for 5 people and an additional charge of US$692 for each extra person per night, accommodating up to 8 people on an all-inclusive basis.
Reservations are open now, and guests can begin experiencing the luxury of Jawakara Islands Maldives from October 22, 2023.