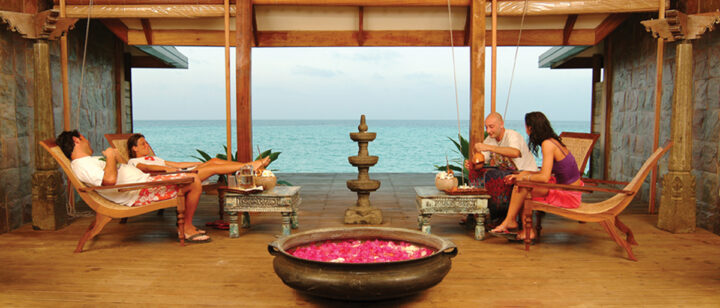 Jesper Hougaard, Managing Director, Serena Spa
Prior to getting involved in the spa business, Managing Director of Serena Spa Jesper Hougaard spent 25 years in the aviation industry. "I saw it more as a service than just transportation. I found it very important that you look at what a customer wants and try to fulfill that requirement rather than simply transport them from point A to B," Jesper says while drawing the similarities between the two sectors to explain how although the move from aviation to wellness might look like a huge leap, to him it was simply an extension of his interest in customer service.
"It's extremely personal and it's extremely direct. You get an immediate response. And you immediately know whether you've given a good service or a bad service because even if the guest doesn't say anything you will know it very, very quickly. And I thought that was the most personal service you could give to a client and I found that fascinating," Jesper says while explaining more about what attracted him to the wellness industry.
Apart from the element of customer service, according to Jesper, there was also a business aspect to it; during the time, except at a couple of resorts, there were no massage or spa services in the Maldives and to Jesper this appeared to be a good business opportunity.
Jesper founded Serena Spa in 2000 with the company's first spa in Thundufushi in Ari Atoll, Maldives. Now, Serena Spa is considered among the oldest spa companies in the Asia region and the company has expanded its services to the rest of the world to include spas at India, Spain, Singapore and Seychelles.
According to Jesper, when Serena Spa started, most guests who came to the spa had never tried a spa before. "I remember an instance when we opened a spa at Full Moon. I was there on the first day and we had a British lady in her 40s. She went into the spa and when she came out she was crying. And I was wondering 'oh boy what have we done now.' So we tried to comfort the lady and tried to find out what we've done wrong and she said 'no, nothing is wrong, nobody, not even my mother has touched me with so much care than this lady who has given me a massage'," Jesper recalls.
While the typical scenario in the early 2000s was providing services to guests who were first time spa users, Jesper notes how things are now very different. Now, customers are aware and experienced. "Most people know exactly what they want and you cannot fool anyone by saying 'this is a Swedish massage' and then do something else. They know exactly what it is," explains Jesper. He also notes how customers nowadays are eager to compare their different spa experiences and are much more price sensitive than before.
Jesper thinks there's a reason behind the spa industry's increasing popularity over the last decade or so. "Over the past 15 years we have all gotten used to staying in touch on What's App, Facebook, LinkedIn etc. There is very little physical contact today. We don't live with families anymore and there's not much human contact. So the fact that you can go to a spa and have physical contact, human contact where you have a transfer of positive energy has become very important," Jesper explains.
In Jesper's observations, because of this shift, the situation has become competitive and spa operators now have to be extremely careful about the quality and types of treatments being offered. According to him, the current spa atmosphere also means spas need to reinvent themselves continuously. Jesper notes how the spas nowadays have to keep an even closer eye on what's going on internationally in terms of spa design, technologies, equipment and therapies, and ensure that the spa therapists are well trained and up to date.
"The spa is not only a massage it is also an experience. So you must ensure that all elements of that experience are well taken care of," says Jesper while speaking about the most important factors to consider when operating spas, especially in partnership with tourist resorts. According to him, beginning from the first contact the guest makes with the spa, every aspect of the guest's journey has to be under control. He also notes how important it is for spa brands such as Serena Spa that have branches all over the world to deliver the same service standard no matter the location.
Jesper believes spas to be an essential part of the holiday experience. "I think a hotel or resort without a spa today will struggle to market itself," he says. He also notes how having an international spa brand such as Serena Spa on resort premises can bring the added benefit of assuring guests of the quality of services being offered.
Speaking about operating spas in the Maldives, Jesper notes transportation as one of the key infrastructure related challenges encountered in the country. He also believes that it's important to have pricing in check here in the Maldives as visitors increasingly have more experiences to compare. A challenge that Jesper anticipates for the future is the decreasing age of tourists who visit the Maldives. According to him, while the traditional spa audience falls into the 40-50 age group, the increase in younger tourists means spas would need to adjust.
"I think the wellness aspect of a spa is very important. I think it's important to integrate the whole spa aspect into the 'Maldives' experience. It's not just a matter of selling USD 200 massages, but it's about how the whole thing is integrated," Jesper says while noting how this could for example be done by growing organic produce on resort premises or finding alternatives to plastic drinking water bottles.
Jesper also thinks there's a movement towards being more mindful and says people are increasingly being careful about what they eat and what they do. Because of this, he believes spas now have to move away from delivering just massages and facials, and move towards providing holistic wellness packages. "Spas are getting more and more into aspects of daily life and are available in different forms and shapes. It's not only for the rich. It's really getting to be a part of the modern lifestyle," says Jesper.