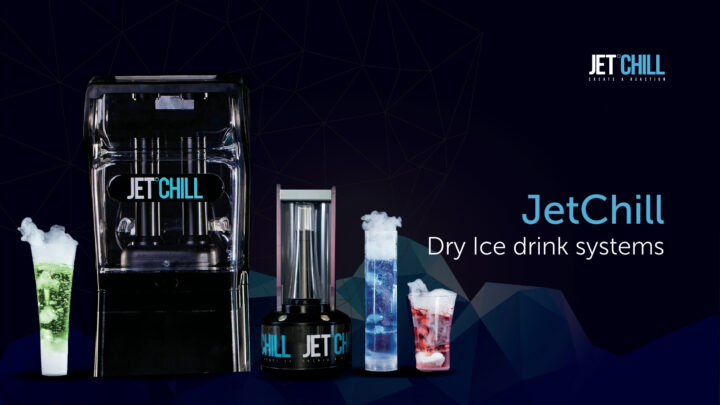 The JetChill Twin Probe Machine, a theatrical dry-ice maker
The JetChill Twin Probe Machine, the world's first dry-ice chilled smoking drinks system, is marketed and distributed in the Maldives by Hospitality Depot – a supplier of high quality food, equipment and machinery in one of the world's most vibrant tourism industries. JetChill, a company specialising in dramaturgical molecular mixology manufactured its Twin Probe Machine as the world's first-ever dry ice powder creator.
It is a product that is hailed as a quick, easy and safe to operate theatrical drink maker that will stun and awe any guest. At the push of a button, the Twin Probe will produce two dry ice charges in 10 seconds. This dry ice charge can be used to generate incredible theatre for food and drinks service. The dry ice has a number of uses, from chilling, smoking and carbonating drinks to smoking ice creams.
This revolutionary machine uses patent-pending technology to convert liquid CO2 into a dry ice, which can then be injected directly into either the custom cocktail and shots glasses that comes with this product or personal ones, removing the need to manually handle it. The Glass Chill Chamber stores dry ice so it doesn't escape, meaning it can be safely consumed. Snow also sublimates quickly once the drink is added, eliminating the need to dispose of dry ice after use.
The product uses an improved 2016 design that has a new glass lock mechanism and automated twin probes which makes it more user-friendly and easy to control, with its simultaneous charging of two JetChill Glasses.  It consists of the Chill Chamber which safely stores dry-ice snow up to 25 minutes in the glass and adds three minutes to the dry ice effect once the drink is added. In addition, this machine comes with food standard approval and H&S material. It is central to note about this unique contraption that it does not use dry ice pellets or liquid nitrogen, which is unsafe to ingest.
Hospitality Depot has various products to outfit hotels and restaurants with quality products from reputable manufacturers and suppliers. For more information about Hospitality Depot and its product offerings, visit www.facebook.com/hospitalitydepot.mv.